Last Minute Mother's Day Ideas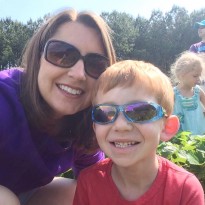 Mother's Day, known as Mommy Day in our house is almost here and dads and kids are always last minute on their gifts and plans so I figured I could offer a reminder and some last minute advice. There's only one thing worse than getting mom a stationary bike that also washes your clothes and that's nothing at all. I got my mom a copy of the May issue of Charlotte Parent Magazine because I wrote about her in Charlotte Parent this month and that's it (kidding). Here's the link if you didn't get to read it yet: https://www.charlotteparent.com/community/blogs/details.php?2823
If you're struggling to come up ideas with Mother's Day fast approaching here's 3 cool local things you can do with mom.
---
I Couldn't "Pick" a Better Mom
This past weekend we packed the family up and took the short drive to Hall Family Farm to pick strawberries. If you haven't had a fresh picked strawberry in awhile, you've forgotten how good they can taste. Mom will love spending some time outside with you. There's also stuff for the kids to do including a musical hayride (if mom doesn't mind). They had their busiest two strawberry days ever in 8 seasons last weekend with over 9000 lbs of berries picked. Get 'em while they are good.
Hall Family Farm
10713 Providence Rd West, Charlotte
7 Days A Week, 9am-7pm
More info here: http://www.hallfamilyfarm.com/
---
Less Whining, More Wine
Charlotte Food & Wine's "Big Bottles and Blues" Event is this Saturday night (May 9th) at Founder's Hall in Uptown. Take mom to this casual, fun event featuring a chance to sample more than 100 wines including some incredible top tier wines, great food, & live music (Blues, of course). My WCCB News Rising co-host Kristine Zell & I are hosting, so we hope to see you there. I never miss a chance to sample wine and food in my blue jeans.
Big Bottles & Blues
Tickets at various levels starting at $75
Saturday, May 9, 6:30 p.m.
Founders Hall
More info here: http://www.charlottewineandfood.org/index.html
---
Treat Mom to a Matinee at the Symphony
My wife and I met at a Charlotte Symphony Pops in the Park Concert (July4th) so I've always been a big fan of the symphony. The Charlotte Symphony is offering free tickets for moms on Mother's Day, May 10th, with the purchase of a regularly priced ticket to their season finale, featuring Dvorak's Symphony No. 9, "From the New World," (instantly recognizable and really intense) and Natasha Paremski on Rachmaninoff's Piano Concerto No. 3.
Charlotte Symphony
Classics Series tickets start at $19.
Sunday, May 10, 2:30 p.m.
Belk Theater
More info here: http://www.charlottesymphony.org/events/65818363-9903-4D39-B15E-4DC684D1D064