Lake Norman Mom – Deana Keller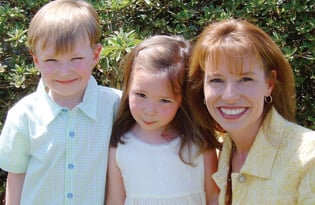 Take a peek inside the life of local mom Deana Keller — and get a glimpse of everyday parenting — from the madness to the mess-ups!
Vital Stats: Deana Keller, 35
She's the operations manager at Piedmont Natural Gas and a Charlotte Girls on the Run board member.
Family Tree: Single mom to son Patrick, 5, and daughter Carlie, 4. The three live in Lake Norman.
Get Real:
As I realize my own limitations as a single mom, I realize that some chaos is OK, and to focus on the here and now, especially with my kids. Each day is a new "here and now" to enjoy. The laundry will always be there (literally and figuratively), but my children won't.
"Don't You Dare":
Doing something I just told them not to do. Now when I ask my son how many times I've asked for him to do something, he tells me "100 times." All because I just said, "I've asked you 100 times to …"
Parenting Rule #1:
Do not hurt others. This comes in many forms, and as we cross situations where hurting applies — physical or emotional — I work to explain the hurt.
Fave Phrase:
"What did I JUST say?" and a close second is, "What did I TELL you would happen?" I try hard to let Patrick and Carlie learn from life's experiences, but I can't help but intervene at times.
Top Tips:
"Bringing up Boys," by James C. Dobson, taught me the important impact each parent has to affect the success of a child's future. It is an awesome responsibility. Provide safe boundaries, then enjoy the joy their child-like perspective brings to your life.