Lacrosse: The Fastest Game on Two Feet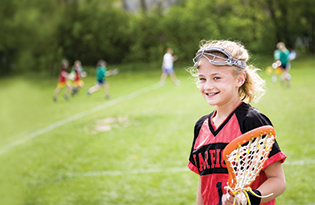 Springtime isn't just for baseball anymore. More and more kids are suiting up for lacrosse – a fast-paced, high-adrenaline game that's said to be a combination of soccer, hockey and basketball. A true American pastime, lacrosse was first played by Native Americans centuries ago on huge fields with more than 100 players on each team.
Modern-day boys' lacrosse is played with 10 players on the field for each team – three attackers, three midfielders, three defenders and a goalie. Girls are allowed two extra midfielders for a total of 12. Players score by shooting the ball into the opponent's goal. The challenge is using a lacrosse stick (no hands!) to catch, carry and pass the ball. Boys' lacrosse adds an element of physical contact – having the boys wear pads and allowing different forms of checking. Girls skip the padding and have less contact.
Sound like fun? Nicknamed the "fastest game on two feet," lacrosse has exploded onto the sports scene in the past decade. U.S. Lacrosse reports that more than 680,000 players participated on lacrosse teams in 2011. That's 60,000 more than the year before -making lacrosse one of the fastest-growing team sports in America. At the high-school and NCAA levels, lacrosse is the No. 1 fastest- growing sport. Turn on ESPN, CBS Sports Network or NBC Sports and you might just find one of the 100-plus collegiate and professional games that are broadcast each year. And Charlotte has its own professional lacrosse team, the Charlotte Hounds.
Getting Started
With all this excitement surrounding lacrosse, there are plenty of opportunities to get your kid in on the fun. There's no perfect age to get started, although many lacrosse programs start in first grade. Consider your child's personality and skill set, and for boys remember that lacrosse is a contact sport, which adds to the fun for many of them.
If you know a friend with a lacrosse stick, ask if you can borrow it and get a taste of the sport. Try scooping the ball off the ground and passing it back and forth with a friend. After getting a feel for it, sign up for one of the free clinics offered by most local lacrosse programs. Loaner equipment and sticks are usually provided, so all you need to do is show up and see whether you like it.
If your child is hooked after the clinic, sign him or her up for a season. Check out the U.S. Lacrosse website to find your local chapter.
Equipment
Once your child joins the rookie ranks, he or she will need the proper equipment. Because boys are allowed more physical contact during games, they need more protective equipment than girls. Boys need a helmet, lacrosse stick, shoulder pads, arm pads, gloves, mouth guard, athletic cup and cleats. Many sporting-goods stores and online sites offer lacrosse starter kits. You can expect to spend about $200 to get your son suited up.
Girls need goggles, a lacrosse stick, mouth guard and cleats. A girls' lacrosse starter kit will set you back about $85. Many lacrosse leagues and clubs have coupons for discounts on starter kits, so be sure to ask before you buy.
What to Expect
After your child signs up for a season, he or she will be assigned to a team and begin practicing. Depending on the program, they'll typically start with one or two practices a week and then add one or two games per week as the season gets going. This is an action-packed, high-octane sport, so expect a lot of movement during practices and games. Bring plenty of water and healthy snacks, and have fun cheering on your superstar.
Beyond Pee Wees
Lacrosse is great sport to grow with your child. As its popularity continues to skyrocket, more and more middle- and high-school teams are being formed. Chances are your child's middle school or high school will have a team.
If lacrosse turns into a passion your child excels at, one of the surprise benefits may be a college scholarship! Thousands of NCAA lacrosse scholarships go out to boys and girls each year. Even without a scholarship, there are plenty of opportunities to keep playing lacrosse in college and beyond. Give it a try and see if lacrosse becomes a lifelong passion for your child.
Jessica Baldis is a freelance writer. She lives in San Diego with her husband and three sons.
Benefits of Lacrosse
Why get involved in lacrosse? The many include:
· Physical fitness: Lacrosse is a great way to get moving and get in shape. The fast pace offers a great cardio workout. In addition, throwing and catching is excellent for developing hand eye coordination.
· Teamwork: Learning to work as a team will benefit your child on and off the field.
· Fun and friendship: Lacrosse can be a blast, and sharing that fun can lead to enduring friendships. Sign up for a season with your buddies or make new friends on the team.
· Equal opportunity: Think lacrosse is mostly for boys? Not anymore – 36 percent of the kids playing lacrosse are girls. In addition, lacrosse can be a fit for kids with a broad range of body types.
Some Local Leagues           
Check out these organizations to introduce them to the game of lacrosse.
24/7 Lacrosse
team247lax.com
Charlotte Youth Lacrosse Association
charlotteyouthlacrosse.com
The Green Machine
greenmachinelacrosse.com
Stick With Us
stickwithus.org
Turn and Burn Lacrosse
tblax.com
Xtreme Lacrosse
xtremelacrosse.com
Zenith Lacrosse
zenithlax.com
Find more sports league listings >>