Labor Day Destinations in Asheville
Start with the NC Arboretum, where you'll marvel over the Art with LEGO® Bricks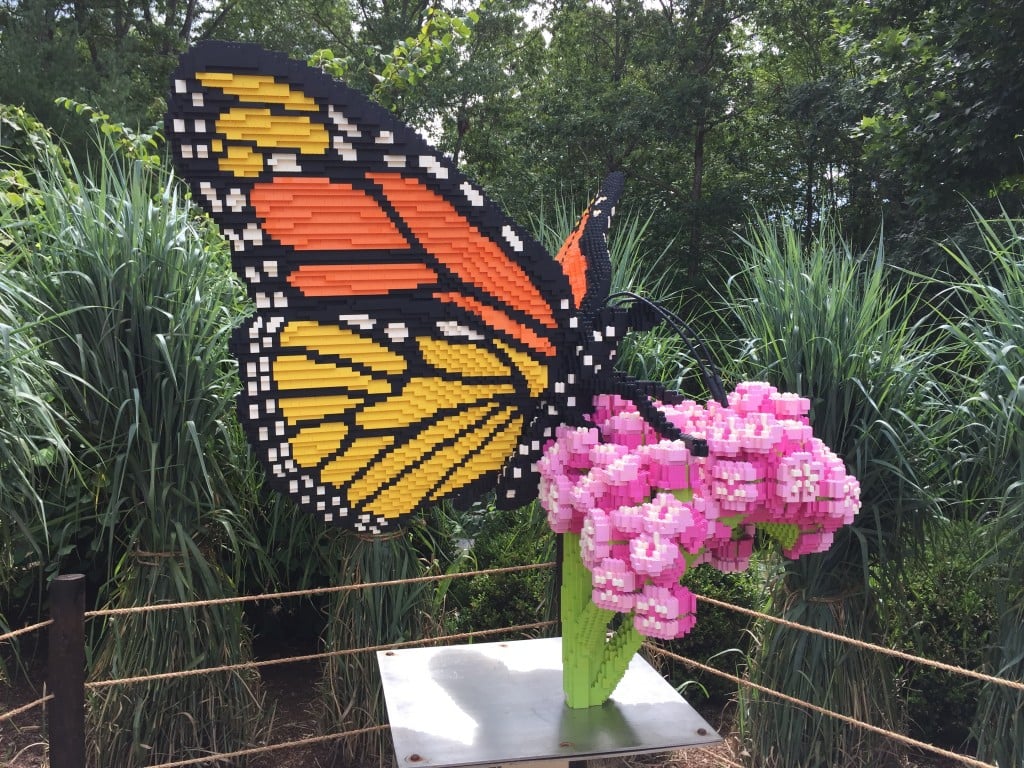 Asheville is a perennial-favorite place to visit. This Labor Day Weekend, consider these terrific destinations, as I told Christine Sperow on WBTV-Bounce today.
North Carolina Arboretum
Located right on the Blue Ridge Parkway, the arboretum offers you 434 acres of tranquility. Last time I visited with my hubby we spread a blanket out under a tree and took a nap. When's the last time you did that? #TravelSlow
Everyone will love the exhibit, Nature Connects®, Art with LEGO® Bricks, which runs through October 23, 2016. This one-of-a-kind exhibit features 14 larger-than-life sculptures created out of more than 370,000 LEGO bricks. All pieces have a nature focus, including a 5-foot-tall praying mantis, a bald eagle and a monarch butterfly, which alone is made up of more than 60,000 bricks
LEGO Certified Professional Sean Kenney has been building with LEGO® bricks since he was four years old. Take heart, parents of Lego-maniacs, maybe there's a career path in those bricks you've been buying after all!
DuPont State Recreational Forest
The DuPont State Recreational Forest is south of Asheville and home to 6 waterfalls and well-defined trails that lead to them.
Consider taking a "Hunger Games Fan Tour," of 3- and 5-hour durations on Saturdays and Sundays. Fan Tours include filming locations, tour guides, permit fees, PLUS learn archery, special effects makeup camouflage and Archery Tag™, and photo opportunities. You'll also be treated to a lunch "Hunger Games™-style" featuring foods that your favorite characters would have eaten.
Asheville Arts
Three great options in Asheville proper:
​aSHEville Museum offers families conversation starters on issues of social justice regarding gender. I can't wait to see the "100 Years of Sexism in Advertising." I saw a similar exhibit a couple of years ago and I bet your kids will be shocked by the way mainstream product ads portrayed women. Also being exhibited are "Her Nobel Words" which celebrates the words of 16 women to have won the Nobel Peace Prize; and

"A Day in Her Life" which glimpses into the lives of women around the world as captured by the lens of international award-winning photojournalist Ami Vitale (a UNC grad).

Downtown Asheville Art District

has a First Friday Art Crawl 25 downtown galleries, studios and museums.

It's the 50th Annual Shindig on the Green at Pack Square Park
If you've visited any of these destinations, please comment below to help others enjoy their visits.