Labor Day 2015: Blue Ridge Parkway Getaways
Five great places to spend Labor Day Weekend along the Blue Ridge Parkway.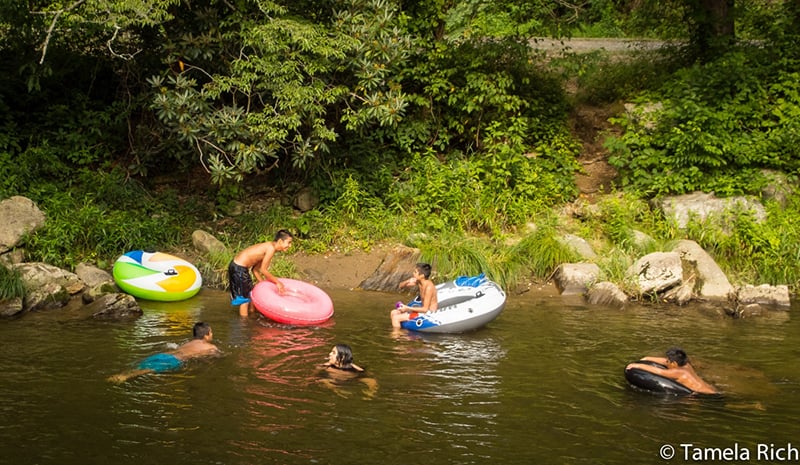 This Labor Day Weekend is a perfect time to head to the mountains and the Blue Ridge Parkway. You can reach most points on the Blue Ridge Parkway within a couple of hours from Charlotte.
---
1. Cherokee, NC
I've selected Labor Day Weekend festivals and activities from south to north on the Blue Ridge Parkway, beginning in Cherokee. There, visit Oconaluftee Indian Village during the day and the 7 Clans Rodeo from 6-10 p.m. Friday and Saturday. Both are closed on Sunday, but there's plenty to do in Cherokee if you decide to spend the entire weekend.
---
2. NC Apple Festival
Next is the NC Apple Festival near Mile Post 393.6 in Hendersonville runs Friday through Monday. The King Apple Parade on Labor Day is expected to draw 60,000 people. DOGS NOT ALLOWED.
---
3. Lexington Avenue Arts and Fun Festival
Just 10 miles north of Hendersonville is Asheville's Lexington Avenue Arts and Fun Festival (LAAFF) at Mile Post 383. In addition to the arts and music you'd expect from a street festival, the LAAFF offers workshops and seminars on the kinds of subjects Asheville is famous for: saving heirloom seeds, meditation, solving urban hunger, reversing pollinator decline, composting, and conflict resolution. Saturday only.
---
4. NC Mining Museum
NC Mining Museum at Mile Post 334 is where you'll celebrate RockFest on Saturday. The NC Mining Museum consists of two parts, the Visitor Center and the historic Bon Ami Mine. They'll have music and catered food or you can bring your own picnic. The kids will enjoy rappelling demonstrations from the mine cliffs. Also available are underground mine tours, gem mining at the flume, gold panning, and rare mineral collecting on the dumps. Don't miss the underground Black Light Mine Tour.
---
5. The Orchard at Altapass
The Orchard at Altapass at Mile Post 328 is where you'll want to spend a full day picking apples, enjoying storytelling on hay rides, listening and dancing to old-time music, and learning Appalachian Heritage Activities (for children ages 6 to 12).
---
Here's a free guide for planning a Blue Ridge Parkway vacation. No registration required.
It may be tempting to spend the weekend catching up on errands and housework, but unlike childhood, they can wait. Enjoy the great outdoors this weekend—together.