Knowing the Signs of Sexual Abuse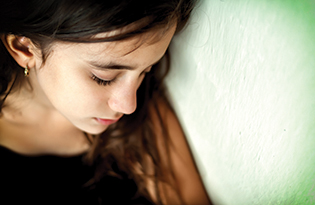 One afternoon in May 2011, 32-year-old Brian* got a phone call from his sister, asking if he'd heard that their 12-year-old niece, Stephanie*, had confided in a school friend that she might be pregnant by her step-grandfather. The friend told a teacher, and a school counselor immediately met with Stephanie and notified her mom.
The Department of Social Services, sheriff's department and family began investigating to discover that Stephanie's step-grandfather had definitely abused her. Brian's mother (Stephanie's grandmother) Mary* was horrified, embarrassed and overloaded with guilt. How could her husband have been capable of something so horrendous?
Two weeks after Stephanie disclosed the horrible truth that had been going on for more than a year, police arrived to serve Stephanie's step-grandfather a warrant for his arrest. Facing the reality of what was happening, he took his own life.
Nearly three years later, Stephanie continues to receive therapy but may never fully trust anyone again. Her innocence was stripped away and she lost a large part of her childhood forever.
The Signs
Looking back, Brian says that he could see slight signs of the abuse in Stephanie. She tried making herself look ugly; and she became flirtatious with men his age. He never thought it was anything other than just normal adolescent behavior, or a result of not knowing her biological father.
When parents hear the term "sexual predators," they may think of stories that have flooded the media, such as the sex abuse scandal involving Penn State University assistant football coach Jerry Sandusky. As a society we shake our heads in disbelief or briefly feel sympathetic for victims. We often don't take the time to truly consider that child sexual abuse happens in our own communities, and could happen to our own children. It isn't something parents want to consider, but child sexual abuse can and does happen.
Identifying a Sexual Predator
Child sexual abuse refers to exploitation, child pornography and physical contact. The most likely perpetrator is a trusted adult. "Stranger danger" is a memorable phrase for parents, but the truth is, of children who are sexually abused, 80 percent of girls and 93 percent of boys are molested by someone they know.
In the United States, 1 in 5 girls and 1 in 20 boys are victims of child sexual abuse. Children are most vulnerable to this abuse between the ages of 7 and 13, but it can happen at any age.
There is no clear-cut definition or perfect description of a sex offender. Socioeconomic status, occupation and position within a community are in no way indicators of whether or not a person may be an abuser. Most often they are people we know and may even be considered respectable people in our communities.
"Typically no one in his own family or circle of friends has a clue as to the secret a pedophile hides," says Mary, grandmother of Stephanie. Thus, their pedophilia remains occult.
Perpetrators live in all types of homes, in all types of neighborhoods. You can perform an online search for your state's sex offender registry for information, including addresses, for all convicted and registered offenders with a few miles of any address you put in the search. North Carolina's search is sexoffender.ncdoj.gov.
As of April 2013, there were 747,408 registered sex offenders living in the United States, with another 100,000 lost in the system. North Carolina has the fifth lowest rate of sex offenders in the nation, with 149 per 100,000 people.
How Predators Lure Children
A predator needs time alone with the child. He wants to earn the child's complete trust, so he may give lots of attention by spending time with the child, talking to him or her on the phone or Internet, or planning special outings.
Another common way a sexual predator works to win over a child or teen is to buy him or her gifts, toys, candy or forbidden items such as alcohol or cigarettes, which is something Stephanie had been given. These gifts make the child feel as though he or she owes something, or that there should be some reciprocity. If the child accepts items prohibited by parents, he or she is even less likely to come forward with what is happening.
The Internet has become an easy way for predators to find what they want. "Unfortunately," says Paul Adkison, founder of ZABRA, an online protection service, "predators can reach children through a variety of methods, including social media sites like Facebook, Twitter and Instagram. And the greatest danger is that they can target multiple people at once until they find someone who's willing to share personal information with them or meet in person."
What Can a Parent Do?
Monitoring social media use is crucial. "Friend" or "follow" your son or daughter on Facebook or Twitter, but do more. Have many candid conversations with him. "Remind them to always ask, 'do I know this person?' If not, there is no reason to interact with him or share personal information," says Adkison.
Children need to know, beginning at an early age, that their parents will love them no matter what, that mistakes happen, and that their parents aren't too busy for them.
"Teach your child to never keep secrets of any kind and teach her good judgement," says Bryte Marziano, psychologist at the Lucy Daniels Center for Early Childhood in Cary. "Teach what is improper behavior and inappropriate touch. Never leave her with anyone who makes you feel uncomfortable."
Parents should ask themselves if there are any adults who could use their social status or relationship to gain access to and isolate their child, and stay involved and informed about their children's interactions with coaches, youth directors, family friends and other trusted advisors.
It is critical that beginning at a very early age, parents create an environment where their children feel close to them "Listen to your child more than you talk. Children who feel heard and taken seriously are more likely to stand up for themselves," says Marziano.
Only 38 percent of child victims disclose that they have been abused. Most never share what is going on with anyone else. Of those who do, 40 percent only tell a close friend and not a trusted adult or authority, which doesn't always result in the abuse being reported.
"Listen to what the child is NOT telling you," says Mary. "Although every parent wants to believe that her child would come to her for protection, this belief puts your child at risk."
In an attempt to teach children about appropriate versus inappropriate relationships with adults, Julie Clark, founder of The Baby Einstein Company, teamed up with John Walsh, whose 6-year-old son was abducted and murdered, to create a video series called The Safe Side.
The concept helps children identify three types of grown-ups – Don't Knows, Kinda Knows, and Safe Side Adults – terms that are more understandable to children than the general word "stranger." For more information, visit thesafeside.com.
When the Unthinkable Happens
If you suspect your child is interacting inappropriately with any adult, either online or in person, intervene immediately. Even if the child denies the relationship, continue to intervene if you're at all suspicious, contact authorities or take the child to speak with a professional.
Jessica Bloomfield, psychologist at Southeast Psych, suggests a calm approach to the conversation. "Calmly tell him you've noticed he seems quiet lately and that you're a safe adult and it's OK to talk. It's OK to say, 'Has someone hurt you or touched you in a way that made you uncomfortable?' This leaves the door open for a child to talk."
If your child does disclose that he was abused, believe him. "Listen without blaming the child or anyone else, and then report the abuse to the appropriate agency," says Marziano. "Children who experience sexual abuse may react in various ways, so seeking out a therapist who specializes in chid sexual abuse can help her cope with what has happened."
Also try to realize that blaming yourself won't help anyone and that continuing to love and assure your child is the best thing you can do for him or her.
Lisa Hassell is a freelance writer, mom and former elementary school teacher who lives in Indian Trail.
*Names were changed to protect the privacy of people in this story.
Related Links:


10 Signs of Sexual Abuse


Tips to Prevent and Stop Sexual Abuse


Growing Up: Stranger Danger