KidsFest Returns to Carowinds July 15-16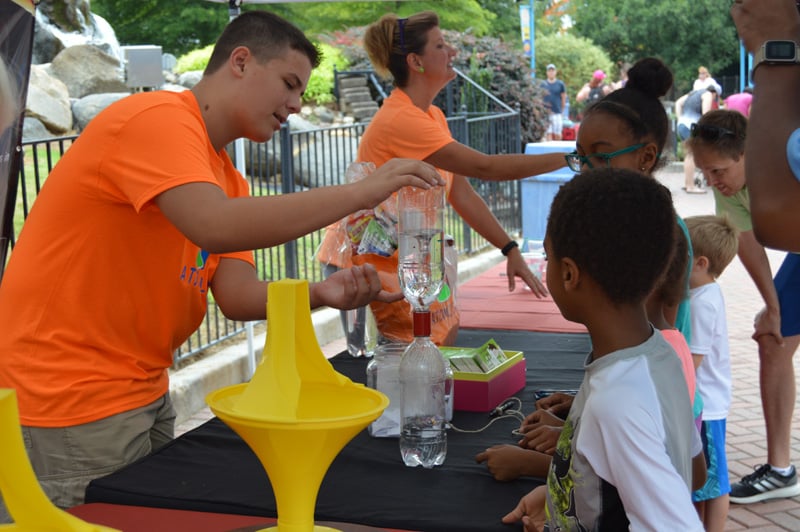 Young fans of Carowinds are in for a treat this weekend when KidsFest returns to the theme park this Saturday and Sunday, July 15-16. The two-day celebration includes dance parties, science experiments, interactive games and activities, and a meet-and-greet with local heroes.
Live Performances
Disney Junior's musical act Choo Choo Soul will perform at PEANUTS Showplace at 1 p.m. and 4 p.m.
The street team from K104.7-FM will greet guests in the Harmony Hall midway on Saturday from 2 to 4 p.m.
The PEANUTS Gang has put together a special performance exclusively for KidsFest. Catch Lucy Van Pelt's Summer Vacation Celebration at 11 a.m., 3:30 p.m. and 5 p.m.
The Community Blood Center of the Carolinas (CBCC) will also perform skits to encourage parents to become local lifesavers through blood donation at 12:30 p.m., 1:30 p.m. and 2:30 p.m. Kids can also stop by their table for DIY coloring pages.
Local Heroes
Representatives from Flint Hill Fire Department will host a meet-and-greet from 11 a.m. to 5 p.m.
Officers from the Charlotte-Mecklenburg Police Department (CMPD) will be on hand Saturday from 11 a.m. to 5 p.m. and the York County Sheriff's Department on Sunday from 11 a.m. to 5 p.m.
Hands-On Fun
Explore science from 11 a.m. to 5 p.m. with Atomz Lab, an enrichment program that teaches through hands-on activities about the law of physics.
Test out your archery skills at the Cabela's S.A.F.E. archery range, open from 11 a.m. to 5 p.m. Kids can use foam-tipped arrows to shoot floating targets out of the air.
KidsFest will be held in Planet Snoopy with activities around every corner. From a local DJ spinning family-friendly dance tunes to the pop-up game vendor booths, there is fun for kids of all ages at this summer celebration.
For more information about KidsFest including admission fees, visit the Carowinds website.