KidSenses Sparks Imaginative Play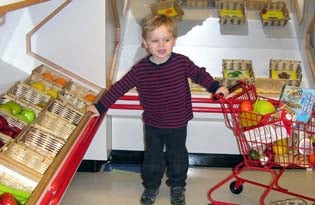 With eight years separating my oldest and my youngest, it's often difficult to find activities or attractions that my kids can enjoy together, but KidSenses Children's InterACTIVE Museum in Rutherfordton – less than a two-hour drive from Charlotte – is an exception.
My husband and I recently visited the museum with our three kids, Carson, 11; Morgan, 8; and Jackson, 3. They spent several hours happily exploring, creating and playing. Our first stop at the museum was the interactive fire station. Here, little ones can try on authentic gear such as a fireman's jacket and boots, and then climb aboard a real fire engine complete with lights and siren. Jackson enjoyed this area the most and loved pretending to drive the engine.
Our next stop was "WFUN Studio," a television station with a realistic anchor desk, a green screen, a camera and a monitor, all of which are functional and loads of fun. While Carson enjoyed giving the weather forecast for North Carolina, Morgan preferred staying behind the scenes with the camera.
After much fun and silliness at the studio, we made our way to "Little Family Dollar," a grocery store with shopping carts, groceries and cash registers for more pretend play. Carson helped Jackson find his favorite foods on the store's shelves before heading to the cash register for checkout. I liked the focus on healthy food choices with a variety of fruits and vegetables available for "purchase."
In the center of the museum is "The Big Climber" that links the two levels of the museum. Neither Morgan nor Jackson braved climbing the structure, but Carson navigated the climb with ease and rang the bell when he reached the top.
"Alphabet Trail," a discovery area, is geared toward ages 1 through 5 and features a colorful play area with letters, numbers and shapes. There's an area for parents to sit and read while little ones explore and interact with tunnels, bouncy balls, a kid-sized barn and more.
I knew we'd be in trouble when we spotted the two train tables downstairs in the museum. My train-obsessed 3-year-old stayed in this spot for quite a while, and we had trouble convincing him that we would have fun exploring other areas. However, once he saw "Kids' Pueblito Café," he was quite content pretending to cook, take orders and deliver food to his waiting "customer," Dad. The café features a Mexican menu with a play kitchen, appliances, pretend food and drinks, as well as tables and at-the-counter seating for hungry customers.
This area of the museum also features a stage with pint-sized costumes for budding actors; a puppet stage with a variety of puppets; and ample seating for parents to be entertained.
My favorite area of the museum was "Bubble-Ology," a room where you can stand inside a giant bubble, create bubble sheets and blow bubbles in a variety of sizes. Again, all three of my kids enjoyed this room immensely, but Jackson was especially delighted at the bubble fun.
Additional museum exhibits include "Gears and Gadgets," an area for building fun; "Creation Station," an arts center for painting, drawing and so on; "Science Power," where little ones learn about kaleidoscopes, heartbeats and more; and "Discovery Garden," an area where children can learn how plants, insects, the sun and water work together.
The museum also hosts special events and programs throughout each month, so be sure to call or visit the museum's website before you visit. As you leave the museum, you might want to pick up a souvenir in the gift shop, which stocks T-shirts, toys and other items. The admission price is also very reasonable at $5 for each guest.
We were thrilled with everything the museum had to offer and look forward to taking another day trip there soon.
If You Go
KidSenses Children's InterACTIVE Museum
172 N. Main St., Rutherfordton
828-286-2120
www.kidsenses.com
Hours: Tuesday-Saturday, 9 a.m.-5 p.m.
Admission: $5