Kids Love Seeing Themselves on the Big Screen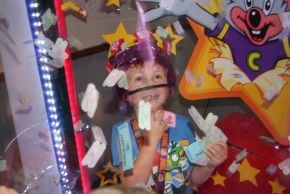 It's Wednesday and I'm finally recovered from our son Tyler's 5th birthday party at Chuck E. Cheese's. He had an incredible time playing games, climbing around the play place with his buds and getting in the Ticket Blaster. A big shout out to our party host Davida and the whole staff at the Chuck E. Cheese's in the Carmel Commons Shopping Center. They were fantastic and made him a feel like a rock star.
After Tyler's party on Sunday we went home and both he and his brother had a nice long nap. When a five-year-old naps, you know it's a sign of a good time. While he and his little brother rested I took some of the pictures and video I shot and popped into iMovie to make a little highlight video.
One thing I've learned over the last few years is that my kids love looking at pictures and videos of themselves. I first discovered this when my son Tyler came home with a video put together by one of his Wee School teachers a few years ago. He asked to watch it again and again. So many times that I couldn't get the Charlie Brown music that was on the video out of my head.
Our two-year-old Chase is much like his brother. He fell in love with the slideshow video our wedding videographer made for us to play during our rehearsal dinner. He calls it the baby movie because it has ridiculous pictures of my wife & I when we were little. I've also found him scanning through photos in our iPhoto library after I've left it up.
Comedian Jim Gaffigan jokes "I have more pictures of my children than my father ever looked at me." He also points out that we just keep old computers with files of photos instead of photo albums,
"This is my computer from when I was single. Better destroy that one." I agree completely. Not only on destroying photos from your single days but also on the lack of photo albums.
Do something with those 5,999 digital pictures. Print the photos of your kids and put them up somewhere. If your kid is 5, you should have a picture of them at work that doesn't include a paci in their mouth. Make a cool slideshow. Take those home movies and make a highlight reel with music and cool effects. Technology has made it pretty simple to drag and drop video or pictures and add a little music. It's another way you can make your child feel like a celeb on a special occasion or just because.