Kids Kitchen Takeover
The Hills discover the joys of letting kids cook in the kitchen.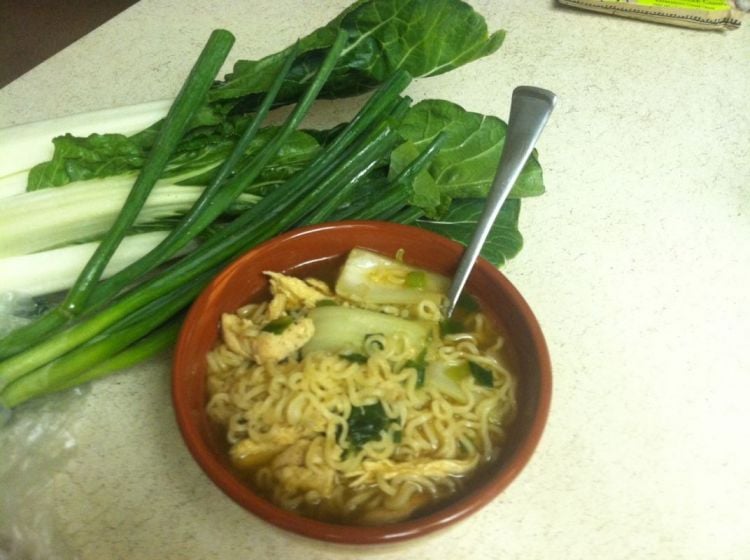 Lena and I live a pretty carefree lifestyle. While I'd love for her to get into bed and fall right asleep at a regular time every night, things don't always happen that way. And I'm okay with that. Quality time together reading or watching a good program on TV can be so hard to come by, that I just go with it sometimes.
Lately, we both have been glued to the reality show Chopped Junior on the Food Network. Chopped is a competitive cooking show that pits chefs of various backgrounds against one another in a timed competition most notable for the rare key ingredients the host keeps hidden in a large wicker basket; the ingredients are revealed at the start of every round. The "basket ingredients" must be used in every dish and should be highlighted in a way that satisfies the judges. Lena and I get an adrenaline rush from the competition, rooting for our favorite chefs and the tastiest looking dishes, but our favorite part is finding out what exotic ingredient will come out of the basket next. Fish eyes? Beef tongue? Rocky Mountain Oysters? Yes, even those. The more exotic, the more entertaining.
The 'Junior' edition of the show has these 9-15 year old prodigies who simply do amazing things in the kitchen. These kids – these chefs – are not just steaming broccoli and making instant macaroni and cheese. They. Can. Cook! Lena and I enjoy the mini bios about the contestants – it gives you a glimpse into how these kids developed such great skills. Nature in some cases, but nurture in most. They had family members who cooked with them from a very early age. I'm totally rethinking some of the rules that I grew up following, like not playing with fire and not playing with knives. In this case, it's those very things that paid off! Yes, flambéing something is far different than setting random objects ablaze, however.
Lena watches these kids her age explain how they have "sophisticated palates" and how they never eat ketchup or grilled cheese or cold cereal for breakfast. And I'm thinking, how? It seems like the kid's menu at just about every family restaurant serves the same four items: hamburgers, hotdogs, chicken fingers and mac-n-cheese. And I'm sure we can all agree that what these foods typically lack in nutrition they also lack in flavor. Hint, hint to any restauranteurs out there!
I'm still discovering what it will take to get Lena to move away from the kids menus and venture toward new and exciting foods. Foods with more distinctive flavors and colors – instead of food that's all some strange hue of orangey-brown-beige. We're not at the point yet where Lena is ready to dive right in to the adult menu, but I recognize that Lena's curiosity, even in just tasting food from my plate, is progress and a wonderful thing.
When it comes to creating our weekly menu at home (yeah, we do that now) I ask for Lena's input; what we should eat, how we should prepare the food. I also ask her if she'd like to help prepare dinner and every single time, she's all in. Lena typically takes on one menu item, all by herself – she's a beast at sautéing yellow and green squash! And she bakes a pretty mean blueberry muffin…from the box *smile*.
This past weekend I came up with what I thought was a wonderful compromise when it comes to introducing Lena to more foods AND she got to exercise her knife skills (I gave her the dullest, oldest knife in the drawer). Here's our quick recipe tip for you: "Easy Veggie and Chicken Ramen Noodles". Lena loves noodles, so I had a bright idea to liven up a dish of regular old ramen noodles by adding some fresh green onions, seasoned chicken and bok choy. Lena chopped the veggies, I cooked the chicken and we incorporated them both into a pack of instant ramen noodles. I had been craving bok choy for some reason, so that ingredient was more of a selfish choice, but it turned out that Lena really enjoyed it. In fact, the bok choy was her favorite addition to the noodles. The meal was inexpensive and a breeze to make. I'm looking forward to turning our meal-making into a fun and adventurous experience that Lena can enjoy and hopefully pick up a new skillset.
And I'm also securing my own, private little chef. Can't hurt!
---
Ami Hill, 35, and daughter Lena, 9 are participating as one of our 2016 Fit Family Challenge spotlight families. Learn more about their healthy family journey here, and follow along with Ami as she updates us this Spring and Summer in the Fit Family Challenge Blog.