Kids Fireworks Safety 101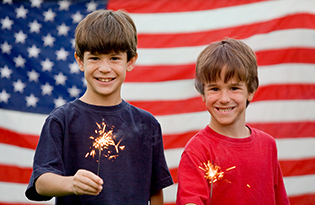 For many families, fireworks are a traditional part of celebrations, especially for Independence Day. But before you strike that match, safety experts urge you to consider the safety of your children — and yourself.
According to the U.S. Consumer Product Safety Commission, more than 15,000 fireworks-related injuries are treated each year in hospitals, doctor's offices, clinics, surgery centers and emergency rooms. Injuries to children represent more than half those accidents.
If not handled properly, fireworks can cause burn and eye injuries. They have been known to blow away little fingers and permanently disfigure hands, legs and even faces. Never allow young children to play with or go near fireworks, including sparklers. They may seem harmless, but sparklers can exceed temperatures of more than 1,000 degrees, hot enough to melt gold. Even after they burn out, the metal holder for sparklers remain hot enough to cause a serious burn injury. The best way to protect your family is not to use any fireworks at home — period. Attend public fireworks displays, and leave the lighting to the professionals.
Read more:

4th of July Fireworks + Events