Kid-Friendly Restaurants with Healthy Options
9 eateries with nutritious offerings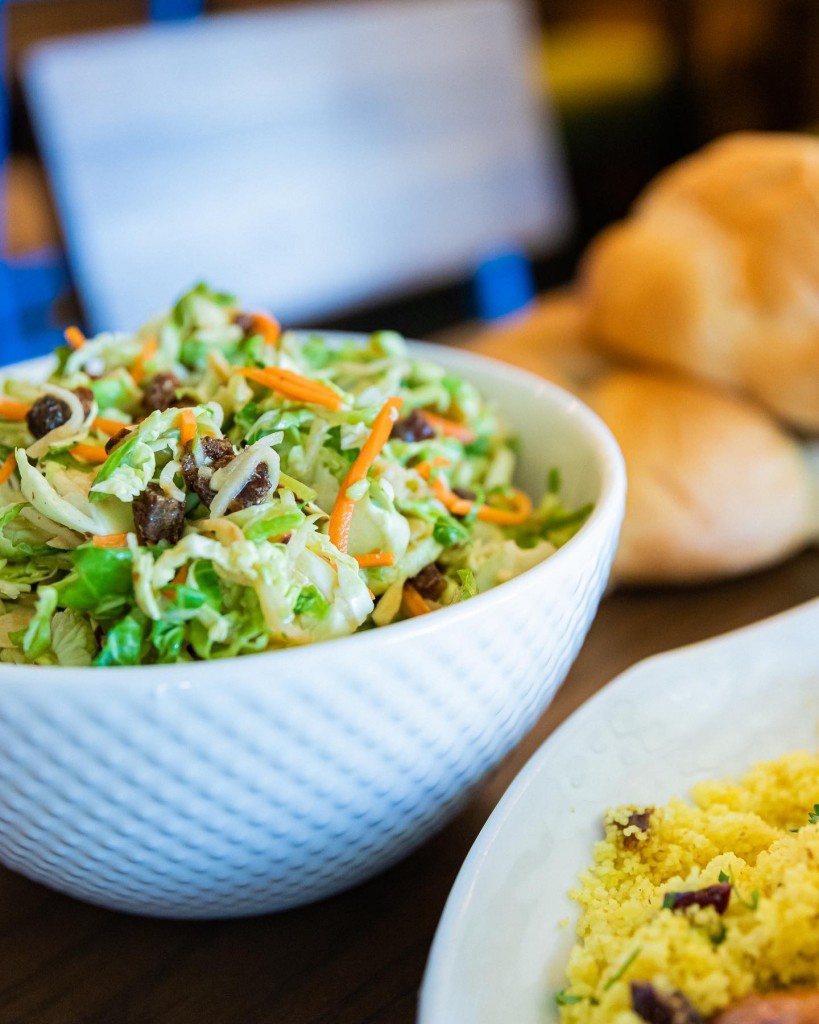 If your 2022 goals include eating healthier, check out these 9 local restaurants with good-for-you options even the littlest family member will love. Many continue to offer curb-side pickup and delivery so you can eat well no matter how hectic the day gets.
If your kids aren't too sure about this healthy eating stuff, a bento box from The Cowfish in South Park will change their minds. Kids 10 and under can choose a California roll, tempura shrimp roll, grilled cheese, chicken nuggets, PB&J sushi role, and other tasty options served in a cute bento box. Meals come with a drink and choice of two sides (carrots, apples, oranges, edamame, or house fries).  4310 Sharon Rd., 704-365-1922
Build a bowl full of greens, rice, or hummus (or all three); pick a protein; then pile on fresh toppings of your choice. For $4.99 the pint-size crew can choose a protein (falafel, shwarma chicken, Greek chicken, or schnitzel strips), side (hummus, rice, rotisserie potatoes, or macaroni and cheese) plus pita and drink. If you're too busy to stop in, pick up a family meal that feeds three to four people with choice of protein, two family sides, a greek salad, hummus, and rice for $34.99. Multiple locations
The five signature bowls from Rico's Açaí are a tasty way to add extra antioxidants, calcium, potassium, and Vitamin A to your diet. Fuel up on the Açaí berry superfood with a Brazil Bowl (granola and bananas), Rainbow Bowl (granola, bananas, strawberries, pineapple, kiwi, blueberries, and raspberries), Berry Fruity Bowl (granola, bananas, strawberries, blueberries, raspberries, and blackberries), Butter Bro Bowl (granola, bananas, peanut butter, almond butter, Nutella, and Hemp Hearts), or Panther Bowl (granola, bananas, blueberries, blackberries, and coconut flakes). Multiple locations.
Are you plant-based curious? Head to Living Kitchen in South End for 100% organic, plant-based, and locally sourced meals. Try a classic dish like pizza, burgers, Pad Thai, or sushi—all made from plant-based ingredients. Open for breakfast, lunch, dinner, and dessert, they are ready to wow you with good eats and excellent service. Check out the grab-and-go section for easy meal planning. 2000 South Blvd., Ste. 300, 704-333-0008
Sometimes a sandwich piled high with fresh ingredients is the only thing that will do. Rhino Market & Deli brings the goods with "Meatatarian" and "Vegetarian" options. Fun kid options include Sun Butter & Local Jelly Sandwich, Healthy Hummus, or build-your-own omelets, sandwiches, and salads. This cute neighborhood spot also carries to-go items, local cheese, snacks, baked goods, specialty coffees, beer, and more.  Multiple locations
In between practice, carpool, and errands, this is a great place to grab a quick sandwich, wrap, Açaí bowl, salad, smoothie, or wellness shot. A kid's menu includes three slushie flavors and a cheesy wrap, and all menu items come with an ingredient list so you know exactly what you're putting in your body. Multiple locations
Rotisserie chicken, fab sides, and tangy sauces make this an easy go-to dining spot. Start with a piece of Peruvian marinated chicken then pile on the sides with Peruvian fried rice, chicken soup, cilantro rice, french fries, fresh fruit, plantains, yuca, green beans, house salad, canary beans, solterito sweet potato fries, or white rice.  The kid's menu gives the littlest eaters great choices like the Kids Chaufa (Jasmine rice, pulled rotisserie chicken, egg, and soy sauce), Kids Pulled Chicken (chicken and choice of side), or Kids Rotisserie Chicken (bone-in chicken and choice of side). Family meals include build-your-own-bowl Tacu Tray or large rotisserie chicken with three family sides. Multiple locations
This farm-to-table spot serves vegan, vegetarian, and gluten-free pizza; salads; and sandwiches sourced from local Carolina and Southeastern farms. Pure Pizza has locations in Plaza Midwood and the 7th Street Public Market, which is directly across the street from First Ward Park. Get some fresh air, move your body, then eat an amazing meal everyone can feel good about. Multiple locations
"Undeniable fresh and healthy," this University City fast-casual restaurant serves mini bowl options for kids at a great price. Kids can choose a mini chicken bowl (chicken, rice pilaf, and garlic sauce), a mini meatball bowl (two lamb meatballs, rice pilaf, and tzatziki sauce), a mini beef bowl (beef, rice pilaf and tzatziki sauce), mini lentil bowl (lentils, rice pilaf and tahini sauce), mini chickpeas bowl (chickpeas, rice pilaf and tahini sauce), or cheese flatbread. Top it off with a homemade sauce for the win. 10221 University City Blvd., 844-972-7929