Kid-Friendly Music Festivals in the Carolinas
Regional music festivals offer fun for the whole family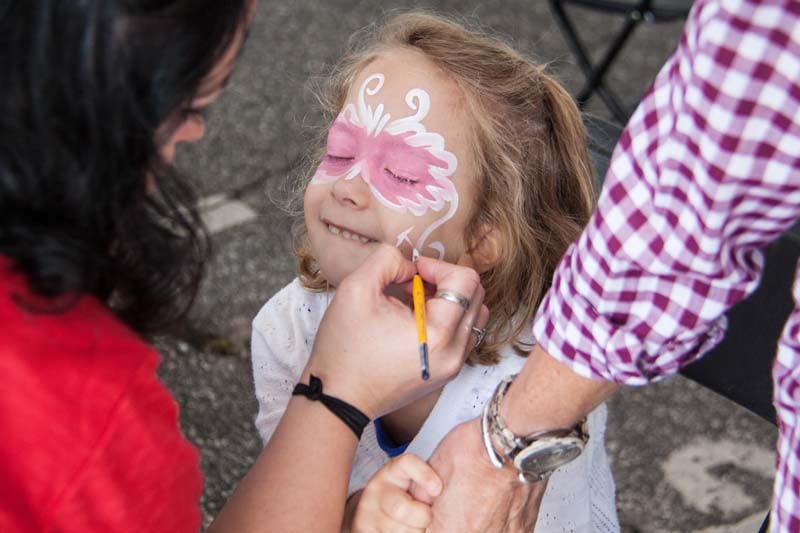 Updated April 23, 2019
Spring means festival season is upon us — and the idea of lugging a baby around or being tethered to a toddler for four days at Bonnaroo or Lollapalooza might sound like a bad idea. There are, however, several music festivals within the Carolinas that may be more accommodating to the family lifestyle than your massive Woodstock wannabes. Here's a rundown of family-friendlier festivals within driving distance happening this spring and summer.
---
SPRING
---
Where: Wilkes Community College in North Wilkesboro
When: Thursday-Sunday, the last weekend of April
Cost: Single-day passes at the gate $70-$90; three- and four-day passes $170-$270; children 12 and under admitted free with paying adult.
Best for: Fans of old-time folk, bluegrass and the like, transplants curious about Carolina's musical roots, and fans of newer Americana eager for a lesson in what's old and what's up-and-coming.
What's in it for kids? Mascot Flat Top the Raccoon — named for the style of guitar played by the festival's namesake, Merle Watson — who poses for photos with the kids; the Little Picker's Stage; arts and crafts; nature walks; and a showcase featuring musicians age 16 and younger. It's also a chance to expose children to North Carolina's rich musical history. There's even an area for napping.
---
Where: On a 75-acre farm in Pittsboro, North Carolina, a short drive from the Triangle.
When: Thursday-Sunday, first weekend of May.
Cost: Single-day pass $27-$49; four-day adult pass $119-$134, four-day youth pass (ages 13-15) $64-$70, kids 12 and under admitted for free.
Best for: Jam band fans, aging hippies, passionate yoga moms whose commitment to the lifestyle goes beyond downward dog, and those looking for something left of normal. Founded by jam band Donna the Buffalo, the Shakori Hills Grassroots Festival of Music and Dance is as much about activism and advocacy, healing and visual arts, and environmentalism, as it is music.
What's in it for kids? The Kid's Tent boasts hands-on art projects, kid-friendly performances, face painting, storytelling and group activities. Elsewhere, kids can learn about nature, musical instruments, pottery, and games from other cultures through nature walks, educational demonstrations and hands-on activities. They can also march through the grounds with noisemakers and costumes during Saturday's parade. Children age 15 and younger are invited to sell their own handmade arts and crafts at the Kids Bazaar.
---
Where: Black Mountain, nestled alongside Lake Eden beneath Mount Mitchell.
When: May 9-12 and Oct. 17-20, 2019
Cost: Adult weekend pass,$127, $170 with camping; children ages 10-17, $111, $159 with camping; children under age 10 admitted for free. Single-day passes $47-$69, overnight camping not included.
Best for: Athletic families with a taste for the outdoors, and those hungry for a festival that educates and introduces its audience to new music. With a focus on world music and culture, LEAF showcases everything from Cuban and African to jazz and folk music — just another aspect of the diverse experience.
What's in it for kids? Kickball and other games; Renaissance fair-style pop-up performances; costume- and puppet-making, and other arts and crafts; a reptile petting zoo; and, most notably, a dome where kids can swim through the air with giant "jellyfish."
---
Where: Greenville, South Carolina
When: May 10-12, 2019
Cost: Free
Best for: Anyone with a taste for fine art, but who also appreciates a broad sampling of disciplines from glassblowing, woodworking, ceramics and metalworking, to culinary art and music. The weekend is filled with arts and crafts demonstrations; opportunities to try your hand at making your own art; juried exhibitions; live music on multiple stages; wine and craft beer tastings; food from local restaurants; and over 135 working artists.
What's in it for kids? There are numerous hands-on activities like mask-making, kite assembly, puzzle quilts and a community sculpture to which kids can contribute their own creations. Fabric mosaics, hat making and painting are all part of the Kidsphere fun. Children also can explore musical instruments and costuming — and even make their own with the help of Logos Theatre and DRUM Percussion Studio, which both lead a downtown parade featuring puppets from "The Chronicles of Narnia," costumed characters, stilt walkers and percussionists.
---
Where: Union Grove, North Carolina located in Iredell County
When: May 24-26, 2019
Cost: Single-day tickets $5-$15; weekend passes $20-$25; kids age 12 and under admitted free.
Best for: The whole family, including grandma and grandpa, and those seeking a history lesson. Established in 1924, the four-day fest centers on competitions that attract some of the best players in the region.
What's in it for kids? A glimpse of pre-smart phone culture where playing fiddle tunes around the fire or clogging on the corner were considered entertainment. Nearing a century old, Fiddler's Grove still boasts the fastest, most dexterous string players in the region who compete for the top spot on a number of acoustic instruments. Kids can learn the basics during one of the weekend's workshops and enjoy a special children's chow Saturday afternoon.
---
SUMMER
---
Where: West Point on the Eno River at Durham City Park, Durham, North Carolina
When: July 4 and 6, 2019
Cost: Single-day passes $23; two-day passes $35; youths age 13-17, $11; children ages 12 and under for admitted free.
Best for: Those who prefer a warm hotel shower and a proper mattress, music fans open to artists they haven't heard before, shoppers eager to peruse the juried arts and crafts, and folks who just want to support Eno River State Park, which benefits from the festival. Seventy artists perform on four stages during this event. Off-site camping is available 8 miles away from the festival grounds.
What's in it for kids? The water (bathing suits, flip-flops and a change of clothes are recommended), hands-on crafts; a giant sand sculpture; and insects and animals indigenous to the area. Tired kids will appreciate the early end time after a day full of swimming, running and more. The festival closes at 6 p.m.
---
Where: In the breezy hills of Floyd, Virginia.
When: July 24-28, 2019
Cost: Single-day pass $95 + processing fee; two- to five-day passes range from $230-$280; passes for kids ages 6-12 are $30 + fee, which covers all five days; kids under age 6 admitted for free.
Best for: Music fans who balk at how big mainstream festivals have gotten; families looking for a mini-vacation (posh camping is an option) and fun outdoor activities. FloydFest exists somewhere between the down-home charm of a small festival and the fancy bungalow-style experience of a Coachella.
What's in it for kids? Parades; face painting; yoga; tetherball; Taekwondo; and drum, ukulele and mixed media workshops. A huge ark, sandbox, playgrounds and basketball goal remain on the property year-round. There are also activities for teens and child care for parents who want to catch their favorite band without a tot tugging at the hem of their peasant skirt.
---
Where: Downtown Elkin, North Carolina
When: Aug. 2-3, 2019
Cost: Check website.
Best for: Founded by the Charlotte-based band Time Sawyer, which hails from Elkin and is 70 miles north of the Queen City, this small festival is perfect for city slickers who want to expand on the experience of a night out hearing regional bands.
What's in it for kids? A bounce house, outdoor games and face painting during the afternoon.
---
FALL
---
Where: A free non-camping festival in downtown Greenville, South Carolina
When: Oct. 11-13, 2019
Cost: Free entry, but guests must purchase tickets for food, drinks and kids' rides.
Best for: Hungry visitors who enjoy the city life, but on a slightly smaller scale than what Charlotte offers. For four days downtown Greenville serves as a bastion of Americana, soul and indie rock, but with 40 participating restaurants — so homegrown food is as much of an attraction as the music.
What's in it for kids? Ticketed amusement park rides. Most are aimed at kids under 12, but some require a parent to accompany them.
---
Courtney Devores has written about music and pop culture in the Carolinas for 19 years. She has two sons, ages 8 and 6. She got married in Vegas on the way to a festival in California 12 years ago.