Kicking Up Self-Control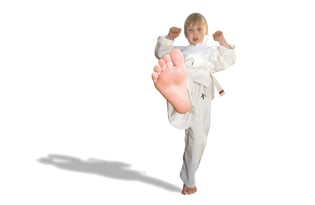 School will resume again in a few weeks, and it's time to think about after-school activities. What will engage your child, keep him active and maybe even help him with his school work?
In addition to the physicality of kicking and punching, martial arts helps build self-confidence and teaches respect for others. And, as an added benefit, these attributes carry over to other parts of their lives.
Emphasizing Manners and Morals
It all starts with respect for the students, says Mike Price, owner and head instructor of Charlotte Martial Arts Academy. Not only do parents wait quietly in a separate reception area for their children to complete the 30-minute class (so as not to distract them), instructors also point out students who demonstrate respect for others and give out "power stripes."
"We catch them doing positive things," says Price. "We can give them a high five, but a stripe on their belt is a visual reminder." Instructors also listen for respect beyond the doors of the studio and recognize those who are polite to their parents in the parking lot.
Price adds, "We also teach that life is not all roses. We have firmly set rules, and there are consequences for negative behavior … and we are consistent in enforcing those consequences." Price, who has 26 years experience in martial arts, says, "Kids catch on quickly."
The extra self-discipline is the first thing Charlotte mom Leigh Jones noticed — and had hoped for — in her son, Grayson, when he started with martial arts four years ago. Now 10, Grayson recently earned his black belt in taekwondo at Martial Arts University in Charlotte.
"It's a very positive environment, stressing values, morals and discipline," says Jones. "Positive thinking is reinforced." For children who don't excel in school, instead of feeling like they can't do anything, they can do well in martial arts and take away a sense of accomplishment. Jones says she likes the benefits of the structured, but nurturing, environment. "You're expected to do your best, and believe you can do it if you try," she says. "They teach this in a positive manner."
While there's plenty of movement in each class — punching and kicking —there's no wiggling while standing and listening to the instructor. Kids, do get a good work out, however. "They break a sweat in every class," says Price.
Children also learn self-defense skills, in order to know how to stand up to bullying and peer pressure without getting into a fight. "(The instructors) make it very clear the importance of not fighting and to use these methods as a last resort," says Jones.
Teaching Respect and Responsibility
The four years of instruction has paid off for Grayson, says his mom, in all aspects of his life. What he's learned in martial arts has transferred to his school work and how he interacts with others. Grayson shows respect for his teachers and elders, as well as his friends. He follows directions and takes responsibility if something goes wrong.
Jones advises parents who have a child interested in martial arts to try a class or two, as well as check out different schools.
Price agrees, noting any good school will allow a child to watch or try a class first. He also recommends parents look for an instructor who has good credentials. This doesn't necessarily mean someone with 30 years of martial arts experience, but someone with a variety of teaching credentials, such as from The American Council of Martial Arts, which focuses on how teachers convey information, rather than the type of art they teach.
"Look for someone who engages with the kids," says Price. "Different children have different ways of learning. We take a multi-sensory approach, including auditory, visual and kinetic."
Learning discipline, respect for others, and self-control gives students the tools, skills and confidence to deal with almost any situation. "Every child is a good candidate for martial arts," says Price.
Heather Bailey is a Charlotte freelance editor and writer and mom to a 5-year-old daughter.