Kelly Finley: Helping Girls Find Their Voices
Get to know the person behind the nonprofit organization Girls Rock Charlotte.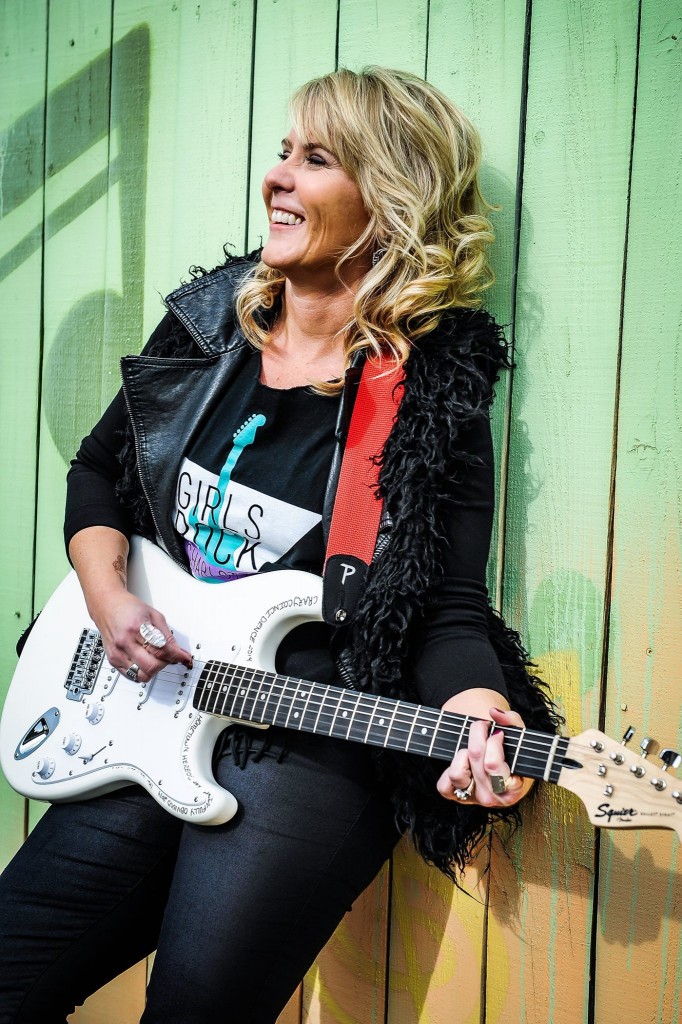 As her 14-year-old daughter Grace bangs out rhythmic cadences on the drums in the background, Kelly Finley, founder and executive director of Girls Rock Charlotte (GRC) walks around her home to find a quiet space to chat. Quiet space is a scarce commodity for Finley these days. Her schedule consists of teaching three women's studies courses at UNC Charlotte, empowering young girls to find their voice through rock music, and being a wife to Kevin Krauz and mother of three: Grace (14), Jacob (14), and Quincy (11).
---
Summer Full of Grace
Back in the summer of 2012, Finley's daughter Grace took a week-long vacation to visit family in Chapel Hill. Finley signed Grace up for the Girls Rock Chapel Hill summer camp. In just one week, Girls Rock Chapel Hill transformed a shy and mousy-voiced Grace into a bonafide Cherry Bomb of a rock star full of confidence and charisma. When Finley saw her daughter grab the microphone, own her voice and own the stage, she knew she had to own a Girls Rock nonprofit chapter in Charlotte.
"I sent my daughter to Girls Rock Chapel Hill when she was 9. She was very shy back then. And, it's funny, because she was not shy at home, but she was shy at school. She didn't really use her voice when kids weren't being very nice to her. So I signed her up for the (GRCH) summer camp program," Finley says. "She stayed with her cousin and had a fun week. When I went to see her for the finale concert, it's like I almost did not recognize her on the stage. She was so confident with a huge smile on her face with really super huge sunglasses. I just got tears in my eyes. She just really seemed so confident and it really helped to change her."
---
Rockin' from the Hill to the Queen City
In the summer of 2014, Girls Rock Charlotte officially opened to campers. The ability to take GRC Charlotte from concept to actually serving youth between the ages of 10-16 boiled down down to access. Former GRC board member Crystal Dempsey helped the organization gain access to a building at the Blumenthal Center for Performing Arts. It was just the catalyst they needed. With a space to bring campers to on a daily basis, Finley and the GRC crew were now able to start building the next generation of Charlotte's social justice leaders.
"We do several different workshops with our campers where we talk about using their voice to be confident in themselves while defending and standing up for each other," Finley says. "We also teach them that their voices can be used to speak out against sexism, racism, homophobia and other forms of discrimination. Given the spirit and origin of rock music — protest music — it is a great way to help the kids channel their voice and their passion and learn to speak up." The call and response mantra of the Girls Rock brand is "Girls, what is your instrument? It's my voice!"
In addition to their voices, campers learn to play instruments within a five-piece rock band. They are taught by Charlotte area musicians all while building their self-esteem and gaining a deeper understanding of social justice leadership through power chords and rock n' roll chants.
WBTV, Bounce TV May 29, 2015 TV Spot
---
Growing the SEEDling of Girls Rock Charlotte
Since its opening, the organization has served over 56 socially conscious young rockstars in the making. It was an initiative from Charlotte's entrepreneurial community that raised the brand recognition of Girls Rock Charlotte. Finley won a spot in the SEED20 Class of 2015. The chance to be a part of this Social Venture Partners mentorship program and business competition has increased brand recognition and rate of enrollment for GRC. "The whole process of having to distill your mission and your organization's mission and program in three minutes is a great discipline for anyone," Finley says. "It helps you become very clear and very certain about what it is that you do and how you tell your story."
---
Finding Her Balance
With SEED20 injecting waves business support into GRC, Finley finds that the key to long-term success truly depends on working to establish work-life balance. She explains, "In addition to Girls Rock and my family, I teach as a senior lecturer at UNC Charlotte. So, it's like two full-time jobs and a full family. My guideline for myself is if an opportunity, or event, or really anything does not fit into those three categories of family, UNC Charlotte or Girls Rock, then I just regretfully decline."
Finley also integrates self-care and me time into the mix in order to get as close as possible to reaching a work-life balance. "I am not a health fanatic, but I do believe in making health choices if you can so you can live a long time and make a big difference in life. I am also a huge proponent of vacation and just walking away and picking up a book."
Some of Finley's favorite staycation spots around town include, a nice trail walk around the U.S. Whitewater Center, a visit to a locally owned coffee shop with a good book, or an early morning getaway to the back porch with a cup of coffee.
She leans on her husband Kevin Krauz for support as her daily schedule fills with appointments and to-do tasks. "Kevin is wonderful! Everything from cooking dinner when I come in late because I had a volunteer orientation, to bringing me flowers the first day of camp," she says."He is also a great roadie! He helps us load in drum kits, speakers, and any other piece of musical equipment we need to make the camp run. He is just my 'care bear,' my supporter, my champion!"
---
It Takes A Village
When Finley is not at home, she leans on her GRC village of champions. The adult volunteers often come on board to help with the administrative tasks, serve as rock music coaches, speak on GRC panels and mentor the young adult volunteers. Young adults between the ages 18-21 serve as camp interns to assist GRC staff and as teen mentors to the connect with the young campers.
Looking ahead to summer 2017, the village of GRC volunteers will have to grow as the program expands. In 2017 the plan is to offer two-week camps that serve campers ages 8-12 and 13-16. The hope is that the two-week camp schedule will make GRC more accessible to families as they set-up summer camp schedules and summer vacations.
Upcoming Event: Girls Rock Charlotte Concert, Saturday, July 23, 2016 at 7pm in the McGlohon Theatre.