JROTC is Shaping Tomorrow's Leaders
High school program is about much more than military service.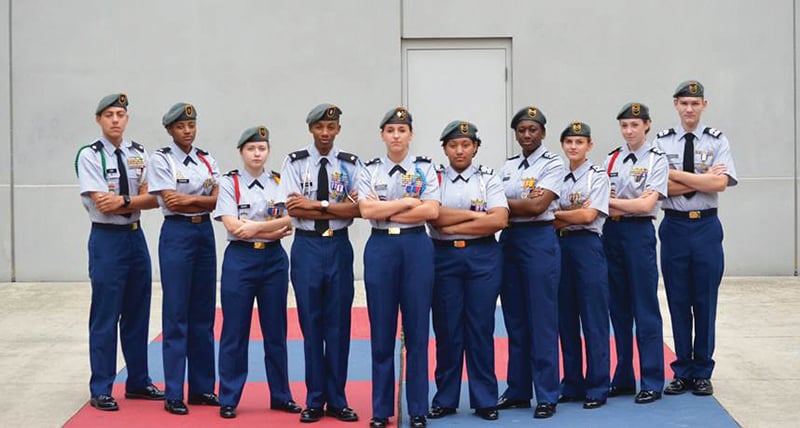 Providence High School senior Rebeca Teran, 17, has her sights set on going to MIT next year. N.C. State and UNC Chapel Hill are also in the running. She's smart – with a 4.0 average and an impressive class ranking – capable and hardworking.
She's also fit. When she first began the Junior Reserve Officers' Training Corps (JROTC) as a freshman, she could do seven or eight push-ups. Now, she easily does 40 to 45 at a time, and she's shaved two minutes off her mile run.
Her middle school friends didn't think she'd be able to handle the physical aspects of JROTC. That made her determined to show them – and herself – that she could.
Instilling confidence and service mentality is exactly what the Charlotte-Mecklenburg Schools JROTC program intends to do. It's what the national program has been doing since the Army started it in 1916.
The main focus of JROTC is evident in its mission: "To motivate young people to be better citizens." The goal? Turning JROTC cadets into disciplined leaders, says retired Col. Robert L. Clark IV, the director of the CMS JROTC program. You might think the top priority of JROTC is to train future members of the military. That's a common misconception. Instead, CMS JROTC aspires for 100 percent of seniors to graduate with their peers, and to be accepted to post-high school institutions of higher learning and training.
---
Values and Moral Courage
Students sign on for JROTC in grades nine, 10 and 11, just as they would any elective. They need instructor approval and have to be of good moral character and in reasonably good physical shape.
"We encourage all students to give JROTC a try," Clark says. "JROTC is not a military recruiting tool. Our mission is to motivate cadets to become better citizens. We teach them how to think. We teach them leadership skills. We stress values, selfless service and integrity."
But cadets do get a taste for the military and the discipline that goes along with it. After all, they're issued a uniform they wear once a week that's similar to whatever branch of service they're taking in school. They're taught to take care of their uniform and take pride in their personal appearance. But they're taught a lot more
than that.
"We talk about patriotism and military traditions, customs and courtesies," Clark says. "They learn leadership skills and about leadership theory. We talk about how they can build on their strengths, how to resolve conflict, collaborate and think creatively. More than anything, JROTC is about service to others. We want cadets to have a heart for service to others."
They perform thousands of hours of community service. But there's always a learning component to each service project.
"The cadets might clean up a local stream, but they'll do more than pick up rubbish," Clark says. "To prepare, they'll learn about ecology and the effects of pollution. They have to prepare a plan and then execute. And we reflect on lessons learned. It's much more than, 'Let's do a project on a Saturday morning.'"
Physical fitness and wellness are a component of the program, too – as Rebeca discovered. And the focus is on more than physical health. There's an emotional wellness component, too – and lessons on suicide prevention.
---
Model Citizens
Given the JROTC's emphasis on education, college scholarships are a possibility for some. The Military Officers Association of America, the Metrolina chapter's JROTC Scholarship Fund, offers leadership awards, recognition and scholarships. Chapter president and retired Col. Ron Morgan has said, "Cadets in the JROTC programs are some of the best student citizens."
The program's alumni are living proof.
Just look at Markia Jeter, a 2004 graduate of Harding University High School and a four-year cadet in the Army JROTC program. She graduated from UNC Chapel Hill, earned a law degree from Campbell University and is now a practicing attorney in the Charlotte area.
Lt. Alan Acosta, an East Mecklenburg alumnus, enlisted in the Air Force after his 2008 graduation. He was chosen to attend the U.S. Air Force Academy, which is limited to only 1 percent of the enlisted force. He's now serving on active duty.
Robert Blanton, a 2008 Butler High School graduate, participated in Army JROTC during all four years of high school. He earned a full football scholarship to Notre Dame and graduated in just three-and-a-half years with a degree in business. He was a fifth-round draft pick in the 2012 NFL draft and now starts for the Minnesota Vikings.
South Mecklenburg JROTC alum Ken McNeely serves as president of AT&T California. He earned his law degree from Howard University School of Law in 1987.
One day, Whitney Hicklin, 17, may be listed with these other distinguished alumni of the CMS JROTC program. The Olympic High School senior has been accepted to East Carolina University and wants to serve in the military after college graduation.
Being a cadet has taught her leadership and given her confidence. "I was timid my freshman year," she says. "I was pretty much in the background and didn't say what was on my mind. I didn't see myself as a leader. I was more of an observer."
She can never go back to the way she was, pre-JROTC, Whitney says. As brigade executive officer, she manages a staff of six, and has to help resolve conflict and help people play to their strengths. When she applied for her after-school job at Panera Bread, the first thing she said during the interview was that she was a JROTC cadet. She was hired right away.
JROTC cadets graduate from high school with an uncommon readiness for higher learning and for life. Unlike Whitney, Rebeca isn't planning to continue her JROTC experience next year. But she'll take with her to MIT or another outstanding university the self-discipline and desire to serve that JROTC instilled in her.
---
Page Leggett is a freelance writer and Charlotte native whose work regularly appears in The Charlotte Observer and SouthPark Magazine.