Job Sharing Makes Work-Life Balance Easier for Parents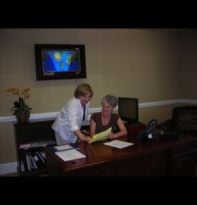 As children, we are told that the world is ours for the picking, that we can be anything we want as long as we put our minds to it. And, for most people that means dreaming of a career as a doctor or lawyer, a teacher or preacher, or some other fun, challenging — but full-time — career. All the while, we assume we also would share our life with a loving partner and beautiful children.
Fast forward to a parent's reality, and the wake-up call is that the full-time career eats away at quality time spent with family, and where in the world does personal time fit into the mix?
Some parents have found the answer through an idea that is gaining popularity both in North Carolina and nationwide: job sharing. As more Generation X and Y adults have kids and baby boomers find themselves caring for aging parents, the search for flexible hours is a definite career criterion. Job sharing often fits that bill, allowing dedicated employees to keep a position — along with the challenges and rewards of the job — while scaling back the time spent in the office by sharing one full-time position between two employees who work different schedules.
As Carolina Parenting Inc. reviewed information gathered from companies in North Carolina for this year's Family-Friendly 40 Companies recognition, job sharing was included in some of the available flexible work options. Other employers have made the effort to work with employees to create an arrangement similar to job sharing.
Job Sharing in Practice
At Providence Day School in Charlotte, job sharing has been part of the norm for more than 10 years. About 12 years ago a new position was created to serve as an information hub for the entire school. But to cover the hours of operation, the position required working 10 hours a day. After going through a few employees in a short amount of time, the administration made the job a shared position and offered it to two women who were currently working as teacher's assistants. Sarabeth Keniry and Elaine Foster have shared this job for about 10 years.
To make it work, they split the day. Keniry comes in at 7:30 a.m. and leaves at 12:30 p.m.; Foster's hours are noon-5 p.m. The half-hour overlap allows time for them to communicate, as well as accomplish any tasks that might need two people.
In Raleigh, Capitol Broadcasting Co. has worked out a schedule with two of their on-air reporters that is basically job sharing, although technically they are now separate part-time employees.
"After having my second child I was still working full time, and I got to the point where I felt like I was really going to have to choose something," says WRAL reporter Sloane Heffernan. "I couldn't continue at that same pace with both work and family life without one or the other suffering, but I didn't want to make that decision, because I love what I do."
Heffernan approached a co-worker, came up with a job-sharing plan and proposed it to her boss. While Capitol Broadcasting Co., had not had this type of arrangement before, the company was willing to consider it to keep two experienced professionals who already had a good relationship with their co-workers and the community. Rather than sharing one position, the station made two part-time positions, with Heffernan and her co-worker, Amanda Lamb, both covering the crime beat. Each reporter works three days a week on different days and with different hours.
Living the Dream
The benefits of job sharing are immeasurable, but one of the biggest is the gift of time. For Heffernan, a mother of two young boys, working a part-time schedule means she is more regularly able to take part in her family's nighttime routine. "I've had the opportunity to enjoy dinner and bath time with my family, which is such a special time of the day," she says. She's also home more, which means she witnesses those important developmental milestones, such as watching her toddler walk his first step.
Family scheduling was also a factor in Keniry's decision to take a job-sharing position. "This job came along at a time in my life when it was great to transition into different working hours with my family," she says. When she first started in the position, her daughters were in high school. Mornings free gave Keniry time to run errands, clean the house or make appointments, while allowing her to still attend sporting events and be with her family at night. "Every mother knows that you don't have a lot of time to yourself, so taking this job meant having some time to myself, which made me a happier, less-stressed person the rest of the day."
For many parents, staying home full time is not an option, whether for financial or personal reasons. A job-sharing arrangement is one way to continue working at a job you enjoy in a company you like, rather than looking for part-time work that might bring in some money but won't necessarily keep you headed on a career track.
"By being able to spend more time with my family and not feel guilty that I'm not there when I am at work, I'm even more dedicated to my job than I would be otherwise," Heffernan says.
Benefits for Employers
The advantages of job sharing are touted by employers as well. By allowing two people to share one position, human resources departments are given the flexibility to create a job that might include an extended day. Employees are more energetic about their job when they are at work, and it allows companies to keep experienced, dedicated team members.
"One of the biggest benefits we've found in working out this position was being able to keep two seasoned journalists on our team," says Rick Gall, the news director for WRAL. "Both Sloane and Amanda come to their job refreshed, energized and motivated."
Job sharing also enables employees to be more productive while at work, according to Foster at Providence Day School. "Participating in a job-sharing position helps make you a better employee because you have time to take care of personal responsibilities and then give 100 percent to your job," she explains.
Statistics from the U.S. Department of Education show that men now make up only 42 percent of the nation's college population, which means the work force is dependent on women working and staying at their jobs. This only serves as further motivation for employers to work with their staff to find flexible work schedules, especially if it's only for a temporary period.
Important Considerations
While job sharing might sound like the silver lining in a cloud, keep in mind there are a few raindrops. While you're able to continue in your career at the same time as you reduce your work hours, co-workers might start to show a twinge of jealousy or think that you're not working as hard as they are. This is just a perception, however, not reality.
Determining a schedule that works for both people and figuring out what to do with benefits can also be a challenge. If you're considering sharing a position, think about how to arrange your working hours to best fit the position and your employer's needs. Would it be best to work fewer hours but work every day to maintain your client base? Or can you work a full day's schedule fewer days per week?
Figuring out benefits can be a challenge, not just for the employees but also for human resources. The news reporter position was made into two part-time positions so Heffernan and Lamb could receive part-time benefits. The amount they have to work to earn personal time off and the amount they pay for insurance is different than it was when they worked full time. Other job-sharing options include sharing the benefits of one full-time job, or opting out of benefits altogether.
Another concern, especially for employees in fast-track careers such as lawyers and certified public accountants where hours logged means progress toward partnership, is that choosing a job-share option puts you on the "mommy track" rather than the career track. The reality is that it might take longer to make that partnership, but at least you're visible at the office and keeping up with current trends by staying in the profession.
The mantra around the play-date circle these days is, "You can have it all. You just can't have it all at once. As Heffernan passionately states, "I think this is about as close as you can get to having it all."
Making It Work
Creating and Maintaining a Successful Job-Sharing Position
• Find someone who is in a similar position to you, both in your career and in her family life, who wants to scale back working hours.
• Create a fully developed proposal before approaching human resources if your company doesn't already have a job-sharing policy.
• Be willing to compromise to gain the flexibility you desire. You might have to give up some benefits or pass over the biggest assignments, but try to keep it in perspective.
• Keep the lines of communication open, both with the other half of the job-sharing team and with your employer.
Karen Alley is the web editor of Piedmont Parent