James Ford Leads Way for Teachers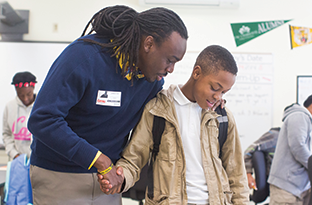 James Ford, a Garinger history teacher and the 2014 North Carolina Teacher of the Year, is not only a member of Gov. Pat McCrory's Teacher Advisory Committee — he's been appointed its chair.
The governor announced the appointment March 10, when the committee met. The committee provides recommendations and guidance to the governor on recruiting and retaining teachers, promoting innovation and increasing student achievement.
As the N.C. Teacher of the Year, Ford is traveling throughout the state as an ambassador for more than 95,000 N.C. teachers.
Charlotte Magazine also named Ford 2014 Charlottean of the Year.