It's a Toss-up at the Pizza Peel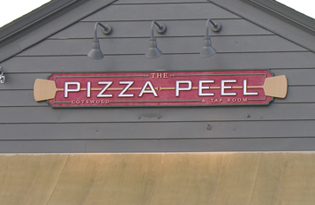 The Pizza Peel
4422 Colwick Road
704-714-8808
www.tapandpeel.com
$-$$
When a restaurant has pizza in the name, you expect the pies to be pretty darn good. At a recent visit to Cotswold's The Pizza Peel, that wasn't always the case.
The Pizza Peel and Tap Room has other offerings besides pizza, including Philly sandwiches, fish tacos, pastas and salads. It has an extensive beer list including numerous North Carolina brews, as well as a few wines. But we were there for the pizza.
My family visited the casual restaurant on a Tuesday, which is Kids Eat Free night. The kids menu is designed with activities that thoroughly entertained my 6-year-old. However, the food choices on the kids menu were more oriented toward toddlers. The pizza comes on English muffins. Other choices include cheese, pepperoni and crackers, frozen grapes and applesauce. My daughter ended up ordering a cheese pizza off the regular menu, which she loved. Be aware, though, that kids eat free only off the kids menu.
At pizza places, I usually order a specialty pizza rather than build my own. This time I decided to venture out on my own – and it paid off. There are numerous sauces and toppings to choose from; some of the more interesting include chipotle hot tomato sauce, whole garlic, prosciutto and eggplant puree. I started my pizza with a base of pesto and topped it with sausage, Kalamata olives and goat cheese. It had a good amount of toppings and was a delicious combination on the thin crust.
In contrast, my husband ordered the BBQ Chicken pizza and was disappointed. It was sparse on the chicken and veggies and didn't have a lot of flavor, with only a light swirl of BBQ sauce on top.
Dessert choices weren't many, but the brownie a la mode was satisfying. We shared a large, warm brownie topped with vanilla ice cream and chocolate and strawberry sauces. It was just the right touch to finish off the meal.
SIDE DISH
Milk and Juice: Yes • Changing Stations: No • Kids Menu: Yes
Symbol Key: $ = under $10 • $$ = $11-$15 • $$$ = $16-$20 • $$$$ = $20-plus
> Read last month's Restaurant Review: Loco Lime