Italian Sausage-Stuffed Peppers with Provolone Cheese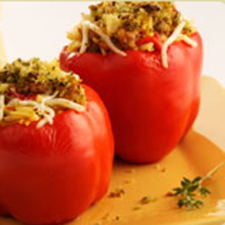 These peppers make a hearty entree with a meat and pasta filling that becomes rich and gooey with the addition of two Italian-style cheeses made here in Wisconsin – Provolone and Mozzarella.
Servings: 8
Ingredients:
4 cups water
1 tablespoon salt
1 cup orzo*
12 ounces fresh Italian sausage, either hot or mild
1 cup roasted red peppers, drained and chopped
1 cup (4 ounces) shredded Wisconsin Mozzarella Cheese
1 cup (4 ounces) shredded Wisconsin Provolone Cheese
8 large fresh whole red peppers, tops sliced off and seeded
1/4 cup fresh breadcrumbs
2 tablespoons homemade or purchased basil pesto
Cooking Directions:
Preheat oven to 400ºF. Bring water to a boil in a large, deep pot. Add salt and orzo. Boil for 9 minutes. Drain in wire sieve and rinse with cold water. Drain again. Set aside.
Removed sausage from casings, if necessary, and break into small pieces. Sauté over medium high heat until browned and barely cooked through. Add chopped red peppers. Remove from heat and stir in orzo and cheeses until cheese melts. Cool.
Coat 13×9-inch baking pan with cooking spray. Stuff sausage-orzo mixture into whole peppers and place peppers upright in the pan. Mix breadcrumbs and pesto and spread evenly over top of the stuffed peppers. Cover with foil and bake for 45 minutes. Remove foil and bake an additional 15 minutes or unitl the surface is lightly browned. Serve immediately.
*Orzo is a dried pasta, shaped like short-grain rice.