Italian or French Bread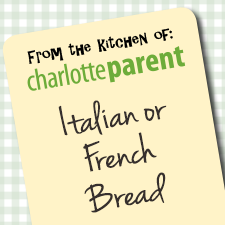 This also makes a great pizza crust!
Ingredients:
2 tablespoons yeast
2 ½ cups tepid water (no hotter than 120 degrees)
About 6 ½ cups unbleached flour
1 teaspoon salt
Cornmeal
Instructions:
1. Proof yeast in water.
2. Combine water with flour and salt. Knead until you have smooth, elastic dough.
3.  Allow to rise for 1-2 hours or until it doubles in bulk. Then, punch down and allow to rise another hour or so.
4. Punch down again and shape into 2-3 loaves. Place on a cornmeal-dusted baking sheet.
5. Allow to rise 30 minutes more. Bake in a preheated 450-degree oven for 25-30 minutes.