Is Montessori Right for Your Child?
Learn more about this unique style of learning.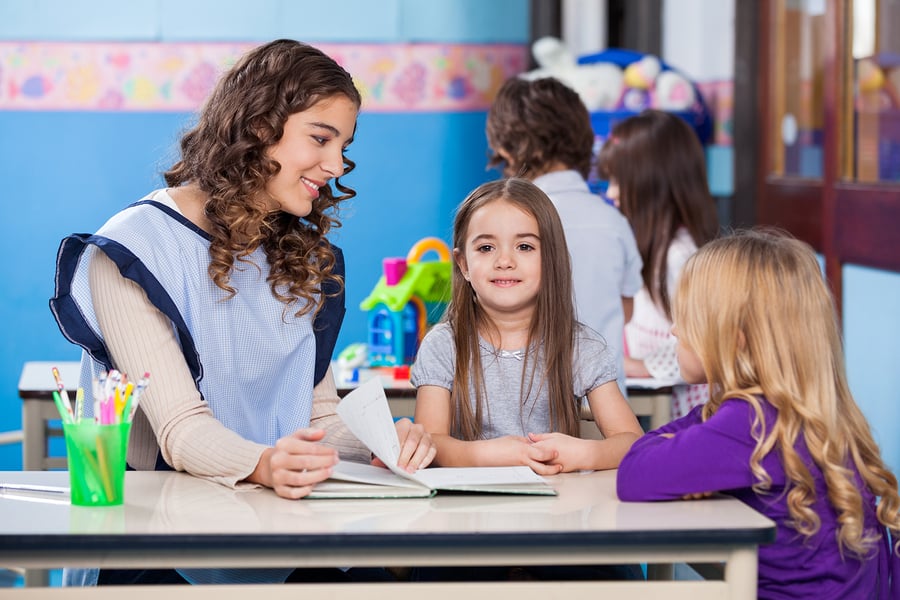 Susan Rose's son, Ricky, had always loved his Montessori preschool. After attending kindergarten and first grade in a traditional elementary school, however, Ricky became unhappy — and so did his mom.
"He was very unstimulated by the education in the traditional style," says Rose. "He loves to learn, but I saw that he was beginning to very much not want to go to school."
Rose knew she had to make a change. She enrolled Ricky, now 9, at Claremont Montessori School — and things began to turn around.
"He's happy, enthusiastic and stimulated by the things he learns," Rose said. "His reading is phenomenal, and his math is coming along very well with the manipulative materials they use."
Rose is not the only parent passionate about the Montessori method of teaching. More than 22,000 schools in more than 110 countries utilize its principles. And last year, students and parents around the world participated in a year-long celebration to commemorate the 100th anniversary of the opening of the first Montessori school in Rome by Maria Montessori on Jan. 6, 1907.
A Historical Perspective
Montessori, born in 1870, was Italy's first female physician. Specializing in pediatrics and psychiatry, she worked with retarded and autistic children and revolutionized the treatment of the mentally handicapped.
In 1907, Montessori opened her first "Children's House," a day-care center for working class children. The children — from poor homes with mostly uneducated parents — lacked manners and displayed aggressive and impatient behavior. Montessori taught the older children to help the younger ones. She introduced tools she had previously used with the mentally handicapped — manipulative puzzles and other training devices. And she saw that children in the right environment and with the right tools could actually educate themselves.
Recently, Montessori's methods were scientifically proven to give children better social and academic skills. A study published in September 2006 found that 5-year-old Montessori students were significantly better prepared for elementary school reading and math skills than non-Montessori children. They also scored better on social and behavioral tests and were more likely to engage in positive play with peers. Older children benefit as well; the study found that 12-year-old Montessori students had better writing skills, a greater sense of community and were better able to deal with unpleasant social situations than non-Montessori students.
Despite the advantages of a Montessori education, however, the number of schools in the United States has remained relatively stable. The American Montessori Society has about 1,100 affiliated schools, from preschool through high school. Association Montessori Internationale, founded in 1929 by Maria Montessori, has about 186 affiliated schools in the United States.
"I don't believe that Montessori in this country has achieved the recognition it deserves," says Marie Hautigan, a high school teacher and the mother of two children who attended a Montessori preschool and then Virginia Shuman Young, a public Montessori magnet school in Broward Co., Fla. "The fact that Montessori groups children from diverse cultures together and lets them work with peers to reach their own level — rather than teaching to the median of the class — is amazing. I would think it would spread like wildfire across the country, but it's not."
The Montessori Classroom
The goal of Montessori is to instill independence in a child — to make the child want to learn and to give her a love of learning. The education is interactive and hands-on. "Go into a Montessori classroom, and you'll have 22 students working on 14 different projects at six different levels," says Hautigan. "It's amazing."
There are no rows of desks in a Montessori classroom and more importantly, no teacher lecturing at the front of the room.
Classrooms are filled with children of mixed ages. Some work together, some independently. Children move at their own pace, and according to their own interest, through various areas of the classroom. In addition to reading, science and math materials, there may be a "practical life" area that lets younger children practice life skills such as washing dishes, setting a table or pouring water.
Montessori classes contain materials that stimulate all of a child's senses. Children don't learn just by listening to the teacher; they learn through touching, smelling, tasting, seeing and hearing. In a traditional school, for example, students may learn about the solar system by memorizing the names of the planets. In a Montessori school, students might independently research each planet, create a solar system made of different sized fruits and then make "solar system fruit salad" to celebrate the end of the unit.
"It's very active learning," said Penny Paduano, Montessori magnet coordinator at Virginia Shuman Young. "We teach them how to learn — to do it intrinsically so that they're not looking for a sticker or a piece of candy as a reward but to accomplish a task for its own reward and to take pride in what they've achieved."
The teacher's role in a Montessori classroom is to act as a guide. "It's about control," says Terry Piper, Ph.D., dean of the school of education at Barry University. "Children learn best when they have control over their learning. But it's hard for traditionally educated teachers to grasp what that really means in practice."
Despite its advantages, opinions differ on whether the Montessori method is right for all children. Children who are easily distracted might find it difficult to concentrate in a classroom with so much activity. And some parents say their children have problems adjusting to a traditional classroom — including tests and homework — after attending a Montessori school.
"If Montessori is properly done, it's probably right for most of the population," says Piper. "At any Montessori-approved school, it's not improperly done, but in some places people borrow Montessori principles and try to apply them in class and mix the modes, and it hasn't been successful. You have to know what you're doing."
That's why parents need to be careful when choosing a Montessori program for their children. Here are some tips:
Check for affiliation.
Maria Montessori's name was never trademarked, so any school can call itself a "Montessori school," even though it doesn't employ Montessori-trained teachers or strictly follow the Montessori program. Make sure the school is affiliated with one of the two Montessori organizations: the American Montessori Society or Association Montessori Internationale.
Compare.
Even Montessori-affiliated schools differ widely in their approach to education. Spend time in the classroom and speak with administrators, teachers, students and other parents to ensure that the program is right for your child.
The Montessori method revolutionized education throughout the world, and that's why so many people celebrated its centennial in 2007. "Methods in education are cyclical," says Paduano. "But Montessori is still one of the best methods of education and has been effective for a century. It's pretty amazing that a woman 100 years ago had such a true understanding of children and how they learn."
Resources for Further Information
American Montessori Society: 212-358-1250 in New York City
www.amshq.org
Association Montessori Internationale: 585-461-5920 in Rochester, N.Y.
www.montessori-ami.org
Robyn Friedman is a South Florida-based freelance journalist who specializes in writing about parenting and health issues.