Interviewing a Doctor for Your Child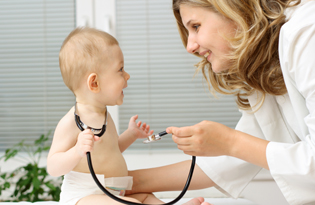 Planning for a baby can be one of the most exciting times of your life, but also one of the most demanding times. Choosing the right health-care provider should be included on your list of things to do before your baby is born.
A good time to begin your search is about three months before the baby is expected. If you're in a managed health-care plan, your choice of participating doctors who provide primary care for children may be limited, so be sure to check the plan's online list.
Considering that this doctor will be the first to treat your baby, you will want to be sure that you feel comfortable with the doctor's personality, office staff, location, and environment. A prenatal appointment is an excellent opportunity for both parents to ask questions and get acquainted with the office staff.
During the interview, you should find out how the practice works by addressing the following topics:
• What are the office hours? Flexibility of the doctor's schedule may be a concern, especially if you work outside the home; you may prefer a doctor who offers weekend and evening hours.
• Is this a solo or group practice? If it's a solo practice and your doctor is not available on weekends or evenings, what are his or her coverage arrangements? If it's a group practice, ask about the qualifications of the other doctors in the office. Who will see your child if your doctor is on vacation or otherwise unavailable?
• Does a nurse practitioner work in the office? How does he or she fit into the practice arrangement?
• Which hospitals is your doctor affiliated with? Will your doctor come to the hospital when you deliver to examine the baby once he or she is born? If your baby needs to be hospitalized, who will care for him there?
• How does the office handle phone inquiries during and after hours? Are special times set aside for parents to call in with questions or is there an open advice line (usually staffed by a "phone nurse") during working hours? How are after-hours calls handled? How quickly can you expect a call back from the doctor on call after you have contacted the answering service? Are after-hours calls routed to a "nurse-on-call" system? This is a service that employs a staff of nurses to give parents advice about how to handle most common childhood illnesses. If your child's illness is thought to be serious, the nurse will transfer the call to your child's doctor or a covering physician, or advise you to go directly to the emergency room. Otherwise, a record of the call will be relayed to your child's doctor the next day.
• Is email an option for communicating with your doctor?
• Will your child's doctor handle emergencies, or will your child be referred to an emergency room or urgent care center? Are these facilities equipped to handle pediatric emergencies?
• Are lab tests done in the office? Most offices can perform basic tests, such as complete blood counts, urine testing and rapid strep tests rather than send samples out to a laboratory.
• What are the payment policies? This is especially important if you do not have prepaid health coverage. What are the fees for services? Must they be paid in full at the time of the visit or can payment plans be arranged?
• What are the policies regarding referrals to specialists, in the event your child needs additional care? Is the doctor financially penalized by your health plan for referring patients to specialists, and if so, will this influence the doctor's referral practices? If you are in a health management organization (HMO), it's important to ask how your doctor handles out-of-network referrals.
Reprinted with permission from KidsHealth, one of the largest resources online for medically reviewed health information written for parents, kids and teens.