Inside UNC Charlotte's Camps on Campus Offerings in 2023
In Partnership With UNC Charlotte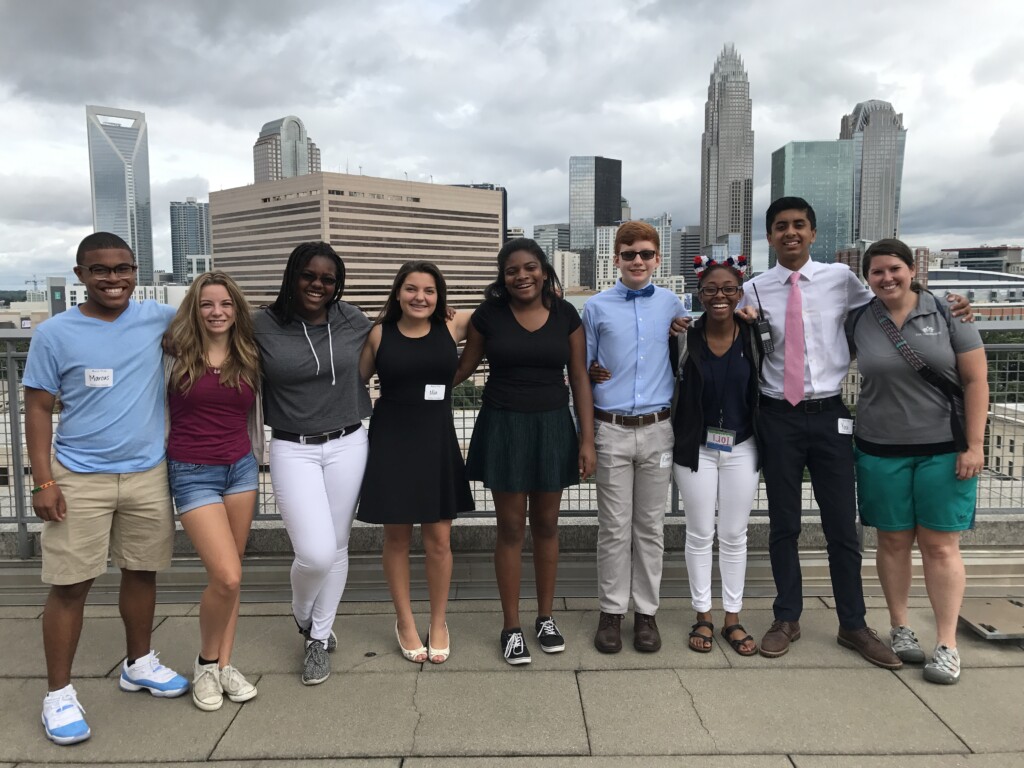 For decades, UNC Charlotte's Camps on Campus has been a go-to for Charlotte kids' summer enrichment. This year brings major news for the program, as the launch of UNC Charlotte's new Youth Programs initiative brings more youth-centered programming throughout 2023. The school says its broader intentions with the initiative, which now encompasses Camps on Campus, are "​​to support K-12 schools, improve educational outcomes, and partner with educators in the Charlotte community."
That investment in the future can be found in examples like Camps on Campus' Finance for Teens camp, where one parent says their daughter "learned so much" from instructors in a previous session: "… My husband and I wanted her to learn the importance of finance for both now and the future and I can 100% confidently say, 'You succeeded.'"
And teens aren't the only ones who benefit from Camps on Campus: The program is intended for rising grades 1-12, with differing levels of offerings. Those include Cool School (Grades 1-4), 49er Minors (Grades 5-8), and Niner Academy (Grades 9-12). Whether it's the courses offered or different formats for highly popular camps, we have a breakdown of this year's new offerings below. As always, leaders are finding new ways to integrate pop culture and technology into educating campers—including one course where you will be talking about Bruno:
Cool School (Grades 1-4)

Cool School has fun and educational opportunities for children in rising grades 1-4 with planned activities for each course. The following are new courses this year:

Discover the World of Encanto: This course is a deep dive into the Encanto world: Celebrate your special gift… being you! Campers will learn Spanish phrases, use their creativity, and immerse themselves in Colombian culture.
SuperHero Science: SuperHero Science will delve into the science behind favorite fictional superheroes like Batman, Captain America, Iron Man, Hawkeye, Spider-Man, and the members of Big Hero 6. Through science experiments and trials, campers will learn about super powers, super suits, and other technology and science concepts both real and imagined that allow our superheroes to save the world! All week, campers will work on creating their own superhero in a take-home sketchbook!
Spy Academy: Someone has to ask the tough questions when there is a mystery to be solved, and these cool schoolers are the ones to do it. These campers will be put through spy training involving physical challenges, like retrieving important items through a field of lasers and mental challenges like deciphering secret messages. At the end of the week-long crash course in spying, there will be 25 new spy recruits ready for Friday's Spy Academy graduation. Students are getting in the mindset of what it is to be a detective. Campers are challenging themselves everyday while also learning how to pay close attention to details.
Also at this level, you can expect the following popular camps from previous years: Digging for Dinos, Musical Theater, and Harry Potter Adventure.
49er Minors (Grades 5-8)
Camp Hollywood: Filmmaking: Camp Hollywood is all about making movies! These campers will learn about what it takes to come up with movie ideas, write scripts, cast, and produce movies. Activities include script-writing, costume and set design, and filming their own short films in small groups with the help of staff.
It IS Rocket Science: Future astronauts prepare for takeoff! Learn about what makes rockets go, witness some of the recent accomplishments in space travel, and launch your own diet coke and mentos rocket as you strive for the stars.
2D & 3D Design: If your camper is ready to take their art skills off the page, this is a great place for them. They will explore 2D design by learning about composition, principles, and elements of design. Then, the group will move into 3D design ,where principles and elements of design vary when applied to 3D work. Campers will practice skills on a small scale and complete projects to showcase their understanding and creativity.
Also at this level, you can expect the following popular camps from previous years: Culinary Camp, The Science of CSI, and Musical Theater.
Niner Academy (Grades 9-12)
One major new offering for the Niner Academy level this year is that for the first time, an online series in Financial Literacy will be offered. "Acquiring and applying financial literacy skills is one of the most important things an individual can do to ensure prolonged financial stability and a healthy quality of life," the school says. "This Financial Literacy Series consists of several financial segments that allow an individual to gain knowledge regarding the effective management of money and debt to improve their financial outlook. These segments will address money mindsets, understanding of debt, financial goals, ways to increase your knowledge of money management, and ways to improve your credit for students soon to enter adulthood."
The Niner Academy has a particular focus on college and career readiness, and visitors can also expect a new, high school-only social lounge. "Not only that, but for the first time ever, participants will have unique on campus retail dining privileges like our fellow undergraduate Niners," the school adds.
Campers will also earn a digital badge upon completion of a Niner Academy course. Those can be shared with colleges or employers: Digital badges can be put on social media sites, such as LinkedIn, added as a link on a digital resume, and embedded in an e-portfolio.
Also at this level, you can expect the following popular camps from previous years: Adulting 101: Life Skills They Don't Teach in High School; Self Discovery, Leadership and Communication; and College Prep You Spoke and We Listened.
---
But that's not all: Discover much more about Camps on Campus (and enroll!) here.