Inside the Kitchens of NC Public Schools
What it takes to provide students healthy, tasty meals.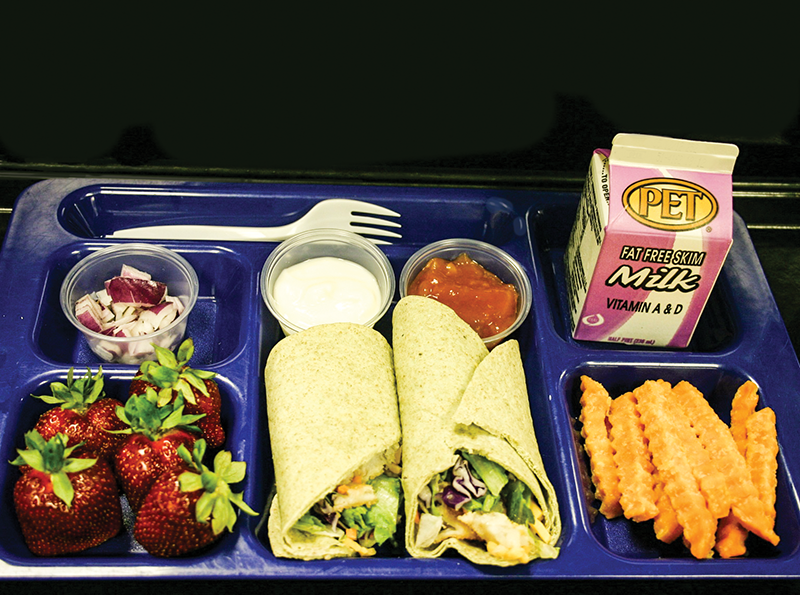 School nutritional services have been pushed into the spotlight in recent years. Dramatic rises in childhood obesity, the myriad health problems associated with it and the contrasting plight of children who go to bed hungry at night have resulted in new regulations and programs. Public schools are on the front lines for both conflicts.
In North Carolina, childhood obesity rates are stabilizing, but more than 16 percent of children ages 10-17 are categorized as obese. Meanwhile, 58 percent of public school students qualify for free or reduced meals, and 27 percent of those children live in food insecure households and experience hunger.
The Healthy, Hunger-Free Kids Act of 2010 was created to improve child nutrition. The legislation authorized funding and set policy for the U.S. Department of Agriculture's core child nutrition programs, which include the National School Lunch Program. Full compliance with the act was required by June 30, 2013. North Carolina was among the first states to achieve 100 percent compliance, which was accomplished before the deadline, according to Lynn Harvey, the section chief of child nutrition services in the division of school support at the North Carolina Department of Public Instruction in Raleigh. She says some schools started making changes several years before they were required.
"North Carolina started making changes in 2004, so it was not a huge leap for us to reach compliance," Harvey says.
Guilford County and Charlotte-Mecklenburg schools had already taken steps toward improving school nutrition as well.
"Prior to 2010, we had already eliminated frying in all schools, offered fruits and vegetables at all meals, and limited a la carte options to 200 calories or less," says Jim Faggione, director of school nutritional services for Guilford County Schools.
"We have always been proactive, offering a variety of foods for children to choose from — foods that met nutritional requirements of children and are included in the new mandates," says Catherine Beam, executive director of child nutrition services for Charlotte-Mecklenburg Schools.
---
Looks Count — Plating Appeal
Healthier foods do not always appeal to children, so food waste has become a statewide concern. "Student acceptance has been poor," Harvey says. "When all-grain products have to be 100 percent whole-grain rich, you end up with products that look different — or wrong — to students."
Schools across the state are working with students to reduce waste. "We balance nutrition with appeal through extensive taste-testing programs with students," Faggione says. "When considering our menu, we try to balance four factors: appeal, nutritional benefits, variety and cost."
Winston-Salem/Forsyth County Schools implements a "Menu by You" program. "We always test new recipes at schools," says Lauren Richards, director of child nutrition for the school system. "If students don't like it, we don't menu it."
In Wake County, "product research and recipe development is implemented using the diverse expertise of child nutrition services staff to create nutrient rich and flavorful options," says Paula De Lucca, senior director of child nutrition services for Wake County Public Schools. The next step is taste-testing with students. The most favorable items are then introduced on menus, which are adapted based on trends and preferences. Recent successes include whole-muscle popcorn chicken made with whole-grain breading and fish tacos with fruit salsa.
---
High Cost of Eating Healthy
While the new standards provide an increase in reimbursement of 6 cents per meal for compliant schools, Harvey says the expense of providing whole grains, fresh fruits and vegetables, and lower fat foods can be as much as 50-60 cents more per meal.
"Whole-grain items and items with lower sodium content have driven up the cost of food, while also decreasing student meal participation," says Lisa Nelson, the child nutrition director for Davidson County Schools.
Wake County's De Lucca echoes this problem. "It is difficult to find commercial products that meet the requirements, taste good and are reasonably priced," De Lucca says.
"We make a lot of items from scratch to help save on costs and also to preserve quality," Richards says. Her school system also partners with Chartwells, a school food service company, to increase its buying power.
Guilford County Schools participates in the North Carolina Child Nutrition Procurement Alliance, for which it has been designated as a testing district for new items. Charlotte-Mecklenburg Schools is a member of this program.
"Participation provides us with the highest quality of food at the most reasonable cost," Beam says.
The North Carolina Farm to School program has been supplying school cafeterias across our state with the freshest locally grown produce since 1997. "Thanks to this partnership, schools not only realize cost savings, but we also have one of the best farm-to-table school meal programs in the country," Harvey says.
---
Parents' Views
Schools have made great strides, especially over the past few years, in providing healthier, fresher meals to students. So why are parents still seemingly dissatisfied with the offerings?
"It's an educational process," Beam says. "We provide lots of information to students. We also need parents to continue to talk to their children about the importance of good nutrition and model that behavior at home."
Harvey also encourages parents to teach children about making healthier overall choices and to replicate the healthier eating standards at home.
"Parents can't be everywhere, all the time," Harvey says. "Our schools encourage children to taste new things. We need parents to reinforce this message. … Parents play the most critical role in creating healthy eating habits."
---
Micki Bare is the assistant editor/web editor for Piedmont Parent, a sister publication of Carolina Parent and Charlotte Parent. She is also the author of the Hubbleville Series children's books and writes a weekly newspaper column. She lives in Asheboro with her husband, three sons, mother, two dogs and cat.