Inside RideAbility, an Equine-Assisted Therapy Program
Teaching confidence, focus, and friendship, one ride at a time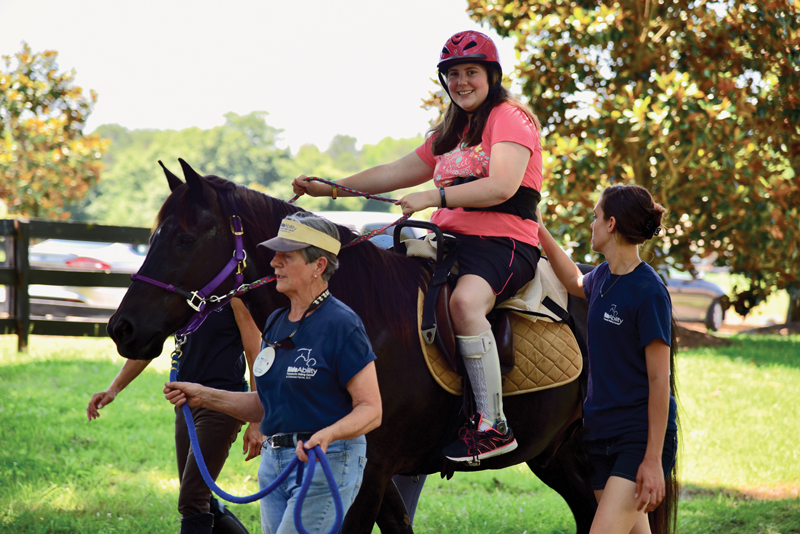 Wendy Schonfeld fell in love with horses in the unlikeliest of places: New York City. At age 14, she took three buses to a city barn in The Bronx so she could ride a horse on a strip of land in the middle of a highway.
Her love of horses continued into adulthood, and in 2013, Schonfeld opened RideAbility, a therapeutic riding program for adults and children, with two horses on a 15-acre farm in Clover, South Carolina. RideAbility has 501(c)(3) nonprofit status and offers a range of equine-assisted activities to promote emotional, physical, psychological, and social well-being.
"Since I was little, my love for horses was so tremendous," Schonfeld, 54, says. "When our daughter was born with leg disabilities, riding horses was her passion. She was able to be just like everyone else—succeeding and being proud of herself. I wanted to be able to do that for other kids and families. Let them know how strong our kids are and that they can do it all."
Before moving to South Carolina, Schonfeld lived on Long Island where she worked as a chiropractor. She also volunteered at HorseAbility, a therapeutic riding program that served as her model for RideAbility.
Built to Succeed
Each rider at RideAbility gets an individual lesson plan based on his or her abilities and goals. Riders might focus on attention, balance, core strength, focus, or memory skills. Activities like brushing the horses, working on an obstacle course, or completing tasks around the barn help riders gain skills and build confidence.
Many of the horses at RideAbility are donated by members of the community. In these cases, Schonfeld interviews each owner before she accepts their horse into the program to understand the personality and career of the animal. She and the volunteer staff at RideAbility spend time with the horse to determine how it handles touching, brushing, and riding. Then the horse trains for two months. The staff simulates leaning, flapping arms, bending, and loud noises, and introduces side walkers—all things the horse may experience during therapeutic riding lessons.
"They have to be accepting and forgiving of our riders' errors," Schonfeld says. "Their job is to take care of the rider."
Riders and Volunteers Connect
Twenty-one-year-old Maddie Lovelace began volunteering with RideAbility in middle school. "I used to be extremely shy and wouldn't talk to anyone, but through RideAbility, I learned communication skills," she says. "It also gave me something to talk about when I was in the community. I wanted to spread the word."
It takes 60 volunteers and 11 horses to serve 75 to 85 riders each week. Riders range in age from 4 to 72, though there's no maximum age. More than 50 percent of the riders receive tuition assistance.
There can be as many as three volunteers per rider—one leader for the horse and two side walkers—but as the rider grows more independent, the number of volunteers may decrease. Lessons range from 30 to 60 minutes depending on the riders' ability, and lessons run until 6 p.m. each weekday and until 2 p.m. on Saturdays.
Volunteers like Lovelace help with the care and maintenance of the horses and barn. They lead the horses in the lessons, making sure they're listening to the rider's commands and focused on the lesson. Side walkers keep the riders involved and ensure the rider is having fun. "You can see the rider's confidence soar when they tell a horse to do something and it does," she explains. "They can see the immediate response. That's really important to our riders."
RideAbility is also the training location for Special Olympics Equestrian teams for Mecklenburg County and South Carolina's Area 11, where teams compete in regional and state games and championships. Lovelace still volunteers once or twice a month at RideAbility and helps with the North Carolina and South Carolina Special Olympics. Today she's on track to graduate from Clemson University with a concentration on animal and veterinary sciences in December 2020.
Community Support
Until October, lessons depended on weather and daylight hours. But RideAbility raised $135,000 to build a lighted and covered arena that the group calls its "Community Arena Built By Love." It protects riders and horses from the weather, which increases the number of lessons they can offer every day.
RideAbility's annual horseshow and fundraiser is May 3 from 8 a.m. to 4 p.m. The event is free and open to the public. Riders show off their abilities to their families and community, and guests enjoy the petting zoo, face painting, and a silent auction, which raises funds for tuition assistance and operating costs.
"For many of our riders, they're showing off more independence; they're showing off they can steer," Schonfeld says. "It's not only good for the kids to get their trophies and their awards, but it's so great for the parents to see their kid achieving and knowing that the possibilities are endless. Every milestone is a huge achievement."
Vanessa Infanzon is a Charlotte-based freelance writer and mom to three. Follow her on Facebook and Instagram: @morethanVMI.
---
Finding the Right Fit
Interested in a therapeutic riding program for your child? Here are some questions to ask:
• Are programs year-round?
• Do you offer tuition assistance or need-based scholarships?
• Do you offer afterschool and weekend programs?
• How are lesson plans determined for each child?
• How does the program match a child with a horse?
• Is there an electric lift for assisted mounting?
• What kinds of activities will my child be doing?
• When can we tour the farm? Will my child have an opportunity to interact with the horses?
• Where do the children ride? Is there a covered arena?
• Who will be working with my child? Are volunteers trained?
---
Therapeutic Riding Centers in the Greater Charlotte Region
Discover a therapeutic riding program near you:
Bit of Hope Ranch, Inc. in Gastonia
Horse "N" Around in Lancaster
Misty Meadows Mitey Riders in Waxhaw
Shining Hope Farms in Charlotte, Conover, and Mount Holly
Wings of Eagles Ranch in Concord