Inside Emberglow Outdoor Resort, a New Lake Lure-Area Campsite
Here, elevated camping experiences create community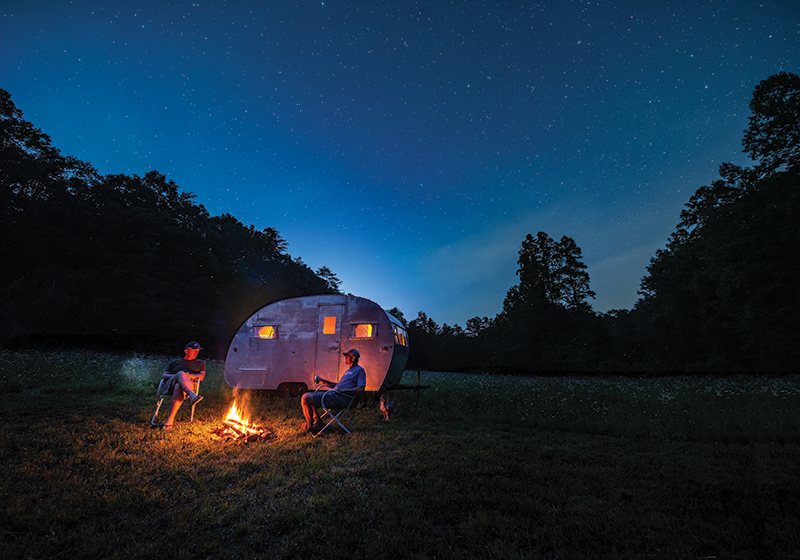 Long two-by-fours burst out from an octagonal skylight, creating wooden sun rays on the ceiling. As day shines down on the small living space outfitted with modern amenities, cornflower accents liven up the earth tones inside.
Bigger than most Brooklyn apartments, and decorated on-trend just the same, this 750-square-foot yurt has hardwood floors, two cozy creek-view bedrooms, a full bathroom, contemporary living space, and a small kitchen.
Outside, though, along Turtle Hollow Loop, the Polk County pines commune with a busy, chatty creek. At night, the stars are packaged in bulk.
Emberglow Outdoor Resort is Tim Murphy's dream–a way for everyone, from the camping-inclined to those less hungry for the outdoor experience, to explore life in nature, minus the less-digestible aspects of traditional camping (read: no bathroom and clunky accommodations).
Located near Lake Lure, in the Blue Ridge foothills of western North Carolina, the new campground is roughly a two-hour drive from Greenville and Columbia, South Carolina, and Asheville and Charlotte–one of the reasons Murphy and his business partner committed to the spot. From Charlotte, the exit off of 74 East is recognizable–a sprawling buffalo farm at Pea Ridge.
Murphy, who is originally from Cleveland but moved to Charlotte in 2005, left the Queen City about six months ago, with his wife and four kids–ages 6, 4, 2, and a baby–to commit fully to life in these rolling foothills. "I can see my kids playing in the yard from my office," he says. His family's home sits on the right side of the road at the Emberglow entrance.
The goal? To offer families like his own–and anyone who wants the experience–the ideal outdoor vacation, complete with community: those great conversations by the campfire, kids making friends with other campsite kids, and the freedom to explore.
"We weren't a camping family," Murphy says of his own childhood. "We didn't have an RV, and we weren't tent campers, so we pretty much didn't bother." But he always wanted to run his own business and kept returning to the idea of a community-driven campsite with experiences for all.
The Experiences
From "primitive" to modern, and even bordering luxe, the lodging options at Emberglow are ample: No-frills tent sites, equipped only with nearby freestanding water hydrants, mixed with shiny restored vintage campers, yurts, tiny homes, pods, treehouses constructed with childlike magic, and current RV campers–60 sites in all.
Glamping ("glamorous camping") pods create a unique, cozy creekside accommodation for two, complete with rustic-modern amenities. (Note: The glamping pods are quite small and not for the mildly claustrophobic.)
And then there are the treehouses. Like something out of Swiss Family Robinson, the treehouse designs–intentionally off-kilter windows, a slide from the second floor to ground level, a wild oak bursting through the elevated front deck, and cargo nets connecting lofted sleep spaces–add an air of magic to the experience.
"We thought about it like, 'What would the kids be able to collect here if they were going to build it,' and we built it with that in mind," Murphy says. "We actually plan to redo these windows now," he says, pointing out two newly constructed windows squared up with their blue-painted frames. "They're just too perfect."
Multi-generational stays are a hope for the venture, too, according to Murphy. That's, in part, why he has purchased, refurbished, and pristinely outfitted seven vintage campers, some, like the "Canned Ham" camper, a classic of the 1950s, which harken back to another time. Boles-Aero Trailers are recognizable with their shiny aluminum exteriors and beautifully crafted birch interiors.
Another camper, a 1971 vintage Airstream, the Sovereign, has been completely remodeled to meet today's needs. With skylights above a queen-sized bed, guests enjoy views of the tree canopy and can fall asleep under a scenic night sky.
While each offers its own special stay, "they're all designed to get you outside," Murphy says. "We're kind of like a base camp," he adds. And the staff is happy to help campers find day excursions in nearby Chimney Rock State Park, Lake Lure, the Tryon International Equestrian Center, the Green River Gorge for ziplining, kid-friendly hiking, and more.
Since he and his wife live it with their own kids, he understands the unique needs of the family road trip. That's why he's created a no-hassle check-in. Cars pull up, get their keys, and fill out all the other necessities of check-in later on an iPad at the site.
While the goal of Emberglow is to create unique experiences for guests, and to connect with one another, Murphy is wary of using "disconnecting" as a way of describing the campground. "We found that people actually don't want to disconnect," he says. "They still want to be able to use their phones to search for nearby places, and take photos for Facebook. They just don't want to be plugged into work." So every campsite comes equipped with free WiFi. "If you want to be off-grid, though, it's pretty easy to do it," Murphy says.
Like the accommodations, the cost also ranges based on amenities. The primitive tent sites run $60 for a two-night stay, while the large, luxury vintage campers run from $204 to $282 for two nights. Lighters, provisions, and handmade novelty goods from Lake Lure local merchants are available for purchase in the office at the entrance.
Musical acts on the site's stage and movies on the lawn create points of connection with the campers, along with the resort-quality pool, sand volleyball court, plenty of nature trails, dog park, open fields, and stories at the community fire pit.
"Sitting around a fire, those embers get really hot–that's when the best conversations are had," Murphy says. "But you don't just light the fire, and instantly have embers. It takes time to develop."
For more information and to book a stay, visit emberglowoutdoorresort.com.
VIRGINIA BROWN is a local writer whose work appears in Departures, AAA Go magazine, USA Today, and BBC News Magazine, among others.