Inexpensive Home Birthday Party Ideas
These party ideas are fresh, fun and won't raid your wallet.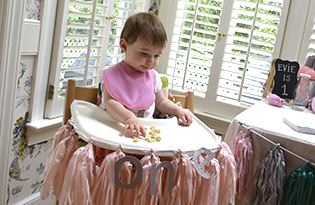 Planning a birthday party? Better save those pennies. According to event services firm GigMasters, more than two-thirds of parents spend at least $300 on their child's big day, and nearly one in six spends a grand or more. But you don't need to raid your kids' college fund to plan a festive, photo-worthy fete. These four ideas for do-it-yourself home parties max out on style and fun without breaking the bank.
What's Old is New: Vintage
Noticed an influx of retro tunes, toys and togs lately? Modern parents are coasting on a wave of nostalgia that's bringing all sorts of vintage Americana into vogue. Nearly any party theme can take on a vintage twist for a fresh, new-again vibe, says Raleigh-based Lauren Isaacs, digital media specialist for Carolina Parent. Isaacs drew on the Little Golden Books she loved as a child to craft a "vintage kitten" theme for daughter Evelyn's first birthday celebration.
"We're having a throwback moment in parenting and clinging to themes and styles that we liked from our childhoods," she says.
How to: "Most any theme can become old-timey if you just add the word 'vintage' in front of it," says Isaacs, who found Little Golden Book-styled illustrations online at Pinterest and Etsy that helped her hone in a traditional color scheme for Evelyn's party. For your little sports nut, create a vintage baseball theme with Cracker Jacks, peanuts and old baseball trophies. Planning for a tiny bibliophile? Search and print images from vintage childhood books to use as decoration.
---
Get Moving: Classic Backyard Games
Got a school-aged child with lots of energy and a large guest list? Head to your backyard or a local park for an outdoor funfest filled with classic games. Think ring toss, foursquare, capture the flag, Frisbee golf, lawn bowling, marble races and more. Bonus: Guests' parents will love you for serving a dose of fresh air and exercise and giving kids a chance to burn off all that sugar before heading home. Many outdoor games can be set up with little to no out-of-pocket cost, and others that require equipment can be reused for years to come.
How to: Use yard-marking paint and a large round stencil to create a "Twister"-style board on the grass; make smaller dots for younger players or larger dots for older kids. Cut several holes in varying shapes in a basic blue tarp and outline the cutouts with colored duct tape, then string it up for a "passing practice" game. Craft a homemade cornhole board from plywood and a jigsaw; buy or make small beanbags to throw. Hit up your local home-improvement store for two inexpensive two-by-four boards to turn into a giant Jenga set for tweens and teens; if you'd like, paint the wood to match the party theme. (No need to saw them yourself, since most hardware stores will cut purchased wood to size.)
---
Cinematic: Outdoor Movie
Think all kids' parties need to be wild and noisy? Think again. If relaxed and low-key is more your family's style, consider a backyard movie screening, complete with a favorite film, movie-theater snacks and comfy lounging pillows. This theme can take on a glitzy, awards-show twist with strings of glittering backyard lights, a DIY "red carpet" made from carpet samples, parental "paparazzi" snapping pictures, an old-fashioned lighted movie sign, striped popcorn bags and classic movie memorabilia to give it a vintage vibe.
How to: A white sheet provides the backdrop for the movie, so find one that's large and bright, and place it in a spot that won't get blasted with rays from the setting sun. (Note: big-box retailers also sell inflatable outdoor movie screens for less than $150.) Rent a projector from a party-rental store and do a "test run" beforehand to ensure that your party won't suffer from audio-visual malfunctions. Search Pinterest and Etsy for coordinated printables like movie tickets, snack labels and a "concessions stand" sign. Take the theme over the top by renting a classic movie popcorn popper, then buy theater-style popcorn tubs online at Amazon.
---
Back to Nature: Scavenger Hunt
If your little one loves mud, bugs and rocks, why not plan a party that combines treasure hunting with good old-fashioned dirt? A nature-themed scavenger hunt can work for children as young as 4, as long as you have other adults helping out. (Since younger children's parents often stay for parties, there are sure to be extra grown-ups on hand, anyway). Pick your location based on the size of your group and the guests' ages. Smaller kids can search your backyard, while older kids may want to spread out over a neighborhood or a local park.
How to: Create a simple printable chart with pictures of items the kids will search for – a blooming flower, a beautiful rock, an interesting leaf, a pinecone, an acorn, a chestnut or a twig, for example. Tape or glue the charts to simple brown lunch bags, and include a pencil or crayon so kids can mark off treasures they find. Set a time limit, and don't forget prizes for guests who collect every item. Inexpensive dollar-store magnifying glasses add a nice touch and serve as a useful take-home treasure for young naturalists.
If you plan ahead and take advantage of the vast party resources the Internet and local shops offer, your child's next birthday party may be his favorite, and your least expensive.
---
Malia Jacobson is a nationally published journalist and mom of three.