I'm a Step-parent: What Does That Mean?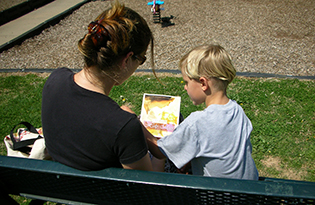 Whether you're a new step-parent or you've been in this role for many years, there will come a time when you wonder, "Where exactly do I fit in this family?"
Many step-parents tend to initially idealize the step-parent role, thinking it will be easy and our love for our new spouse will help overcome any obstacles. Some people enter into the marriage with a determination to become an instant parent, wholeheartedly embracing the new family structure. Others might stay more detached, saying they want to have a relationship with the children where they are seen as a close friend and mentor. In reality, step-parents are a mixture of both of these things. The lines are often blurry, and the role we play is complicated. 
Parenting as a Step-Parent
"There is a reason parent is part of the name, and it's important," says Nichole Finger, a licensed family therapist at Lake Norman Family Therapy in Cornelius. As an adult in the household, you have a say in making the rules and also in making sure those rules are followed. "In general it's the parent's responsibility for coming up with punishments and consequences, but the step-parent is often responsible for carrying those things out," she says. Step-parents also take part in many of the caretaking aspects of parenting. Depending on the age of the children, they will be tying shoes, making meals, taking kids to after-school activities and helping with homework. 
You're Not My Parent
In light of all the parenting duties a step-parent performs, it is easy to feel like an equal in parenting the children in your lives. And when faced with the "you're not my parent retort," you can easily reply that you might not be their biological parent, but you are an adult in the house and in that role you deserve respect.
There are those times, however, it's important to remember that you are not the parent. "The key with step-parenting is that you are the partner of the parent, and that is your primary relationship," says Finger. When critical issues arise, such as a big offense at school or a serious illness, the biological parents take the lead in determining the course of action. "When it comes to these situations, I like to look at the role of the step-parent role as a consultant. You are there for your partner, to support their decisions and talk things through, but take a step back and let the parents handle the situation."
In the end, it all boils down to this: A step-parent is just one more person in a child's life who cares for them and wants what's best for them. It might be hard to navigate the role at times, but the rewards are worth the challenges.
Karen Alley is a freelance writer who is proud to be part of a blended family.