I Miss my Kindergartener (Really)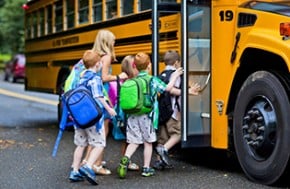 One of the best parts of my job is that my early morning hours at WCCB News Rising (3 a.m. to noon) have allowed me a lot of time with my two sons, Tyler and Chase. When both boys were in preschool, I'd pick them up every afternoon at 1 p.m. Weather permitting, we'd immediately head to the playground for a half hour of play before heading home for a snack, and when Tyler was young, a nap. My wife Kristen is a teacher so she doesn't get home until 5:45 p.m. each night. That gave me several hours each day to spend quality time with my boys. That all changed recently when my oldest, Tyler, started kindergarten.
There were days where I was exhausted and had to make a Starbucks run at 3 p.m. in the afternoon to keep up with them, but I'm pretty lucky I've been with them so much. I was able to take them to their doctor appointments, swim lessons and haircuts. I was able to play with both of them in the backyard, take them with me to the store, or just snuggle up on the couch in their "Star Wars" blanket with a movie.
I've often joked about how once both boys are in school all day I'll be able to get so much more done (work out, clean, actually sleep). Now that Tyler is at school, it's just Chase and me. He's 3, which means we still nap on some afternoons. I need it more than he does. I appreciate the fact that we are now getting some more one-on-one time like Tyler got before Chase came along. We're doing more of the things Chase likes to do, and I do not have to referee as many sibling squabbles. I can tell he really enjoys it even though he misses Tyler too. At the same time, I'm getting nervous about a few more years down the road when Chase leaves for kindergarten and it's just me and my thoughts in the afternoon.
I'm struggling with not seeing Tyler as much. It first really hit me back in August when we took our yearly trip to the beach for a week with my in-laws. I wouldn't get as much Tyler time when he went off to kindergarten. He was going to school with the "big kids" now. Also came the realization that as he gets older it will probably get harder and harder. While many people talk about the separation anxiety kids have with going to school, I was the one who seemed to struggle most with it.
In order to combat my anxiety I talked to Tyler before he started kindergarten about the fact I was going to miss him while he was at school all day. His response: "I know." So I suggested every few weeks we have a special "Big Dudes Night Out" (or afternoon). Tyler gets to pick what we do (within reason). A movie, mini-golf or just a chat while he enjoys a strawberry donut with sprinkles at Dunkin Donuts. Mom and brother get have their special time while we are out. It's definitely helped ease some of my separation anxiety. This is just kindergarten. What am I gonna do when they leave for college?
Derek James is a host on WCCB News Rising, and lives with his wife and two sons, ages 3 and 5. Read more from James in his Daddy Derek blog.