I Am Not A Handydad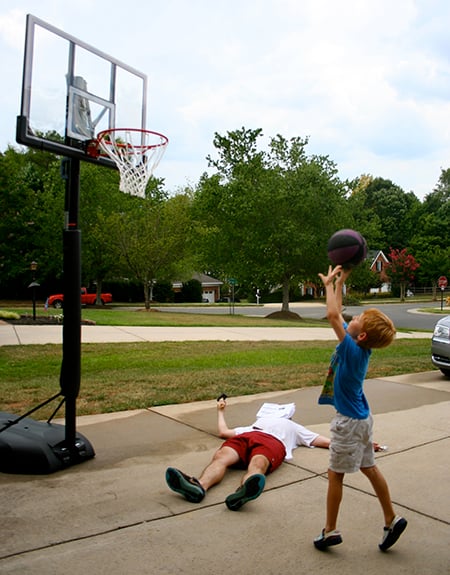 I am not a handyman, I am not a handydad. I am not the dad who can build a new deck, install new cabinets or lay perfect back splash. I am a tech dad. I am the guy who can fix the problem with your WiFi, install your surround sound system or fix your iPad. So when the family chipped in and got my oldest son Tyler a portable basketball hoop for his 7th birthday, I considered paying to have the store assemble it. Then I learned that to have it delivered and installed would cost $279—that was nearly as much as the hoop cost. My wife and I decided it would be better to call for reinforcements and try to do it ourselves.
My very handy father-in-law and my brother-in-law who served as the muscle helped me assemble the hoop. Before we got to work I did some online research to get a realistic idea of how long it would take us to finish the project. Answers varied from about three to five hours. That was with two people, and we had three, so I figured we were at an advantage. Then we got a look at the instructions. At that moment I knew we were in for a very long day. Sadly, I should have known better, considering the brand is called "Lifetime," because that's how long it took to put together.
The instructions were more difficult to understand than the ramblings of Ozzy Osbourne. The book did say we needed to get a rubber mallet, which meant a trip to Lowe's and some additional time. The instructions failed to mentioned that we also needed a socket wrench set and an extender piece, so that meant a second trip to my father-in-law's house to pick one up because, again, I am not a handydad. Parts were supposed to be in specifically labeled bags but there were some random parts that ended up coming from other bags/places. There were no words written to guide you through the instructions, only some tiny confusing pictures which were very hard to see and left us guessing.
I should also mention it was 97 degrees with a heat index of 102 that day. Not the kind of weather you want spend working in a garage while having to do steps two or three times because of the poor instructions. At one point, my very handy neighbor who has a similar hoop saw us outside and came by to check on us. "You can take a look at mine if you want as reference. The instructions on that thing are all messed up. A buddy of mine and I had to do re-do a lot of stuff when we put ours together." While it was good to know we weren't the only people to struggle with the hoop it didn't make me feel much better.
After six or seven hours, which included a quick lunch break, Tyler's basketball hoop was assembled. Tyler gave us all big hugs for our work, which was worth all the pain of construction. He helped hang the net and immediately started enjoying his birthday present from all of us. I, on the other hand, needed medical attention. The process of putting the hoop together really made me feel like a dad. I'm just hoping my next project involves some tech dad I know like fixing a wireless router.