HPV Vaccine Gets Cold Shoulder From Some Parents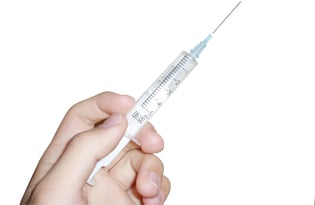 The first widely recommended cancer vaccine for teens and tweens has received a mixed response from families, with only about half of parents in North Carolina immunizing their kids. Vaccination rates for human papillomavirus, or HPV, the virus responsible for most cervical cancers, are lagging behind the rates for two other vaccines for adolescents.
Immunization rates for Tdap, which protects against tetanus, diphtheria and pertussis, and the meningitis vaccine, are increasing, but vaccination rates for the HPV vaccine remain low, according to data from the Centers for Disease Control and Prevention. In North Carolina, approximately 52 percent of teens ages 13 to 17 have had the vaccine, and coverage for teens overall across the country is 64 percent.
Why are parents hesitant to take advantage of a vaccine that protects their daughters from a deadly cancer and that has recently been recommended for boys as well?
Experts say the topic has become an emotional lightning rod rather than a medical issue because parents don't want to think of their teenage daughters being involved in sexual activity and may consider the vaccine as implicitly giving the parental green light for sex.
The far-off possibility of preventing a cervical cancer could be an additional hurdle for parents, especially when other tests, such as PAP smears, already offer screening for the disease.
About the HPV Vaccine
The HPV vaccine offers immunity to the virus that most often causes cervical cancer, a disease that results in nearly 4,000 deaths in women each year in this country. In 2006, the Advisory Committee on Immunization Practices of the CDC recommended that girls and young women ages 11 to 26 should be vaccinated. Girls can be vaccinated as young as age 9. In October 2011, the same committee recommended the vaccine for boys.
At least 50 percent of sexually active women and men will get HPV, and a study released in January by the Journal of the American Medical Association shows that an estimated 7 percent of American teens and adults carry HPV in their mouths. This may account for the increased rates of mouth and throat cancer in the past 25 years. Oral sex is a culprit in the spread of the virus.
The vaccine, available as Cervarix and Garasil, protects against oral HPV as well as cervical cancer.
According to the CDC, in the U.S., the vaccines may prevent about 15,000 HPV-associated cancers each year in women and 7,000 HPV-associated cancers each year in men.
Evaluating the Vaccine
The most common side effects of the HPV vaccine are soreness at the injection site, fever, headache and fainting. Serious side effects are not common. As of June 2011, 8 percent of the adverse effects following Gardasil vaccination in the U.S. were considered serious. For Cervarix, 3 percent were considered serious.
Eileen Dunne, a medical epidemiologist at the CDC, says the HPV vaccine is safe for the general population and believes that vaccination rates will continue to increase.
"This vaccine is a really effective and safe vaccine," says Dunne. "Although the use has not been as high as predicted, it is still increasing. With time and more understanding of the nature of the vaccine and the safety and the benefits, I think all of that will help parents be more comfortable."
Scientists expect immunity to last 10 years or more, but they can't be certain. A booster shot down the road may be necessary.
Mixed Response to Vaccine
Physicians across the state say the acceptance rate for the vaccine is mixed, and many parents have questions about the new recommendations.
Dr. Mark Collins of Cotswold Medical Clinic at the Arboretum in Charlotte says the HPV vaccine is "the most talked about, controversial vaccine" he has dealt with in his career.
"Parents of 11- to 12-year-olds who are deciding against this are asking if they can wait a few years," he says. Collins tells parents waiting is certainly an option, but reminds them that the best protection is when the vaccine is given prior to the onset of sexual activity.
"It has had some controversy associated with it," he says, "but as the father of four – three girls and a son – and as a physician who treats lots of preteens, I think it is a good and valid vaccine that we need to make part of the regimen."
Dr. Noelle Robertson, a family practitioner at Carolina Family Practice and Sports Medicine in Cary and the mother of a 5-year-old girl, says her daughter will definitely get the vaccine when she is old enough.
"This is the vaccine that I spend by far the most time discussing with parents, and frankly, the one that I have the most parents actually refuse to vaccinate," she says. Although disappointed by the slow response to the vaccine, Robertson believes the vaccination rates will continue to increase.
"What I try to get across (to parents) is that the vaccine is most effective before children are sexually active and exposed to the virus."
Schools Help Spread the Word
North Carolina is one of dozens of states that requires parents of children in grades five through 12 to be educated about the HPV vaccine. School systems have distributed information in a variety of ways. Charlotte-Mecklenburg schools offer information on the school system website and provide posters about meningitis and HPV to middle and high schools. The Wake County Public School System sends phone messages to parents of children in grades five through 12 telling parents where they can find additional information. Information also is posted on the school website.
If parents so choose, these educational campaigns can lead to more general discussions about reproductive health, as well as conversations about a family's moral and ethical views. Only time will tell the full benefits of this groundbreaking immunization strategy in the fight against cancer. The best advice for parents is to stay abreast of new information about this vaccine and discuss concerns with physicians.
Carol McGarrahan is a freelance writer and editor based in the Research Triangle Park area who writes about health and science topics.
About the HPV Vaccine
What is the HPV vaccine? Cervarix and Gardasil are the two current vaccines. Either vaccine protects against cervical cancer. Gardasil also protects against most genital warts. The vaccine is recommended for girls and boys ages 11 to 12.
What is the vaccine schedule? The CDC recommends three shots over six months.
Why is the HPV vaccine recommended at age 11 or 12? It is most effective to get the three shots long before there is any sexual activity with another person. It is possible to be infected with HPV from a single sexual intercourse. The immune response is stronger at this age compared to older ages.
Why the new recommendations for boys? Vaccinating boys prevents the spread of HPV in the entire population and prevents genital warts, which can affect one in 100 sexually active adults in the U.S. at any given time.
Will vaccinated women still need preventive testing? Yes. Women will still need screening tests such as PAP smears. Physicians expect less need for follow-up tests due to a lower incidence of HPV-related cancers.
Do insurance companies cover the vaccine? Most do.
What are the potential side effects? Soreness or redness at the vaccination site is most common. Fever and headaches have been reported. Fainting also has been reported, but physicians attribute this to the population they are vaccinating.
Source: U.S. Centers for Disease Control and Prevention
Recommended Immunizations for Teens and Tweens
Many teens and preteens miss vaccinations because of busy schedules. Some teens also are on a "catch-up" schedule for a vaccine that prevents foodborne hepatitis.
HPV was recommended for girls in 2006 and boys in 2011. The meningococcal vaccine was recommended in 2005, and many colleges now require that teens have this vaccination.
Vaccination Recommendations for Children 11-12 Years Old
Tdap – diptheria, tetanus and pertussis (one dose).
HPV– Human papillomavirus (three doses in six months).
Meningococcal Conjugate Vaccine (MCV4) – Meningococcal vaccine for meningitis (one dose).
Influenza – Flu vaccine (annually).
Source: U.S. Centers for Disease Control and Prevention