How to Reconnect Our Digitally Distracted Kids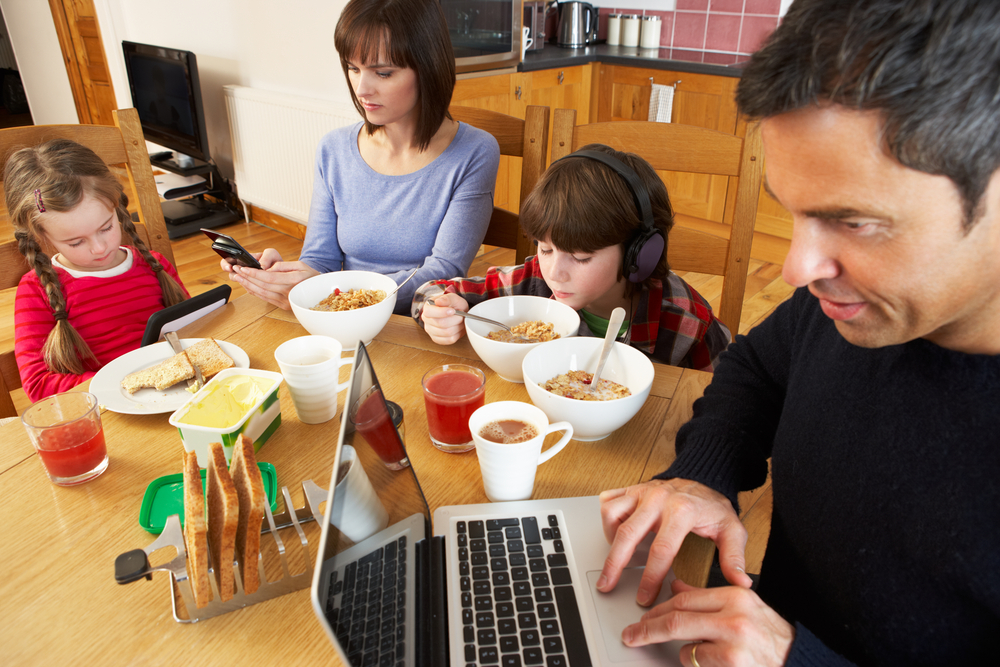 The next time you go out to eat all you have to do is take a look around the restaurant. You will see that nearly every child in the restaurant is staring at a smartphone or tablet, often for the entire length of their stay. And in most cases, so are the parents. This is only one example of how families are being distanced from one another. Furthermore, few families have meals together at home on a regular basis and for those that do, many of them are using electronics simultaneously. All of the research shows that children who have dinner together with family most nights of the week, have stronger mental and emotional health, do better in school and have better interpersonal relationships. They will also be less likely to become drug addicts and less likely to become sexually involved at an early age.
I often tell audience members at my lectures that I would love to put hidden cameras in homes across America because it would document for us how families no longer function as families. A better description would be four individual's living under the same roof all connected to some kind of screen and disconnected from each other. The next time you attend one of your child's sporting events, look around and see how many parents are actually watching the game. You will notice many of them, not all, chronically checking their phones and missing their child perform. Ultimately, they are "missing the moment." We need to be better examples for our children. We need to set rules for them and for ourselves. And, we need to communicate with them in a real way, a lot.
Here are 5 tips to help you reconnect with your children, as well as your spouse.
1. When you and your family are together make sure you spend more time disconnected from your devices than you do connected to them. It's as simple as that.
2. Leave your phone in your car when you are attending your children's sporting events. If you feel anxious or 'naked' without your phone, that is a sign that you're addicted to it.
3. Leave the devices in your car when you are out to dinner with your family. How can you possibly expect to develop strong relationships with your children or spouse if you or your children are staring at a screen the entire time?
4. Get your pre-teen or teen out of their bedroom and into the family room. Too many kids today spend way too much time isolated in their bedrooms away from the rest of the family because they are too busy using social media or playing video games. Bedrooms are called bedrooms for a reason and family rooms are called family rooms for a reason. Get your kids reconnected to you and disconnected from cyberspace.
5. Do family activities together. I don't care if it's pulling weeds or shooting hoops together. Interaction is part of our hard-wiring as humans.
Are you concerned that screens are disconnecting your family?
Don't miss the RECONNECT Event in Charlotte on Thursday, Aug. 31, 7-9 p.m. at CPCC sponsored by FamiliesManagingMedia. Nationally acclaimed speaker, author and psychologist Thomas Kersting will explore the mental and emotional effects of screens on teens. You will leave with strategies to help your child thrive in the real world balancing screen habits and healthy relationships. Parents and teens are welcome. Get your tickets today! reconnectevent.com. Watch promo here!
Tom Kersting is a licensed psychotherapist and author of "Disconnected."