How to Raise a Confidently Connected Kid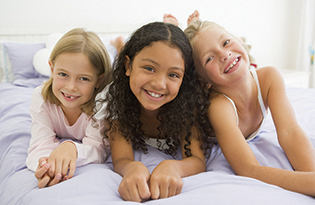 Every parent wants their child to build a satisfying social life. But turning your tiny (or not-so-tiny) bundle of joy into a social butterfly comes with its share of challenges: connecting with other families, planning preschool playdates, choosing the right social activities for grade-schoolers, and encouraging tech-happy teens to interact sans screens. Read on for expert tips on raising a confidently connected kid.
0-5 YEARS
Social Cues
Newborns spend most of their time eating and sleeping, but they're also developing important social skills, says Randi S. Rubenstein, executive director of Education for Successful Parenting in Raleigh. "Right from birth, parents are cultivating their infant's social skills. Are the parents responsive? Gentle? Calm? This is a baby's first introduction to their social world."  As a baby's first social models, parents help shape a child's beliefs and expectations about social interactions, even set the tone for how a child will navigate future relationships, she notes. Treating babies and young children as people deserving of respect helps pave the way for respectful social relationships in the future. This means giving children space to express their feelings, responding to their cues, and allowing them to make choices whenever possible.
Parents can help expand a toddler or preschooler's primitive social skills through participation in group activities such as community programs, library story times, and Mommy and Me groups. Joint participation — parents and tots together — is key, says Rubenstein, because parent-guided social interactions are important during these early encounters.
6-12 YEARS
Club Connection
Elementary school brings more social opportunities than ever before, with sports, after-school activities, lessons, and clubs beckoning. School-age children are expanding their social skill set along with their social circle, and they're often ready for an organized social club or activity, says Kathleen Rotella, principal of St. Mark's Episcopal School in Fort Lauderdale, Florida.  "In these types of settings, children learn a number of social lessons quickly: taking turns, sharing, patience, respect, listening, talking positively about others, and friendliness."
During the elementary years, children can explore group activities like scouting, music, dance, theater, chess club, and faith-based groups, says Rubenstein. "These types of clubs and activities are rich in life-lessons about team participation and group dynamics, and can be a springboard for cultivating new friendships." How can a parent pick the right club or activity? Let your child lead the way; the right activity will be enjoyable, spark excitement, and suit the child's temperament. Parents can support social growth by arranging playdates, modeling good manners and sportsmanship, and helping children reflect on what went wrong when things go awry.
13-18 YEARS
Text Hex
Teens are notoriously social, but these days, they're more likely to be glued to a screen than a best pal's side. According to researchers at University of Arizona, teens send an average of 114 text messages per day. That's troubling, because the teen years are a formative social period, and face-to-face relationships provide lessons in trust and empathy that can't be replicated electronically. "During the teen years, the ability to develop healthy peer relationships becomes vitally important to a teen's self-esteem and well-being," says Rubenstein.
Opening your home to your children's friends after school (stock up on snacks first!), planning movie nights and sleepovers, and inviting friends to dinner with the family offers opportunities to build face-to-face relationships and polish social skills. A big benefit to hosting teen's friends: parents can observe interactions and offer guidance. "Parents should listen and offer support without criticism," says Rubenstein. "Although teens are exploring new freedoms, these mature discussions with parents can serve as their touchstone as they learn how to navigate socially in the world."
Malia Jacobson is an award-winning health and parenting journalist and mom of three. Her latest book is Sleep Tight, Every Night: Helping Toddlers and Preschoolers Sleep Well Without Tears, Tricks, or Tirades.