How to Plant a Pizza Garden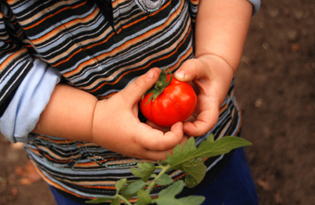 Parents can spend quality time with their children digging in the dirt to create a family garden, while also teaching them about general horticulture and the health value of eating fresh vegetables. All it takes is a few seedlings, plenty of sunshine and a willingness to learn. A unique twist on the traditional garden is creating a pizza garden.
"You can plant a garden in the shape of a pizza," says Mary Currie, children's educator at Wing Haven Gardens and Bird Sanctuary. "Put different colors of vegetables in different sections and make the sections look like different pizza slices."
Currie is leading an upcoming pizza garden class at Wing Haven Gardens. She hopes the program helps children recognize the importance of fresh vegetables. "The kids get out there, and it's really special," says Currie. "At this event last year, the kids were so enthusiastic because they like pizza so much, and it made them excited about planting vegetables."
To make your own backyard pizza-shaped garden, choose a sunny spot and divide the space into six wedges using bricks, stones or wood, or use an old wagon wheel. If space is an issue, terra cotta or plastic pots on a sunny patio or deck work just as well to create a container garden.
Plant three herbs to use in the pizza sauce, such as basil, oregano and parsley. Then plant three veggies, including tomatoes, which can be used for the sauce and as a topping. Let the kids choose the other veggies they want to plant. Good, easy-to-grow options include zucchini, squash and peppers. Non-traditional toppings — think broccoli and eggplant — are good options, too.
Kids can help prepare the beds, as well as do the actual planting and watering. Make sure to chat with your children as you plant, explaining the benefits of nutritious, homegrown foods. Watching seedlings grow tall, blossom and produce fruit makes the picking all the more exciting. It also helps children understand the general principles of how food is grown … and realize pizza doesn't just come from a freezer box.
At the end of summer, plan a pizza party and put all the ingredients together to make delicious, homemade pizzas. A pizza stone is a good investment, and some come with recipes for homemade pizza dough. Make your own sauce with fresh tomatoes and some of the herbs you've grown, along with a little garlic and olive oil.
You always can buy ready-made pizza dough and sauce, as well as mozzarella cheese, but the toppings will come from your own back yard. Chop them in advance and put them in separate bowls; then let the kids arrange them artistically on the pizza. Consider inviting friends and neighbors over for your pizza-baking party.
What to Plant
The detriments of a poor diet and sedentary lifestyle are headlining news stories across the county. The local food movement is becoming something of a revolution, and First Lady Michelle Obama is making strides to educate children on the virtues of healthy eating. Parents can do their part by helping their kids plant a pizza garden — a great way to connect them to the foods they eat and teach them about the benefits of fresh vegetables. Here are some ideal ingredients with which to make a homemade pizza:
Fresh herbs
Basil
Rosemary
Parsley
Oregano
Parsley
Chives
Thyme
Vegetables
Arugula
Eggplant
Garlic
Onions — red, white or yellow
Peppers — green, sweet red, orange and gold
Squash
Tomatoes —pasta variety, such as Roma or Plum
Zucchini