How to Make the Most of your Trip to the Farmers' Market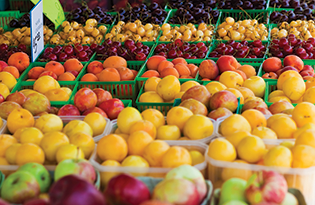 Area farmers markets are open and are a great way to shop for seasonal, fresh and healthy fruits and veggies. Follow these how-to's to make the most of your trip to the farmers market.
1 | Do Your Research
Do some research on what's in season before you go. Look for juicy red strawberries in May.
2 | Be Open Minded
By shopping for what's in season, be open to trying new things and new recipes. Turnips are a great substitute to potatoes, and provide vitamins C and B-6.
3 | Bring Your Own Bag
And cash is always good in case a vendor doesn't take a credit card.
4 | Go Early
The good stuff can get gone, so go early for the best, freshest selection from which to choose.
5 | Talk to the Farmers
Make the experience an educational one by asking questions about the vegetables and fruits available. Ask if things are organic and what's coming in season the next month.
SEE ALSO: View the Full List of Area Farmers Markets