How to Introduce Kids to the Performing Arts
It's never too early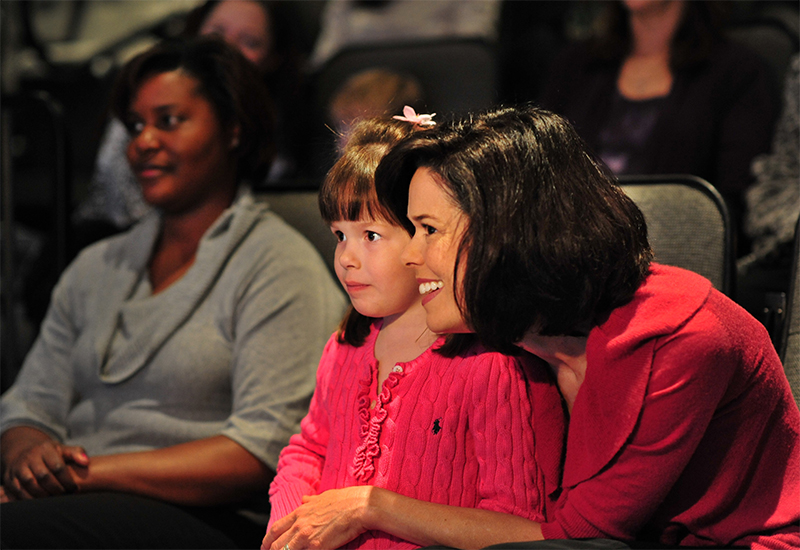 Luca Cravotta probably doesn't remember the first ballet he ever attended, but he was in good company. At 5 months old, he watched "Cinderella" while squeezing the finger of Patricia McBride, legendary dancer, associate artistic director of Charlotte Ballet and a 2014 Kennedy Center Honoree. To the rest of us, this is extraordinary. To Luca, McBride is simply one of his mom's colleagues. Ayisha McMillan Cravotta, Charlotte Ballet academy director and Luca's mom, laughs when she recalls this story some five years later.
"We were able to approach it with a lot of flexibility since I work for the ballet and my husband [Jeff Cravotta] is a photographer and does a lot of work for the ballet," she says.
Most kids don't get to see their first performance under such remarkable circumstances, but whenever and wherever it happens, introducing children to the arts can open a world of discovery.
Cravotta, who spent her early career performing with the Houston Ballet and North Carolina Dance Theatre (now Charlotte Ballet), started dancing when she was 2 years old. She grew to love the art form and was a professional dancer for 11 years. In her role at Charlotte Ballet Academy, Cravotta oversees the artistic and educational programming for amateur dancers, age 3 to adult, ranging from novice to pre-professional. Cravotta shares her tips for best ways to introduce children to the magic of performing arts.
First Time
For very young children, consider starting with events that are less formal and specially tailored for kids. "My parents took me to a lot of live music performances," Cravotta says. "Back when I was growing up, it was people like Raffi and folk musicians who hit the circuit. I remember storytelling as another really early way that I got engaged with performance."
Beginning with a low-pressure situation at your local library branch can be a great introductory experience. Charlotte Ballet also offers Dance-A-Story Workshops, in partnership with various community organizations, for preschool and early elementary-age children.
"If your child sits reasonably through a movie on the sofa at home, it's probably a good time to try a ballet," Cravotta says.
Storybook ballets, with tales they may already know — like the annual production of the "Nutcracker" or "Peter Pan" — can be a particularly good choice. Look for designated performances especially created for younger viewers. Charlotte Ballet offers family matinees throughout the season that last one hour and offer fun, hands-on pre-show activities, based on the day's performance. At recent events, kids have made their own tutus, visited a musical petting zoo, used blocks to replicate the physics of bodies in motion, and participated in poetry and creative movement activities.
Before You Go
Even if you cannot attend a specific family performance, build excitement with some advance preparation. Kids benefit from having one or two elements they can focus on during the show.
"We love to have children at the performances so we like to be able to connect families with educational materials and storyline materials to make it more enjoyable," Cravotta says. Often times, interesting videos about either the dancers or a snippet of what the storyline might be is available on the Charlotte Ballet website.
Explaining to kids that the performers are real people telling a story on stage also adds to the excitement. "Rather than diminishing from any magic, I think it helps them understand that these people are creating art [and] doing something very special," she says.
Pro tip: Check a venue's website or call the box office for any questions regarding logistics, such as parking or bathroom locations to be prepared in advance.
Day of the Show
Kids need to know "it's one of those settings when we use our ears and eyes more than our mouths, so everyone can enjoy the performance together," Cravotta says, but even the best-behaved kids are not going to sit silent during a performance.
Cravotta recalls how during a particularly quiet moment in the "Nutcracker," her son once blurted out, "Where is Juwan?" as he tried to locate a favorite dancer on stage. She and her husband whispered back: "Wait for him, wait for him! He's coming in a moment."
"With kids, you just have to plan for contingencies," Cravotta says, noting that potty and snack breaks are important. One way to keep kids engaged during the show is to quietly point out key elements of the story as they appear. For example: Look, Peter Pan can fly, just like we read in
the book.
After a performance, be sure to ask your child about the experience. Try questions like: Did you see the red shoes that performer was wearing? Did you see how high that person was jumping? What was your favorite costume?
"I think asking a lot of questions is a great way to help them relive that experience," she says.
No Experience Required
It is a beautiful and enriching experience when children who take dance lessons can connect what they do in the studio to what they see on stage, but Cravotta believes children can be moved by a live performance even if they don't dance. For some children, it's that first experience that inspires them to learn more.
"We get a lot of calls from parents who say 'my kid loved the show and wants to do that too,'" she says. "My theory is we grow older and it gets [harder] to present yourself because you start to latch onto inhibitions and worry about not doing things the right way.There's real joy in being able to present what we create whether
that is through dance or singing or even in visual art that we create
and share."
If kids learn to connect with others through the arts when they are young, they can carry this joy with them throughout their lives.
Liz Rothaus Bertrand writes frequently about the arts and loves experiencing live performances with her own sons, age 6 and 9. Follow her on Twitter @tournesol74.