How to Create a Good Eater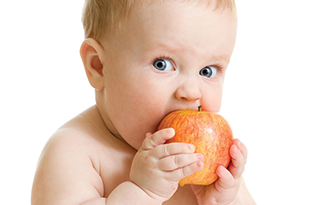 I am a picky eater. I think chocolate is a major food group and green beans should be declared a form of torture. But when I had my daughter, I knew I had to change so she would become a better eater than I am. Mostly through introducing a variety of foods at an early age, I now have a 6-year-old who lists asparagus and strawberries among her favorite foods.
Registered dietitian Meredith Dolan, with Be Active Kids of North Carolina, agrees that introducing as many foods as you can as early as you can gives your baby the best chance to acquire a taste for a variety of foods. But, she emphasizes, "the best thing you can do you for your child is to be a role model." Frequently serve and eat the same foods you want your children to eat. And be careful of facial expressions – don't turn up your nose at a food then expect your little one to be excited about it!
Babies can start eating vegetables, fruits and cereals at about 6 months then add proteins at about 9 months. Dolan, a mother of three, suggests starting a meal with vegetables and proteins then have fruits at the end, because babies naturally favor sweeter foods.
A good way to introduce your baby and toddler to different foods is to make your own baby food. North Carolina has an abundance of farmer's markets offering in-season fruits and vegetables. Steam peeled and diced fruits and vegetables and pop them into a food processor to make purees the right consistency. This is a good time to add spices or mix flavors, says Dolan, though avoid salt. Then divide the puree into individual freezable containers or ice cube trays and freeze. The process is simple, economical and allows parents to better control what their kids are eating.
It doesn't necessarily mean a child doesn't like a food if he rejects it. It can take 10-15 exposures before he may enjoy it. Reintroduce the food often and try presenting it in different ways – but don't hide it, warns Dolan. While this trick can lead to better nutrition, it doesn't develop better eating behaviors. It's OK to add extra vegetables to pasta sauce, just be open about it.
Lincolnton mom Kirby Scotton uses other techniques for getting 2-year-old Evie to eat a wider variety of foods. "I try to make mealtime as interesting as possible," she says, "by making it playful and using colors and themes on her plate." Another technique is to make one food look like another. "She likes chicken nuggets, but not fish, so I make fish sticks that look like chicken nuggets."
With a little planning and by setting a good example, parents can start their children on the road to good nutrition and eating habits for life.
Heather Bailey is a Charlotte editor and writer and mom to a 6-year-old adventurous eater/daughter.
> Read more: Great First Foods for Baby