How to Celebrate World Wildlife Day in Charlotte
Learn about the planet's diverse species, including those living in your own backyard or your favorite Charlotte greenway, on World Wildlife Day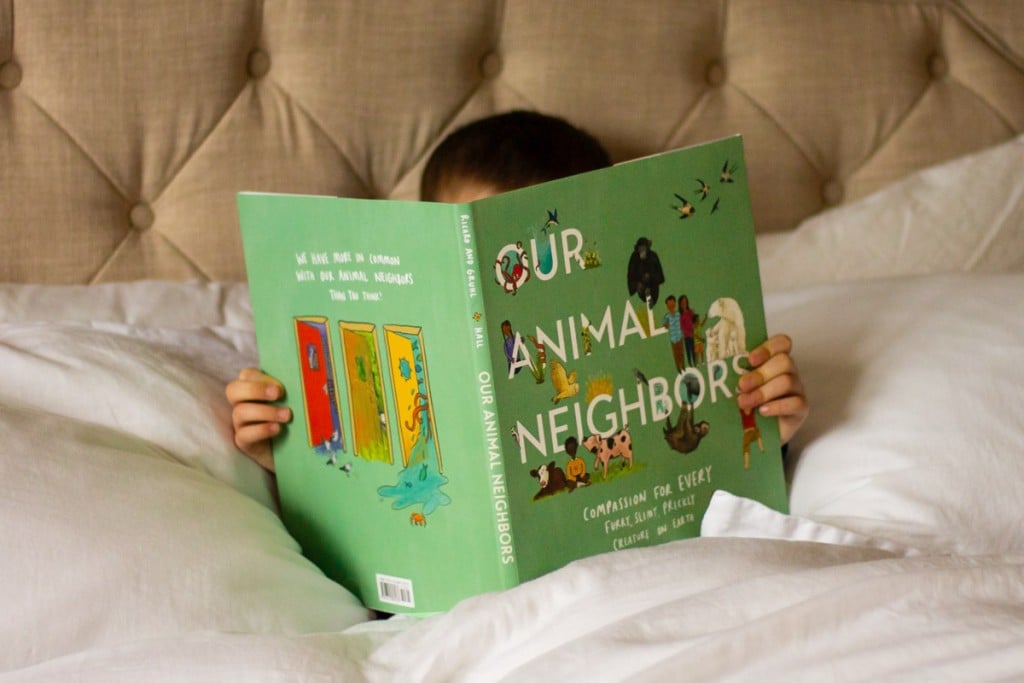 In 2013, the United Nations declared March 3 World Wildlife Day to inspire awareness and examine the environmental, social, and economic impacts of endangered species. Get the family in on the action with these wildlife-themed books, most of which are available through the Charlotte Mecklenburg Library, and engage them with STEAM (science, technology, engineering, art, math) activities. You can also check out recommendations from Park Road Books.
Nonfiction
Panda Kindergarten by Joanne Ryder and Panda Observations
Take a trip to China and connect with young cubs. Become instant BFFs while learning about the bears and those who care for them. Practice your observation skills by pulling up a zoo cam of pandas. Do they play on playgrounds like the pandas in the book? Do they really eat bamboo? Watch and learn with cameras at the National Zoo or Zoo Atlanta. The National Zoo just celebrated the birth of a baby giant panda on August 21, 2020; check out what that panda kindergartener's been up to!
Wild Kratts Animal Babies by Chris and Martin Kratt and Pretend Play
**Available at Charlotte Mecklenburg Library
PBS's popular Kratt brothers, Chris and Martin Kratt, introduce kids to baby animals in an educational, adorable way. Read this to your child, or if your child can sound out new words without help, let your child read it to you. To deepen understanding, pair the book with pretend play. Encourage your child to act as a zookeeper or veterinarian to his or her stuffed animals. Bond, build empathy, and teach science while having fun.
DK Knowledge Encyclopedia Animal! by John Woodward and Blubber Experiment
**Available at Charlotte Mecklenburg Library
Read about polar bears, then be like one with this blubber experiment. You need two plastic bags (1-quart storage bags or even produce department bags will work), vegetable shortening, and a large mixing bowl of ice water. Fill one bag ¾ full of shortening. Using the other hand as a glove, put your hand into that bag. Dip both hands in the ice water. Your uncovered hand gets cold quickly, but your blubber hand (the one in the bag of shortening) stays warmer longer. With a layer of blubber, animals like polar bears can better withstand the cold.
The Not BAD Animals by Sophie Corrigan and Homemade Birdfeeder
**Available at Charlotte Mecklenburg Library
Reuse the shortening from the blubber experiment to create a treat for backyard birds like the pigeons and crows in this 160-page book. To make a birdfeeder, gather one pinecone, string, shortening or nut butter, and birdseed. Tie the string to the stem of the pinecone. Next, let your child spread the shortening or nut butter onto the pinecone with a popsicle stick. Finally, cover the pinecone with birdseed. This could get messy! Try making your birdfeeder outside or over a lined baking sheet.
Fiction
I Am a Tiger by Karl Newson and Tiger Painting
**Available at Charlotte Mecklenburg Library
This activity puts the A in STEAM. Newson's book is geared toward preschooler and kindergarten students, and so is this painting activity. Cut out a yellow or orange circle from construction paper, or just paint one on white paper. Let your child paint black stripes with a plastic fork- no paintbrush necessary! After paint has dried, draw eyes, nose, and ears with a black marker, or glue on silly eyes for extra giggles.
Explorers of the Wild by Cale Atkinson and Exploring Your Wilderness
**Available at Charlotte Mecklenburg Library
Explorer meets explorer in this story of boy and bear. Enjoy a day in the wilderness with these BFFs, and let them inspire your next adventure. For the last activity, try a greenway stroll, romp in the backyard, or a picnic at a nature preserve. To keep little ones engaged, make an explorer pack like the one in the book. Supply yours with a first aid kit, water bottle, snack, flashlight, compass, or whatever else you can find around the house.
Park Road Books Recommends…
Sherri Smith, a children's book buyer at Park Road Books, shares her recommendations for World Wildlife Day:
Our Animal Neighbors: Compassion for Every Furry, Slimy, Prickly Creature on Earth by Matthieu Ricard and Jason Gruhl (nonfiction; for ages 4-8)
This book "explores the similarities between humans and our animal counterparts," Smith says. Many needs, even emotional ones, are the same. Find it at Park Road Books for $17.95 in hardcover.
Alice's Farm: A Rabbit's Tale by Maryrose Wood (fiction; geared toward ages 8-13)
A new family moves to the farm where Alice and her rabbit family live. The plot thickens when Alice overhears a developer wants the land too. "In order to save her home, Alice finds unlikely allies in the family's son and a bald eagle named John Glenn," Smith says. Purchase a hardcover copy at Park Road Books for $17.99.