How the Fit Family Challenge Saved My Husband's Life
The Fit Family Challenge triggers a scary wake-up call for the Howe family.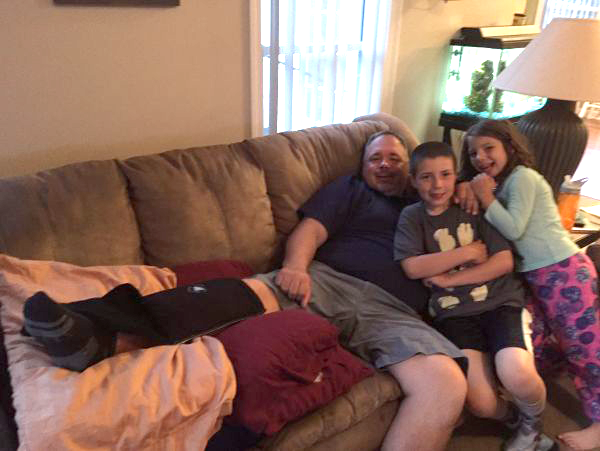 This week's blog will be the hardest one to write, yet may be our family's most important message during this challenge. Last week the Fit Family Challenge literally saved my husband's life.
One of our goals for the challenge was to complete a 5K as a family. I have done a couple in the past year and Tyler has also, even winning his age bracket in one of them. I was signed up to do the Color Vibe Run on April 16 with my sister and two kids. When my sister couldn't do it at the last minute, she generously gave her number to Todd. This was going to be his first 5K. We let Tyler run ahead of us. Todd, Molly and I did intervals, walking a minute and running a minute and when needed, more walking than running. We crossed the finish line in about 45 minutes with big smiles. I was so proud of us and knew that we had accomplished something big as a family! However, within minutes of finishing, the muscles in Todd's right calf tightened up. He was in agonizing pain that wouldn't go away. We actually ended up at urgent care, where he was diagnosed with a muscle spasm and was given a muscle relaxer.
He wasn't feeling any better on Sunday, and concerned that he was supposed to board a plane on Monday for a business trip to California, we went back to urgent care. This time he was diagnosed with muscle strain, was given pain killers and was told he could fly in the morning if he felt better. Feeling somewhat better Monday morning, he headed to California. He called me after two plane rides and a two-hour car ride to tell me he had arrived and was okay, just a bit sore. Tuesday he had to spend much of the day on his feet which caused even more inflammation, pain and really started to affect his ability to walk.
When I next heard from Todd it was around noon on Wednesday. He was calling from his hospital bed at Kern Medical Center in Bakersfield, CA, where he had been admitted the previous evening after visiting the ER to see what could be done about his worsening condition, still thinking at that point that he was dealing with severe muscle strain. However, after tests and examination, he was diagnosed with Compartment Syndrome, a serious condition that was causing dangerous pressure to build in his leg, constricting the muscles, blood flow, and nerve transmission to his foot. Even more frightening, blood tests revealed extremely elevated levels of Creatine kinase (CK) which is a very strong indicator of damaged muscle tissue. Todd's CK level was measured at over 14,000 in the ER and may have been even higher in the preceding days. Such high CK is toxic in the bloodstream and can cause kidney damage without treatment. (For comparison, a normal CK level was said to be less than 400).
I have never been so scared or felt so helpless at any point in our 12-year marriage. My husband, my rock, needed me and I was 3,000 miles away. He insisted that I stay in North Carolina and take care of Tyler and Molly, who were missing their daddy. He believed that he was in good hands and was receiving the treatment that he needed. Because of the time that had passed since the injury, surgery was ruled out to address the Compartment Syndrome. All that could be done was to stay off the leg, keep it elevated and manage the pain as the muscles worked to repair themselves. The high CK levels were another matter entirely. To prevent kidney damage, Todd spent four days receiving intravenous fluids to accelerate flushing the toxins from his system. By his own hazy recollection, he received more than 20 liters of saline, accompanied by an aggressive course of IV antibiotics to fight off Cellulitis infection.
Our faith got us through the six days we were apart. He was finally discharged from the hospital and able to return to Charlotte on Saturday night. I will never forget the feeling of relief that washed over me when I saw him on his crutches waiting for me at baggage claim. I can't even pretend to know what he was feeling lying in that hospital bed as doctors talked about potential kidney damage and the possibility of permanent nerve damage.
During the six days that never seemed to end, I was in disbelief that this could happen. We were finally making strides (no pun intended) to get healthy by eating right and exercising, and now this happens? My husband was alone in a hospital bed on the other side of the country. Is it worth being healthy? The answer is, "yes." I believe this has been a wake-up call for our family. We are on the right track. There may be obstacles in our way throughout this journey, but we will overcome them.
Since Saturday, I have not left Todd's side for more than a few minutes. I am not the best nurse or chauffeur, but I am trying because this week, I need to be his rock. Todd has a very positive attitude as he faces some tough medical appointments this week, including a nerve test to see if he has permanent nerve damage in his right foot.
The Fit Family Challenge saved my husband's life this week. Please sign up for the challenge on myfitfamilychallenge.com and let it save yours!
---
Jennifer Howe and her husband Todd, and children Tyler, 9 and daughter Molly, 6, are participating as one of our 2016 Fit Family Challenge spotlight families. Learn more about their healthy family journey here, and follow along with Jennifer as she updates us this Spring and Summer in the Fit Family Challenge Blog.