How Kids Can Discover the Arts in Uptown
In Partnership With Uptown Charlotte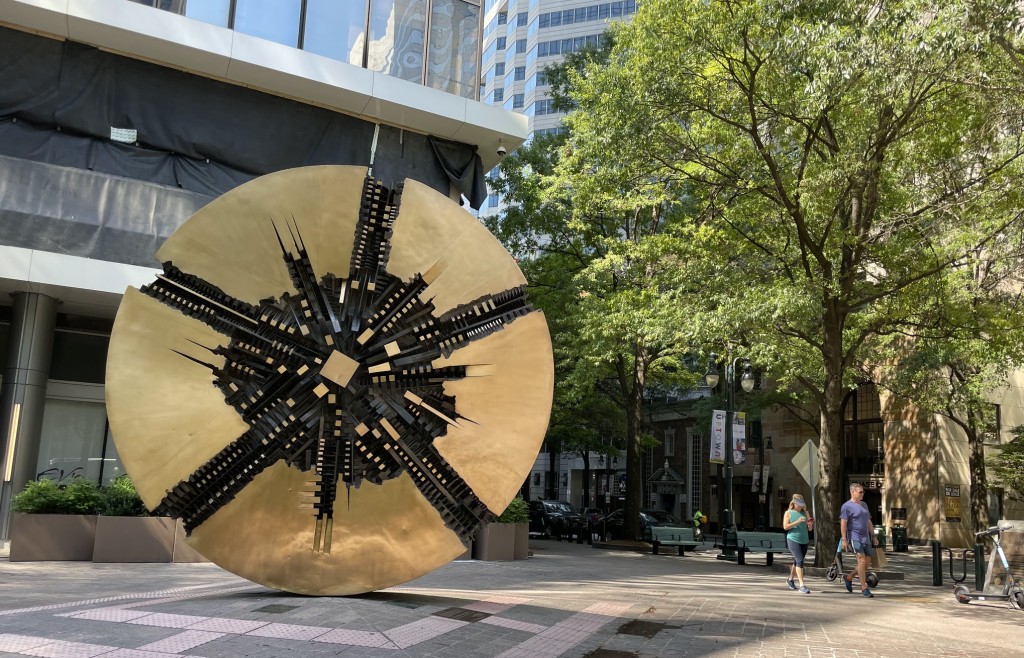 Like other industries, the arts have a renewed energy in Uptown. Across the district, venues are ramping up efforts for kids, in particular, to connect with theatre, visual art, and live music—as both viewers and participants.
Below, we offer examples of each and take a look at major festivals coming through this school year, and as always, for the latest on happenings in Uptown, head to uptowncharlotte.com.
---

Visual Art

As Viewers: New, massive murals adorn buildings across Uptown, and Art Walks CLT, which expanded over the past couple years with new live walks and resources, continues to catalog those new pieces—as well as major sculptures—and offer ways to view them. Meanwhile, Mint Museum Uptown ​​(500 S. Tryon St.), Bechtler Museum of Modern Art (420 S. Tryon St.), and Harvey B. Gantt Center for African-American Arts + Culture (551 S Tryon St.) each have a robust schedule of exhibitions through the fall. Through its partnership with Bank of America, each also takes part in Wednesday Night Live each week, in which all three are open for free between 5 p.m.-9 p.m.
View this post on Instagram
As Creators: All of these museums also have open workshop programs for kids. At McColl Center's ongoing Family Day events (721 N. Tryon St.), they can take part in hands-on activities, workshops, open studio tours, and more. Down the street, at the recently opened VAPA (Visual and Performing Arts) Center (700 N. Tryon St.), the mission is to "cultivate accessible exhibition and creative work spaces to inspire and nurture the relationship between artists and the community." They do so via theatre spaces, art galleries, open artist studios, classes, and more, many of which are open to budding artists of all ages.
---

Theatre / Dance

As Viewers: Blumenthal Performing Arts continues to showcase both nationally touring and local theatre at its venues, such as Mean Girls at Belk Theater (Sept. 6-11). Down the street at Knight Theater, too, Charlotte Ballet: Fall Works offers the latest creations from the troupe (Oct. 13-15) during this upcoming season.
View this post on Instagram
As Creators: Charlotte Children's Theatre (300 E. 7th St.) already has a packed slate for the fall (like Annie, Sept. 23-Oct. 23), but if your child has the itch for the stage, it's easy to get involved: It regularly hosts open-call auditions and has ongoing classes and camps to discover all sides of stage productions.

---

Live Music

As Viewers: The renowned Charlotte Symphony Orchestra has an entire slate that's kid-friendly, including Charlotte Symphony: Symphony Spooktacular (Oct. 22), with tunes like "Night on Bald Mountain" by Mussorgsky and "In the Hall of the Mountain King" by Grief. Meanwhile, the fall slate at Spectrum Center Spectrum Center (333 E. Trade St.) includes Karol G, Lizzo, and Greta Van Fleet.

View this post on Instagram
As Creators: The Symphony's Youth Orchestra has open fall registration, with opportunities for several grade levels to build classical skills. JazzArts Charlotte has multiple opportunities for children and teens, including the JazzArts Youth Ensemble and ongoing workshops. Education has been a major focus for the group, since it formed 13 years ago.
---
Festivals

View this post on Instagram
Outside of the venues mentioned, Uptown has an ever-expanding line-up of festivals that appear throughout the year. We've compiled a few family-friendly, arts-related ones below:
---
Uptown is home to some of Charlotte's most vibrant arts experiences that are perfect for kids of all ages. To plan your Uptown adventure, visit uptowncharlotte.com.