How I Became A Soccer Dad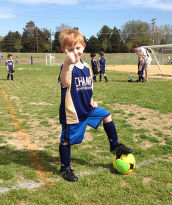 It's pretty easy for people to make fun of soccer if they've never experienced it. Soccer is often low scoring with long periods of little to no action and often ends in a draw (tie). "The Simpsons," summed up professional soccer with "Halfback passes to center. Back to the wing. Back to the center. Center holds it. Holds it. Holds it." There's also the blatant diving and fake injuries, plus the guy who gets indignant when you say, "I'm not a soccer fan." Whoever came up with the "Soccer Mom" label probably didn't help the sport's cool factor either.
Over the years I've had a few, but not all of those thoughts, when it comes to the sport of soccer. I've never had a problem with someone liking the sport. For whatever reason, in high school you either liked football or soccer. You weren't allowed to like both. For some adults it seems to be the same way. I guess because some countries call soccer "football" the two have to be constantly compared and contrasted. In recent years, friends have talked about watching English Premier League games so I gave it a try. It won't replace the NFL in my house, but it's better than watching an NBA game.
So, when my 5-year-old son Tyler told us he wanted to play soccer instead of baseball this year we said "Absolutely!" As long as he wants to try a sport that isn't knife throwing, we are behind it. Tyler looks up to Matthew, a family friend and one of the big kids in the neighborhood who happens to be a great soccer player. He's been trying to mimic Matthew's moves in the backyard for a few years now. Matthew even gave him his first real soccer ball. We added a small goal in the backyard and Tyler has been kicking goals for a while now. Keep in mind a lot of those probably came off his toes which is a no-no.
At his first practice, Tyler was raring to go. They worked on curing the toe kick and did some drills to get the kids aiming their shot and passing the ball. Tyler seemed to want to make sure most every kick was a goal so at times he was a little tentative before kicking or he'd dribble the ball all the way into the goal without ever taking a shot. The only time I got nervous is when he kicked a ball straight up in the air and it almost hit one if his teammates when it came back down.
A whole lot of rain meant only one practice before our first game. The kids play four-on-four with no goalie. Matthew's dad and I surprised Tyler by having his soccer mentor Matthew show up to watch Tyler's first game. He was pretty excited to see both of them. Tyler scored a goal on his team's first possession. It happened so fast I almost missed it. He hustled and played aggressively but wasn't too physical. Most importantly, the scene from every TV show and movie where soccer is involved of a kid scoring in the wrong goal never happened.
I know he's just getting started and next year he may want to try another sport, but I'm enjoying this ride. While I've taken many steps in my own enjoyment of soccer, seeing my son enjoy the sport has taken it to a new level. Who knows, people might start calling me "Soccer Dad" and I'm totally cool with that.
WCCB News Rising Co-Host Derek James balances a full-time job in the glamorous world of television news (including a 2 am wake up and stale coffee) along with managing chaos every afternoon for 5-year-old Tyler and 3-year-old Chase. See more from Derek on Facebook, Twitter and on Vine (derekjamestv).