How Does Your Garden Grow?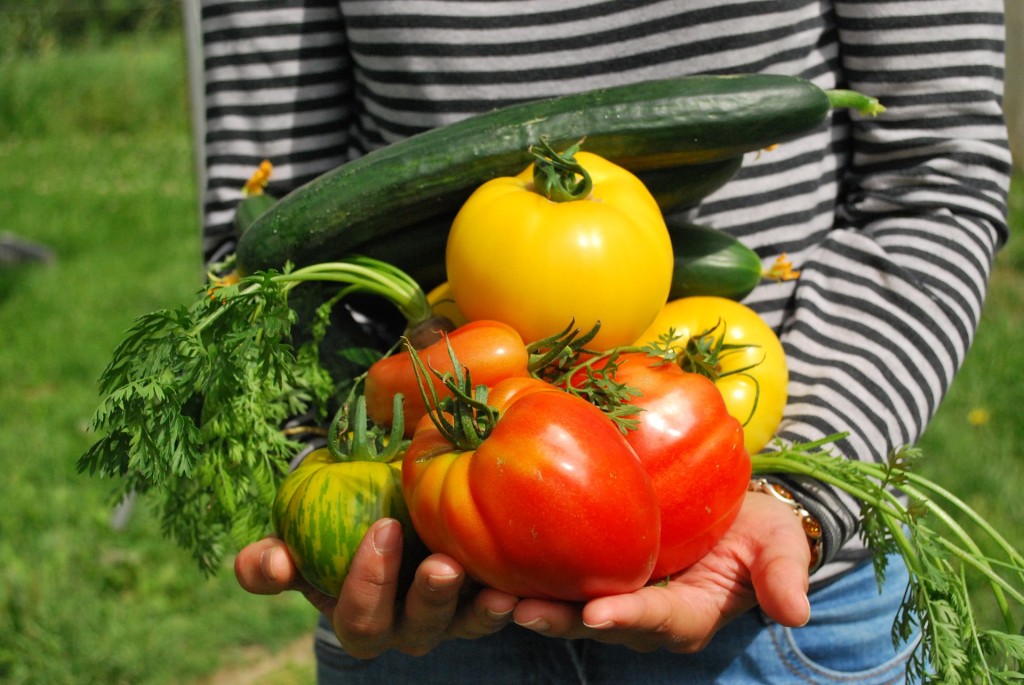 As parents, it's common to worry about what our children are eating. We want them to enjoy a wide range of nutritious foods and to develop a healthy relationship with food, but getting children to try new flavors and eat a balanced diet can be a major challenge, especially for parents of picky eaters.
If you struggle to get your kids to eat fruits and vegetables, the solution may be right in your own backyard. A study conducted by Ohio State and Cornell University showed that children are five times more likely to eat produce when they've grown it themselves.
In a similar study conducted by Saint Louis University's Obesity Prevention Center, researchers interviewed 1,600 parents of preschoolers from rural Missouri. The study found that these children were more than twice as likely to eat five daily servings of fruits and vegetables as those who rarely or never ate homegrown produce.
In addition to helping kids to be more open to eating fruits and vegetables, gardening is an excellent way to get them outside and away from their electronics. Planting seeds encourages curiosity and teaches patience as they wait for their bounty to grow. It also fosters confidence as they care for their garden and see their efforts rewarded with fresh produce.
You might think you've missed the window to start gardening now that the fall is here, but there are a wide range of plants that do well in colder temperature. Some good vegetables to plant in the fall (depending on where you live) include lettuce, carrots, leeks, broccoli, radishes, and garlic. And a benefit of fall planting is fewer summer pests to ruin your crops.
Below are some ways to uncover your child's green thumb:
Include your child from the start
Ask your child what plants they're interested in growing. Go to the local nursery together or look through seed catalogs online. Choose fruits and vegetables that are best suited to your regional climate. The idea is to get your child excited about gardening. You want to minimize your child's frustration and maximize their potential for success by picking reliable plants.
Start an indoor herb garden
If your weather isn't ideal for outdoor plants, herbs like rosemary and parsley are relatively easy to grow indoors. You can also grow vegetables like tomatoes or cucumbers in indoor pots. In the winter, you may need to purchase an indoor grow light.
Let kids get messy
Gardening is about hands-on learning, so let your child know it is not just OK to get dirty when they garden—it's required. Potatoes and carrots that grow underground are fun to plant and even more fun to dig out. Just make sure to dress them in clothes that can get dirty.
Make a schedule
Create a list of all the jobs, like when to water and when to weed. Being responsible for the garden help children to develop a sense of ownership.
Enjoy your bounty
Look for recipes that utilize the produce you grow in your garden. From salads to soups to side dishes, there are many ways to use the fruits and vegetables you grow together.
Serve produce in different ways
If your child doesn't like a certain vegetable raw, try prepping it another way. A child may not like leeks or carrots in their salad but may enjoy them in a warm autumn soup.
Think of a garden as an edible art project that gives children a sense of accomplishment. For many, that pride will translate to a willingness to try the fruits and vegetables they've grown. Kids have their cake (or rather, their kale) and eat it, too.
RANDI MAZZELLA is a freelance writer specializing in parenting, teen issues, mental health, and wellness. She is a wife and mother of three children. To read more of her work, visit www.randimazella.com. ​