How Dads Can Help Sons Achieve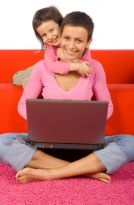 When my sons were born, I didn't get an official list of things that I, as a father, was expected to teach them. But fathers generally know the pattern of what information to convey: how to hit a ball with a bat, knot a tie, change a tire and so on.
Today, all of us fathers need to teach our sons one more thing: the importance of getting a good education. If your house is anything like mine, Mom has already told the boys that education is important over and over and over again. But Dad needs to teach this lesson, too.
The rationale for fathers taking the lead in promoting the value of education is rooted in a basic fact of nature: Boys are inclined to match the behaviors of their fathers. And, the good news is that it can take less than an hour a week of a father's time to make a huge difference in his son's future.
You might not know that alarming trends have developed relating to boys and learning. According to a University of Michigan study, the number of boys who said they disliked school rose 71 percent between 1980 and 2001. With that figure in mind, it comes of little surprise that 80 percent of all high school dropouts are male.
Quite simply, boys need help. They need help understanding how education can positively impact themselves, their careers, their families and the society in which they will one day contribute. Boys need that extra attention that proved to be so beneficial for girls a generation ago. Fathers are the ones who can step up and provide that attention.
Creating a rewarding educational environment is not a daunting task. Listed below are five ways fathers can help their sons excel in school and create a passion for learning that lasts a lifetime.
Meet the Teacher
Fathers should make every attempt to attend teacher conferences and school functions. When they make the effort to visit with their son's teacher or watch a performance, this proves to the boy that, if Dad's here, it must be important. These "on-site" events also provide an excellent opportunity for open dialogue between father and teacher to discuss such things as expectations, concerns and general points of interest.
Make It a Side of Sports
Athletics can be a wonderful bond between fathers and sons, but a balance needs to be maintained. Sports activities start at an early age, and so do the worries and rigors of growing up. Fathers should take the time to discuss what is going on in their son's life beyond the ball field. As it relates to school, fathers can review homework assignments, ask about the results of a test or discuss upcoming projects.
Do What You Can
Working consumes time, as does bill paying and dog walking. There's barely enough time for eating and sleeping. Now we want you to add educational involvement? If fathers want to make a difference they will find the time to encourage their sons. That said, investing as little as one hour a week can have a tremendous impact on school performance.
Make It Real
Learning is increasingly effective when put into the context of real-life scenarios. Point out examples of people who are using their educations to achieve, and talk about how your education (or lack of it) has impacted you. On the "tough love" side, a father explaining to his son the real-life consequences of wasting an education also is invaluable. Studies have shown that high school dropouts are more likely to be unemployed, need public assistance and earn lower wages than their diploma-carrying counterparts.
Consider Your Options
College is an admirable path for any young person, but it is certainly not the only one. Vocational programs exist like never before and can provide the skills and opportunities in a number of technical fields. The key is for fathers to be aware of their sons' learning interests. Traditional studies are not for everybody. Vocational interests should be celebrated and encouraged.
By the way, a father's attention to his daughter's education is a big plus as well. Turning your home into an environment where learning is important is a gift that will last throughout your children's lives.
Despite what TV or movies or any other outside influence may convey otherwise, a father is the role model to his son. The responsibilities are enormous, but so are the rewards. A father getting involved and showing genuine interest in his son's educational pursuits is important for lifelong development. And maybe one day, the son will pass that same passion for education along to his son, knowing from firsthand experience that dads can make a difference.
A senior vice president at McGraw-Hill Education, Dan is a former public school educator and superintendent and the father of two boys.