Host a French Picnic for the Family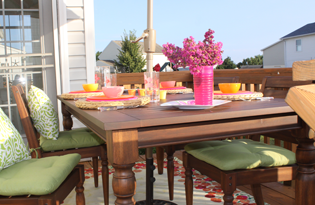 As the weather warms we are drawn to outdoor activities, and enjoying a family meal outside is one of my favorites.
Plan a fun family picnic in your own backyard, porch or patio, or make it a portable feast and enjoy dinner together in any of Charlotte's beautiful parks or greenways.
This month's recipe for a grilled chicken and potato salad is a real winner the whole family will love. And here's a little shortcut – if you don't have time to grill the chicken, use your favorite rotisserie chicken, shred the meat into bite-sized pieces and toss in with the potatoes and the homemade pesto. Delicious!
> View the Recipe: Roasted Potato and Grilled Chicken Salad Provencal  
Heidi Billotto is a culinary expert who hosts cooking classes throughout the Charlotte area.