HOLIDAY WEEKENDER: Durham
Spend a weekend in Bull City for some holiday fun this season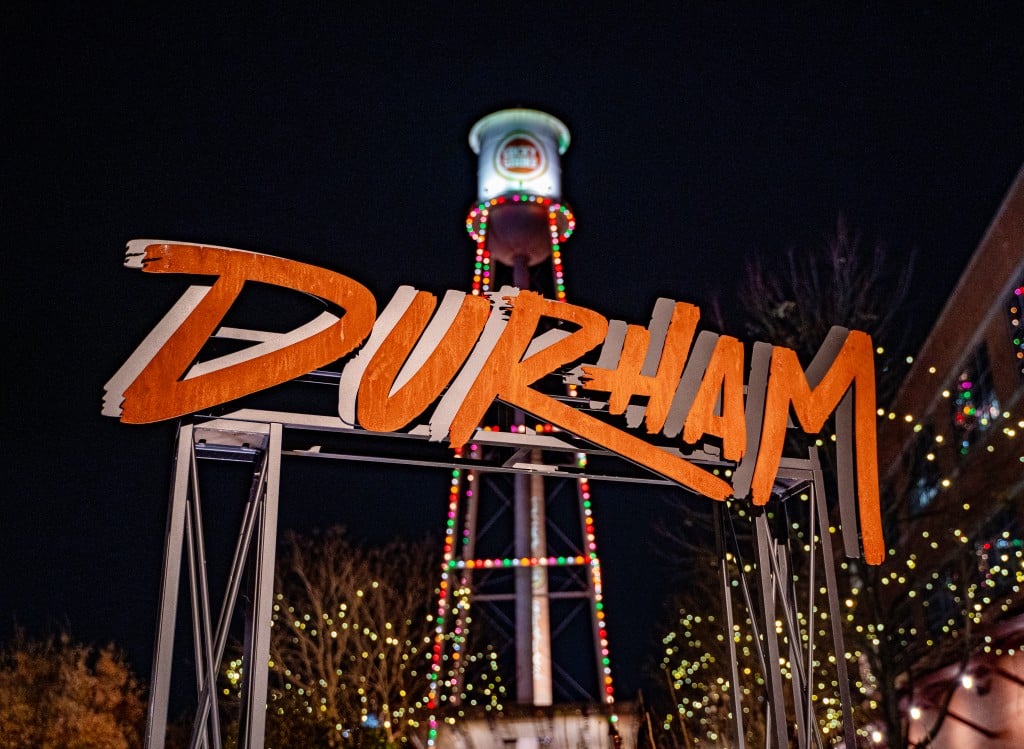 Your kids may be too young to watch the R-rated 1987 movie "Bull Durham" before a visit to Bull City, but they'll still appreciate the sights and sounds of Durham. Restaurants, markets, and shops are within walking distance of the city's hotels, and it's just a two-hour drive (or three-hour Amtrak train ride) from Charlotte.
STAY
The Residence Inn and SpringHill Suites (both Marriott properties) are convenient to downtown, and the Durham Marriott City Center Table South Kitchen & Bar offers room service to the hotel's king and double rooms. It's also open for breakfast and dinner. The Durham Hotel and Unscripted Durham are within walking distance to the city's attractions. The Durham has cribs for guest rooms and highchairs in the onsite restaurant. The hotel's Black Lit Library, curated by Liberation Station Bookstore, has children's books and is free and open to anyone who wants to grab a book to read in the lobby. If you plan a trip during the summer through October, the Durham County Library hosts a Storytime on the Roof once a month. Unscripted allows pets (with restrictions) and supplies complimentary bike rentals to guests. The pool is heated and open year-round.
EAT
Boricua Soul is a family-owned, kid-friendly restaurant in the heart of the American Tobacco Campus. Chicken tenders and fries are on the menu as well as African and Caribbean-inspired food like empanadas, shrimp sandwiches, and tostones. Come for the R&B, salsa, and more on Friday nights and live jazz on Sunday afternoons in the outdoor area. Pompieri Pizza is in a former fire station built in 1924. The Neapolitan pizza, cooked in a wood-fired oven, is served with scissors to cut the slices yourself. Large families will love the long tables, specialty cocktails, and local beers for the over-21 crowd. Barbecue fans can't miss Picnic, famous for its vinegar and tomato-based sauce, a combination of Eastern and Western-style 'cue. Enjoy indoor and outdoor seating, 90s alternative rock, and a kid's menu that includes chicken tenders and peanut butter and jelly on crackers.
DO
Durham's holiday game is strong: The American Tobacco Campus and the Lucky Strike Tower are decked out in lights, making them a perfect backdrop for family photos. The Duke Homestead hosts immersive candlelight tours on December 2 and 9. Sing period carols and learn to dance the Virginia Reel, a barn dance from the 17th century. The Durham Holiday Parade on December 17 includes a procession of floats, local school bands, drill teams, and community groups that walk down Main Street. Durham Performing Arts Center's holiday lineup includes "Elf the Musical," "Theatre in the Park's A Christmas Carol," and "The Hip Hop Nutcracker." Visit 21c Museum Hotel to see its current art exhibit, "This We Believe," and explore the former bank's vault, which has its original safe deposit boxes. Durham Central Park hosts special events throughout the year including holiday markets with local arts, crafts, and food. Kids can climb and slide at Mount Merrill, the park's playground, and an ADA accessible pathway leads to the top of the mound. The Museum of Life and Science's exhibits are indoors and outdoors. Play musical instruments in the Sound Garden on an accessible trail. Each weekend in December, the museum is decked out in lights and has special activities like inflatables and face painting. For an outdoor adventure, check out Eno River State Park's multiple hiking trails, which range from easy to moderate and half-mile to 8-mile trails.