Holiday Outings to Know in South End and Uptown
From pop-up shops to ringing in 2022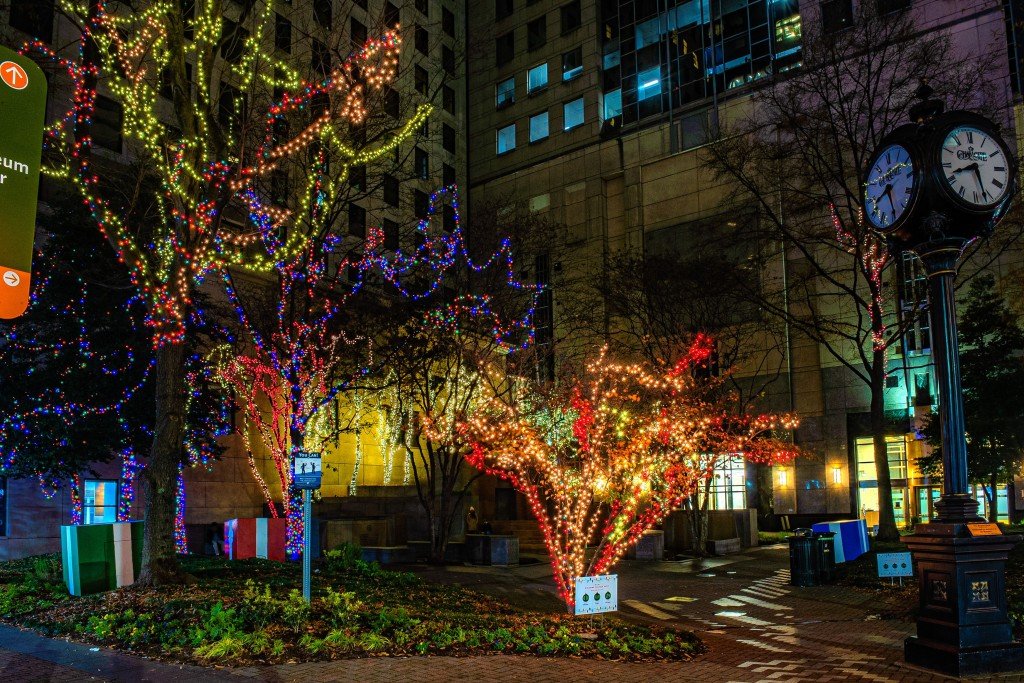 Charlotte makes every part of the holidays lively and entertaining—from the moment the displays are illuminated to fireworks celebrating the new year's arrival. Below, we've gathered four notable groups of offerings in the South End and uptown areas. So let's roll up our tacky sweater sleeves and get to it:
Shop Small Saturdays, presented by Fifth Third Bank
Nov. 17-Dec. 18 on Saturdays
Over four consecutive Saturdays, a cheerful open-air market takes over South End. On each of those days, Holidays at South End Farmer's Market inhabits Atherton Mill (2000 South Blvd.). The schedule: 8 a.m.-3 p.m. on Nov. 27 and 8 a.m.-1 p.m. on Dec. 4, 11, and 18.
More day-specific activities:
• Nov. 27: You'll find the Shop Small Saturday Market between Atherton Mill and the Design Center (101 W. Worthington Ave.; 11 a.m.-4 p.m.), with more than 80 small businesses in tow.
• Dec. 4: the Shop Small Saturday Market hosts 40-plus vendors in the Design Center's alleys.
• Dec. 11: Winter Wonderland on Winnifred arrives, running 11 a.m.-4 p.m. at the Shops at the Winnifred (1425 Winnifred St.).
• Dec. 18: Nebel's Alley Night Market returns to the Design Center, 2 p.m.-8 p.m.
More info here.
Poptopia, presented by Regions Bank
Dec. 5-19 on Sundays
This Christmas shopping experience occupies uptown. On three consecutive Sundays, beginning on Dec. 5 (1 p.m.-5 p.m.), you'll find Poptopia at Victoria Yards (209 E. 7th St.). Like the South End markets, this event has a mix of local vendors and makers that can help you fill out your holiday shopping. (Don't feel bad if you get a little something for yourself, too.)
Take in a holiday show, at a Blumenthal Performing Arts venue
Dec. 1-31
Uptown hosts a slew of holiday shows this year. Among the highlights: ​​Charlotte Ballet: The Nutcracker (Dec. 3-26, Belk Theater); Charlotte Symphony's Handel Messiah (Dec. 3-5, Knight Theater'); Jim Brickman: The Gift of Christmas (Dec. 6, Knight Theater); The Jazz Room: Holiday Edition (Dec. 9-10, Booth Playhouse); Charlotte Symphony's Magic of Christmas (Dec. 10-19, Knight Theater); Leslie Odom Jr.'s The Christmas Tour (Dec. 13, Knight Theater); and Cirque De Noel (Dec. 29-30, Belk Theater).
CLT NYE, presented by Ally
Dec. 31
Charlotte's official New Year's Eve celebration fills the Levine Avenue of the Arts in uptown. This event, which has become a regional tradition, has live musical performances, fireworks at midnight, and the lighting of the Charlotte crown. Happy New Year, CLT. (More info here.)