Holiday Goals: Reconnect With Your Family
Ideas to enjoy the holidays that build family bonds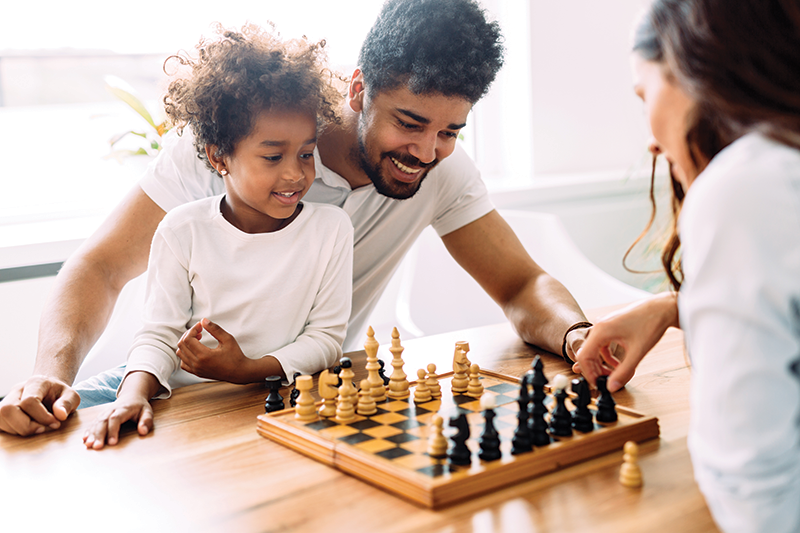 While December is a great month for creating memories, the power of a child's entertainment screens can lure him or her further away from building healthy family bonds. This holiday season, reclaim family time with some new traditions. (Spoiler alert: some suggestions include healthy screen time.)
Better Attachment, Better Brains
Bonding with family is a critical ingredient to avoid insecurity, stress and behavioral problems in childhood. While screen time is not all bad, it does not help build strong face-to-face human attachment that is necessary for balanced development and creating those important family memories. Simple changes, such as using screens when only viewing together, can help to ensure quality family time.
Try this: Keep the TV remote out of sight, so it does not become the I'm-bored default activity, and trade the background TV noise for upbeat holiday music. Close the laptop lid when it's not in use, and put away the small-screen devices when family is gathered together.
Connect Using Big Screens
There are many ways to enjoy screen time together. Consider playing games like Just Dance to get everyone off the couch, moving and laughing together.
Other ideas: Watching holiday movies, sports or old family movies together is a great way to bond. Make a list of movies you'd like to watch together, plan a favorite meal or snacks, and make this an anticipated family bonding (no-phone) event. If the weather permits, plan an outdoor movie (throw a sheet up for a screen and a projector) and don't forget the popcorn.
Add in New Traditions
When everyone is home for the holidays, disconnect from digital devices by doing other activities together.
• Start a puzzle. Every family member can pitch in. Set up a card table (reserve the dining room table for family meals) in the family room where everybody already is. Your kids will remember the important memory — not the clean house — when they are gone.
• Dust off your favorite board games or make a tradition to buy a new game every December. Here are a few of our family favorites: Telestrations, Bananagrams, Sequence, Scattergories, Personal Preference and Headbands. There are always the classics like Monopoly, Clue, chess, Trivial Pursuit and Life. Don't forget card games or even charades.
• Use your fire pit time for good old-fashioned family story telling. Pull out a Chat Pack or Life Stories cards to get the conversations going.
• Teach your kids how to cook. Not only is it a bonding activity, but it builds memories and life skills. Be prepared for holiday baking. This means starting early with cookies and other treats. Put a holiday music soundtrack on in the background. Enlist grandparents or extended family to teach a new recipe each year to your kids. And before you begin, throw away your "perfection hat" and let the kids really do it. Who cares if the pie crust isn't perfect or if the cookies aren't cut just right?
Focus on strengthening your kids' family attachment this season. Make a plan to reconnect with your kids and stick to it. After all, the best gifts this season really aren't under the tree.
Melanie Hempe is the founder of Families Managing Media. For more information, visit familiesmanagingmedia.com.