Hitting A Happy Note With Music
Music ties the James family together.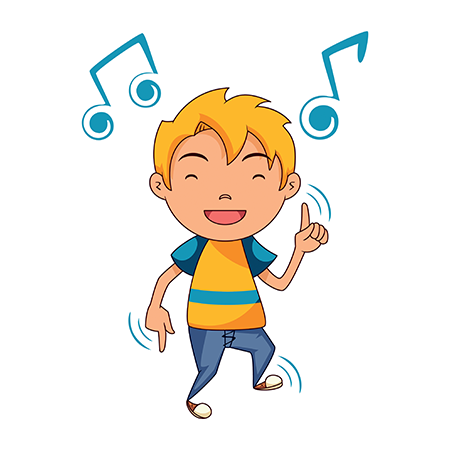 We are a musical family. When I say that, I don't mean we have dreams of traveling the country in a colorfully painted school bus like the Partridge Family. My wife is a classically trained singer who is a high-school chorus director. Before transitioning to television, I was a radio station program and music director who was involved in the process of selecting songs that made it to the airwaves. I've also been known to sing every lyric to Billy Joel's "We Didn't Start the Fire" or Elvis' "Suspicious Minds" at the drop of a hat.
With that in mind, it probably comes as no surprise that music has been part of our two sons' lives from the moment they were born. I'm the nerd who made a labor-and-delivery playlist for the hospital. I'm confident my wife Kristen's favorite song from 2008, Coldplay's "Viva La Vida," is in my oldest son Tyler's DNA. In their early years, both boys went to sleep with songs from Baby Mozart, Baby Einstein and Babyface. OK,maybe that last one is a stretch. We listen to music while enjoying dinner and conversation as a family almost every night. Tyler and his brother Chase love singing along to songs on the radio and the crazy lyrics they hear on Radio Disney like "Watch me whip, watch me nae nae." At Christmas time, we sit around the piano and sing Christmas carols. My boys have also seen my awful parodies of the Bee Gees, Brian McKnight, DMX and Vanilla Ice on WCCB News Rising … and they still love music.
It's been said many times that music is about memories. I have vivid memories of being a kid and going to the Country Kitchen restaurant and choosing music on the small jukebox in the booth. I probably played Eddy Grant's "Electric Avenue" more than Casey Kasem did in 1983. I've shared my love of the '80s with my boys. We used to listen to Tyler randomly sing "Video Killed the Radio Star" on the baby monitor when he was 2 years old. Chase loves The Cars' "You Might Think" and Toto's "Africa," among others. The latter became even more popular after students in my wife's class performed the song at their end-of-year pops concert.
Each summer, we join my wife's family for a week-long beach trip. From a re-creation of the Stylistics' falsettos to the dulcet tones of Frank Sinatra, there's joyful singing (and dancing) all around. Our kids make connections and create associations between family members and their favorite songs and music genres. By being exposed to so many varieties of music, my kids seem to have a greater appreciation of the art. Their favorite songs right now might be what's on the latest volume of "Now That's What I Call Music" or "Kidz Bop," but they've also been exposed to The Beatles, Led Zeppelin, Michael Jackson and James Brown. It's something they can appreciate even more when they are older.
It's too early to tell if one or both of our kids might make a career out of music, but they already understand that music brings people together and can create a mood. They've seen firsthand the emotional connections it can bring. Now if I can just get them to stop singing "Watch me whip, watch me nae nae," I'll feel a little better.