History Comes Alive in Mount Vernon, Virginia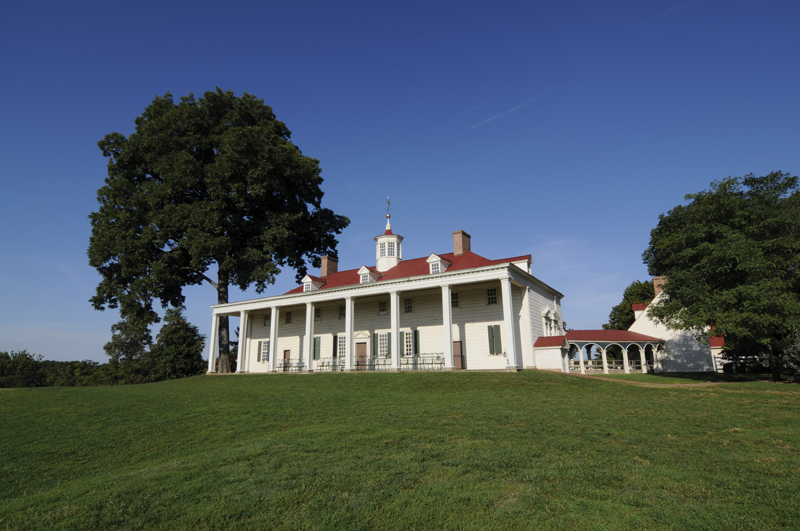 A visit to President George Washington's Mount Vernon estate by the banks of the Potomac River in Mount Vernon, Virginia, offers families an iconic American history experience. If you go, expect to see more than President Washington's carefully preserved mansion. Still the main attraction, his grand home supplements the property's other fascinating features.
The Mansion
President Washington acquired Mount Vernon in 1754. His father, Augustine, originally built the home in 1735 as a one-and-a-half-story house. President Washington expanded it to create the 21-room residence, of which 14 rooms are open to the public for viewing.
Staff member Melissa Wood says the New Room is a favorite chamber among visitors, who favor it not only because of its large size, two-story ceiling and stylish furnishings, but also for its architectural detail and historical context. George and Martha Washington hosted parties and receptions for VIPs of their day in this room, which originally displayed 21 works of art. Six of these original landscape paintings are currently on display in the room.
The New Room features tall, airy windows and is saturated in vivid mint green wallpaper (the use of bold colors in the 1700s was a sign of wealth). Before exiting, ask your kids to look up at the ceiling to see how many plants and farming tools they can recognize.
Other notable rooms guests walk through during the tour include the West Parlor, where tea and coffee were customarily served during winter and on rainy days; the downstairs bed chamber, where many of the Washingtons' esteemed guests stayed; the dining room, which was part of the original structure before President Washington expanded it; and the study, where the nation's first president could privately and quietly attend to personal business matters.
Donald W. Reynolds Mount Vernon Museum and Education Center
Among the more memorable artifacts you'll find in the Donald W. Reynolds Mount Vernon Museum and Education Center's 23 galleries are President Washington's legendary false teeth. They were not made of wood, as many believe. These choppers were crafted from a combination of elephant ivory, and human and cow teeth.
Sit inside a reproduction family box pew like the one in Pohick Church where the Washingtons worshiped, and hear the general's prescient views regarding religious freedom.
One video shares the story of George and Martha's lifelong romance, expanding on tales of young George Washington's courtship of Virginia's wealthiest widow and what made their marriage last for 40 years. Another video delves into 18th-century espionage practices, such as the use of invisible ink, hiding letters in the children's jacket buttons and hanging conspicuous capes on clotheslines to alert allies that a message was waiting.
The Outbuildings
Walk through the numerous outbuildings to see where the plantation's essential operations were performed. Replicas of barrack-style men's and women's quarters constructed in 2010 represent the residences of slaves who worked on the plantation as craftsmen and craftswomen. The buildings are sturdy and constructed of brick, as are the floors. In order to sleep comfortably, slaves covered the wooden bunks with straw.
Other outbuildings include the spinning room, blacksmith shop and smokehouse. The Washingtons were known for serving the best Virginia smoked hams.
Plan Your Visit
Mount Vernon is open 365 days a year with operating hours of 9 a.m.-4 p.m., Nov. 1-March 31; and 9 a.m.-5 p.m., April 1-Oct. 31. The distillery and gristmill are open April 1-Oct. 31, 10 a.m.-5 p.m.
Admission is $20 for ages 12-61; $19 for ages 62 and older; $10 for ages 6-11, and free for ages 5 and younger. Purchase tickets online at discounted rates at mountvernon.org. Visitors can also rent an audio tour handset for $7.
---
Award-winning author Michael Schuman has written 46 books and hundreds of travel articles.